On April 1,
Red Velvet
, veteran singers 
Cho Yong Pil
, 
Lee Sun Hee
,
 YB
, 
Jung In
, 
ALi
, 
Baek Ji Young
, 
Choi Jin Hee
,
 and 
Seohyun performed 
at the East Pyongyang Grand Theater and Pyongyang Arena for the historic concert in North Korea. 
The North Korean leader, Kim Jong Un, also attended the event and watched the performances by the top K-Pop artists. 
According to Do Jong Hwan of South Korea's Ministry of Culture, Sports and Tourism, who watched the concert next to Kim Jong Un, the North Korean leader asked many questions during the performances.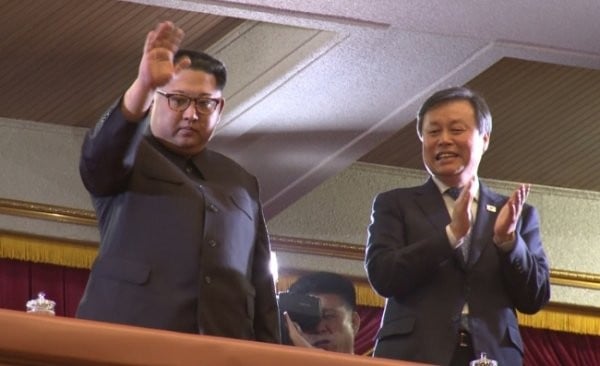 Do Jong Hwan said, "When an unrecognized singer came up on stage, he would ask how popular they are in South Korea. If the song they're singing is a new release, how big they are in South Korea, etc."
Do Jong Hwan also revealed, "Kim especially talked a lot about Baek Ji Young since she was really pouring her heart out while singing."
Baek Ji Young performed "Like Being Hit By a Bullet" and "Don't Forget" at the concert. 
Kim Jong Un reportedly gave much applause after each performance and was well aware of the songs by Cho Yong Pil, Lee Sun Hee, and Choi Jin Hee. 
According to music director Yoon Sang, "Kim Jong Un especially enjoyed 'Man Is Ship, Woman Is Port'." 
YB performed a remake of the hit song by Shim Soo Bong. 
Yoon Sang explained, "Kim Jong Un asked about the remake since it was different from the original version, so I explained that YB band made a special remake because we heard the song is popular in the North."
You can watch the highlights from the North Korea concert here.