Red Velvet
Yeri
's comment about
Kim Jong Un
is stirring up a debate among netizens.
On April 1, K-Pop artists who performed at the North Korea concert in Pyongyang had the chance to meet the North Korean leader. Red Velvet, the one and only girl group at the event, met Kim Jong Un and even shook his hand.
In the interview following the historical encounter, Yeri stated, "I didn't think we would be exchanging handshakes. I was extremely honored."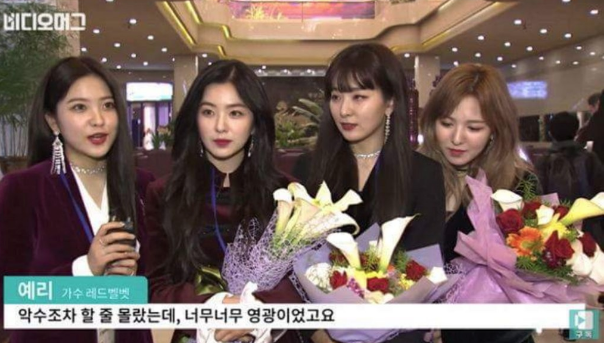 This remark by Yeri was found to be inappropriate to some, as Yeri seemed to be praising the dictator. Comments stated, "Why is it an honor..?", "She could've just said I had great experience in North Korea, it was cool to be there, etc. You say 'honored' only when you agree to that person's position and power. Doesn't this mean she agrees with the North Korea's dictatorship? Idol fans don't know politics too well so they're standing up for her but this is wrong."
On the contrary, some claim Yeri's comment is "not a big deal". These netizens stated, "Seriously, people are overreacting way too much", "Stop trying to make this a controversy", "I don't see what the problem is", "Then what was she supposed to say? It felt like shit?"
What are your thoughts on Yeri's comment about shaking hands with Kim Jong Un?