Fans are furious at the mistreatment of
GOT7
's
Mark.
The issue arose during GOT7's Naver 'V' Live broadcast on April 1. While enjoying a meal on air, Mark asked for utensils, so then a staff member brought a pair of chopsticks for him to use. When the idol received the chopsticks, his eyes widened and he seemed shocked.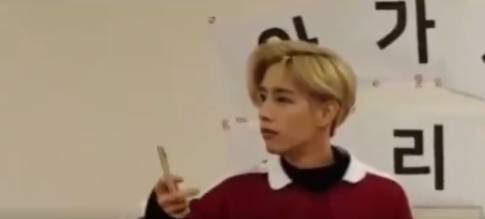 It turns out the disposable wooden chopsticks Mark received from the staff were not new but actually used. Mark ended up not using the chopsticks and eating with his hands. 
Mark asked for chopsticks, but he got a pair which were used by someone else from a staff. He was shocked and has to ate by his hand.
The behavior is too disrespectful that it cannot be explained as "a joke". @jypnation plz show respect and apologize.#JYPPlzApologizeToMark pic.twitter.com/nCpkFUmmIq

— MarkTuanBarCHINA (@MarkTuanBarCN) April 1, 2018
It's unclear if a staff member gave the used chopsticks as a "joke", but whatever the reason, fans are furious at the disrespect and demanding an apology and better treatment from JYP Entertainment. 
Chinese fan community MarkTuanBarCN wrote a letter to the agency explaining the situation and firmly demanding better treatment of the artists.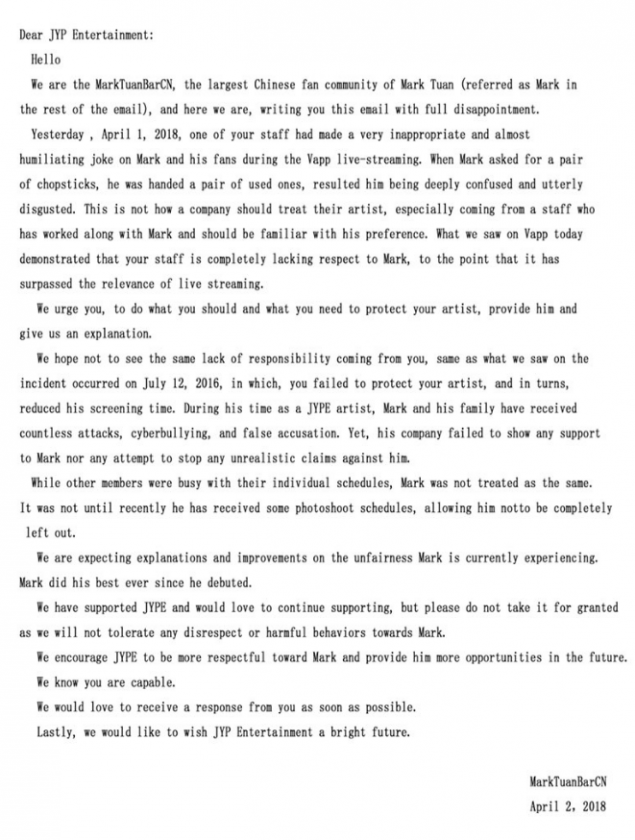 Other fans are also standing up for Mark on Twitter with the hashtag #JYPPlzApologizetoMark.