Following the release of
BTS
member
j-hope
's much-awaited
solo mixtape
titled '
Hope World
' on March 2 KST, ARMYs banded together to trend not one but numerous hashtags via Twitter.
As of March 2 KST, #HIXTAPEisComing, #HOPEWORLDMixtapeOUTNOW and #DaydreamMVoutNow are currently in 1st, 2nd and 3rd place on the worldwide trends chart. Talk about a big hit!
[SEEALSO]https://www.allkpop.com/article/2018/03/bts-j-hope-drops-daydream-from-1st-solo-mixtape[/SEEALSO]
Fans all around the globe celebrated the release of j-hope's mixtape congratulating the idol star on his outstanding achievement as well as pumping out their own theories about his ingenious MV.
j-hope's mixtape:
Congratulations j-hope!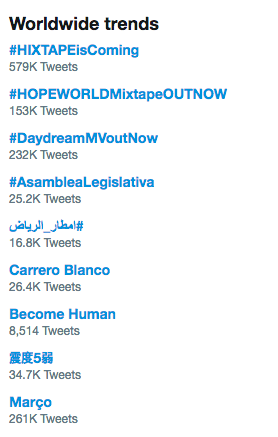 most beautiful person in the world#iHeartAwards #BestFanArmy #BTSARMY @BTS_twt #DayDream #HOPEWORLDMixtapeOUTNOW #HixtapeIsComing pic.twitter.com/XU63fs5TAO

— rip sylvia cause of hixtape releasing on 2nd march (@yeontaestan) March 1, 2018
FUCK YOU ALL REMEMBER WHEN HOSEOK DISAPPEARED IN JAPAN AND THEY WERE MEMES 'FINDING HOSEOK'??

IN DAYDREAM MV THERE ARE FISH LIEK NEMO/DORY OMG WAS IT ALL PLANNED??#iHeartAwards #BestFanArmy #BTSARMY @BTS_twt #HixtapeIsComing #DaydreamMVisOUT pic.twitter.com/e8YmUKiYPq

— rip sylvia cause of hixtape releasing on 2nd march (@yeontaestan) March 1, 2018
2ND MARCH 00:00 KST TIME

THE SUN IS SHINING SO BRIGHT#iHeartAwards #BestFanArmy #BTSARMY @BTS_twt #HixtapeIsComing pic.twitter.com/kZKvWhZVG2

— rip sylvia cause of hixtape releasing on 2nd march (@yeontaestan) March 1, 2018