Hanlim Arts High School is taking action by asking online and SNS communities to take down any reposts of one viral TikTok video, uploaded by an alumnus.
The above viral TikTok video is popularly known as "Hanlim High Schooler Natjeobami". (The term "natjeobami" is a 19+ Korean slang term used to describe a person who is submissive and passive during the day, but dominant at night during sex.)
Netizens have recently discovered Hanlim Arts High School sending messages to SNS platforms such as below, stating,
"Hello user 'XX XX'-nim! This is Hanlim Arts High School's external affairs team.

Of the videos shared via your page, one video of an individual who is dancing in a Hanlim Arts High School uniform (the 'Natjeobami') is currently being spread quickly online, inflicting negative influence on our school's image.

As a result, we request for the removal of this video for the maintenance of the school's image, so we ask for your understanding and cooperation."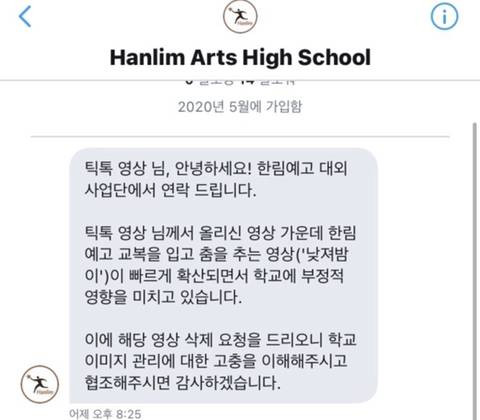 Currently, the original video seems to have been removed from TikTok; however, the video has been spread on numerous online communities and SNS platforms including Facebook, Twitter, YouTube, etc.
Netizens reacted with comments like,
"I wish I hadn't watched it..."
"Sure it can be a funny, spur of the moment TikTok thing, but for the school it might be a pretty big issue kekekeke."
"He's not even a current student, he's an alum... why would you do that in your old uniform."
"WTF..."
"The video isn't even funny but the fact that the school is going around sending out those messages is pretty funny."
"Why did I watch that... my eyes TT."
"If you haven't watched it yet, it's not too late, save yourself."