The cast of 'Knowing Brothers' playfully "dissed" Korean cable channels on their show.
On the December 29th episode, the Brothers held the '2018 Graduation Ceremony' to celebrate their own achievements from 2018. As a 'Special Performance,' Lee Soo Geun, Lee Sang Min, and Kim Young Chul recreated the song "Andenayon", with sarcastic new lyrics written by themselves.

They sang, "Andenayon ('No')? Daesang for Kang Ho Dong, not this year as well? JTBC, tvN -- no award shows? Even if there were, the Daesang would be Lee Soo Geun's anyway."
As the song ended, the screen captions (inserted by the program's writers) say: "perfect lyrics to satirize (?) the reality". Hearing the lyrics, Kang Ho Dong also laughed it off and commented, "those are some good lyrics".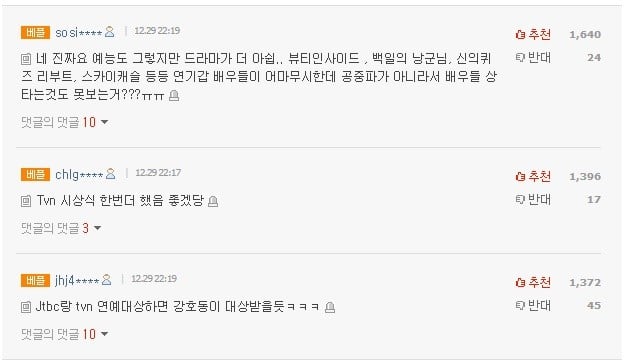 Regarding this "diss", as netizens called it, many viewers agreed and shared some top comments: "Yes, really. Variety programs too but dramas especially.. 'Beauty Inside', '100 Days My Prince', 'God's Quiz: Reboot', 'SKY Castle', etc. So many good actors, yet we can't see them win awards just because they are not terrestrial broadcasting channels??? TT", "tvN should hold another award show!", "Kang Ho Dong would have won Daesang if JTBC or tvN held award shows".

Would you want JTBC or tvN to hold their own award shows?