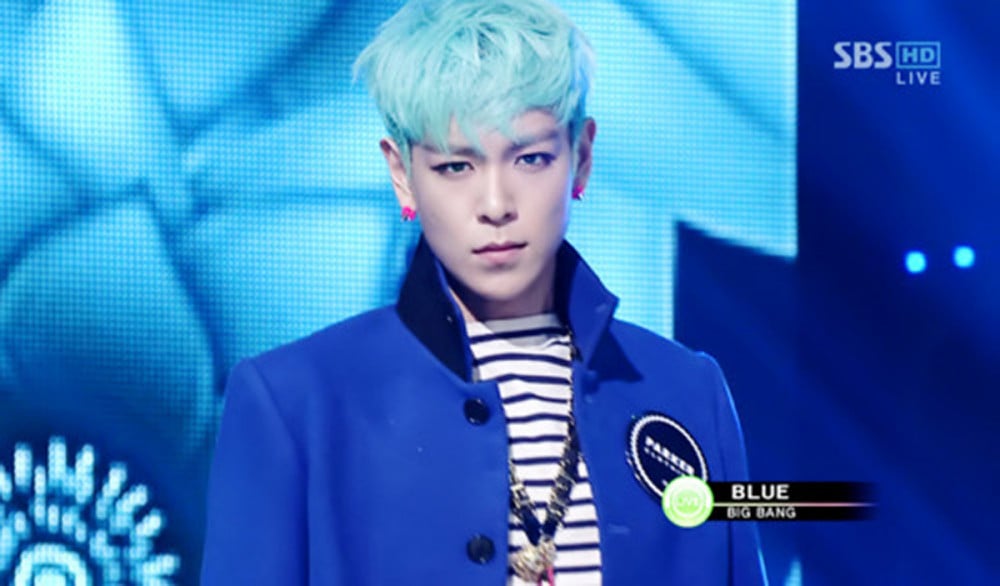 Blue is having its moment in the spotlight! In case you missed it, many stars have embraced the cool and striking allure of blue hair, heralding it as the latest trend to take the entertainment world by storm. Leading the vibrant parade are TWICE's Jihyo and Kim Se Jung, both of whom have chosen this electric hue for their highly anticipated solo comebacks, adding an unmistakably modern and fresh twist to their individual styles.

But the trend is not entirely new; several stars have previously sported the cool tone, showcasing a range of shades from pastel blues to deep navy hues. While Jihyo and Kim Se Jung are the latest to join the trend, they certainly stand on the shoulders of fashion-forward predecessors. In addition to the two mentioned above here are six other K-stars astounding in blue hair.

1. BTS V: What hair color doesn't look good on V? From strawberry to blue V isn't afraid to go to the extreme with his hair color. With the blue it gives off more regal vibes, don't you think?

2. MAMAMOO Whee In: During their "Hip" promotions, Whee In went bold with the inky blue hair. Giving her an alluring look, the blue really emphasizes her flawless complexion.

3. HyunA: HyunA is always known for her unique style, whether in clothing or song concepts, but she was one of the first stars to have blue hair. But elevating the look with hues of purple and green, it's truly a look that only she can pull off.

4. Seventeen S.Coups: Whereas most stars who donned the blue hair gave off a more edgy vibe, with S.Coups it's the complete opposite. With a more subtle blue hue, S.Coups gives more of an angelic aura with this hairstyle.

5. IU: Fitting her "Blueming" promotions, IU went with the bright blue. Just like how she's able to pull off any style, blue furthermore emphasized her beauty.

6. T.O.P: It's hard to believe that a full 11 years have passed since BIGBANG released their iconic single "Blue." Coinciding with the song's named, T.O.P was one of the first idols to boldly embrace the blue hair style, setting a vibrant precedent that continues to influence style choices in the genre today.
It's interesting to see what hair color becomes the trend among K-stars, wonder what the next hit color will be!