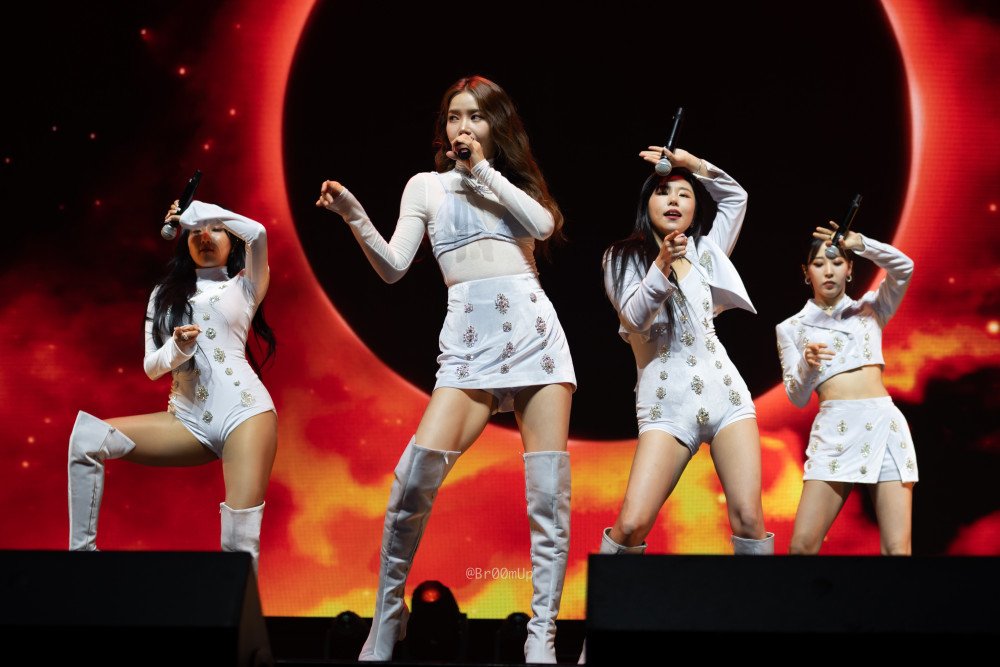 On May 27, as part of their USA tour in Chicago, MAMAMOO fans added a fresh twist to the tradition of 'gifting your favorites flowers'. In a bid to both show their support for the group and cleverly petition for a song cover, fans showered the members with pink panties on stage. They wished for MAMAMOO, affectionately known as 'BelisMamamoo' (Believe and Listen to MAMAMOO) by the Korean public, to release a cover of the song 'Blurred Lines' by the group called 'Pink Panties'. This unique gesture not only signified fans' love and support but also encapsulated their wish for a fresh rendition of the popular track.

While the group engaged with fans during a stage break, a sudden flurry of small pink packages from the crowd caught their attention. Recognizing the reference to their past cover song, the members were instantly filled with smiles and laughter. The quirky stunt served as a whimsical reminder of the fans' persistent requests for the song's release on online music platforms. As it stands, the only available rendition is a member-made music video on YouTube, a testament to their dedicated fanbase's love for this particular performance.



Beyond the initial laughter and delight, what did MAMAMOO do with the gifted panties? The answer is as creative as it is unconventional – they promptly transformed the panties into shoulder bags and began modelling them onstage. The internet was awash with fan reactions, from newbie Moomoos to the seasoned veterans, all enjoying the group's playful nod to "Pink Panties". While the band has yet to confirm if the cover song will make its way to music streaming platforms, fans are keeping their spirits high and their hopes alive.

If you want to grab a ticket while there is a few left for the last three shows, you can do this via TicketMaster.
Congratulations to MAMAMOO!