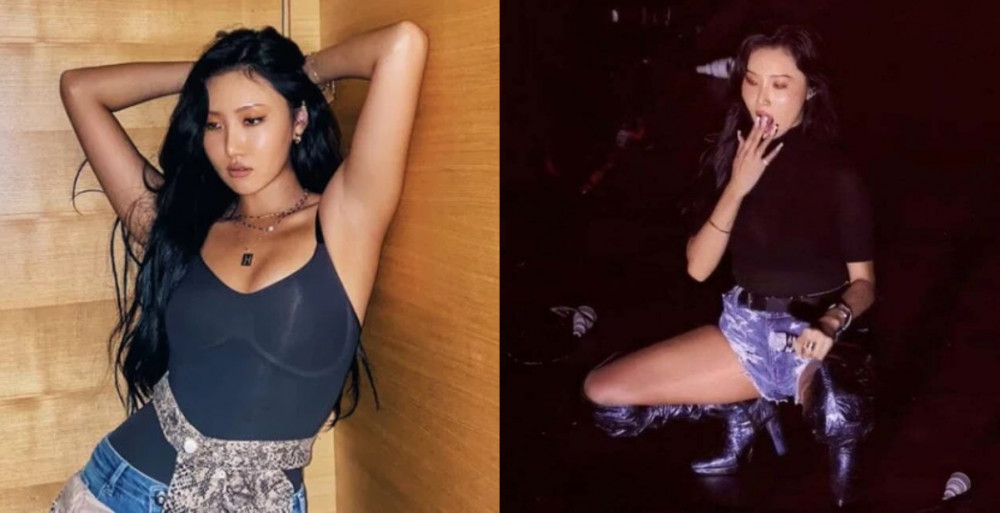 MAMAMOO's Hwa Sa divided opinions after she showed a 19+ rated dance move on stage.
MAMAMOO member Hwa Sa's recent action on stage during a college festival performance raised eyebrows. Amidst a quite free-spirited energy in a college festival, Hwa Sa made, what many perceived as, a sexual gesture while dancing on stage. Her action on stage divided many opinions, and some stated that her quite 'western performance' style crossed the line for a university festival performance in South Korea while others stated that it was simply for the sake of showing a good performance.
Hwa Sa is well-known for her sexy concepts and bold outfits while performing on stage. But despite this, many netizens still thought Hwasa went too far considering the time and place of her performance. Performing at a college festival, Hwa Sa performed the track "Don't Give" and was seen wearing a see-through black shirt and jean shorts. During her performance, Hwa Sa sat down with her legs spread wide open and continuing to dance to the groovy beat of the track, Hwa Sa suddenly licked two fingers and moved them up in what many perceived as a sexual gesture.
Hwa Sa's dance move in question can be seen below: