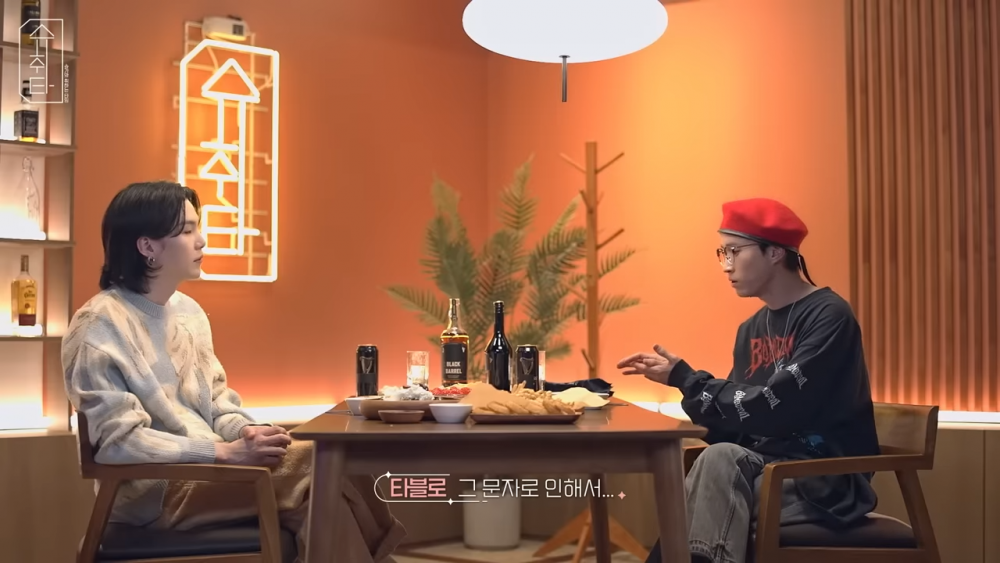 On 'SuChwiTa (Time to Drink With SUGA),' SUGA was able to talk to one of his most inspiring artists growing up.
In this episode that premiered on YouTube on February 23, SUGA sat down with Epik High's Tablo to talk deeply about music and express his gratitude for inspiring him throughout his music career.

At the beginning of the video, SUGA and Tablo took a glass of Irish Slammer to start the conversation, then SUGA congratulated Tablo on celebrating Epik High's 20th anniversary.
Tablo shared he can't believe it's already been 20 or so years since he started music. He shared, "The words '20th anniversary' are so...They're so much pressure. It's just so hard to believe. From the moment I turned 20 up until now, I don't feel that much change. I'm just doing what I always love to do."
SUGA responded that it doesn't feel that long and that he still listens to Epik High's old songs even now. SUGA shared, "Epik High's first album came out in 2003. Epik High's 'Fly' came out...about 16, 17 years ago, right? I still listen to your songs."
Tablo then shared, "I was going to mention that. Sometimes when you're feeling drained, you text me. (You say) 'Hyung, I'm listening to 'White Night.' When you text me about those things, I wanted to thank you so much for that."
Tablo expressed his gratitude to SUGA for his messages, saying they make him feel remembered and appreciated.
SUGA revealed that Epik High's songs provide him with solace and inspiration to continue writing when he feels exhausted and has encountered writer's block. SUGA shared, "Namjoon (RM) and I always say Epik High made our team. That's how much we rely on you. And I always end up listening to Epik High's music when I'm feeling exhausted and don't feel like doing anything or have a lot of worries."