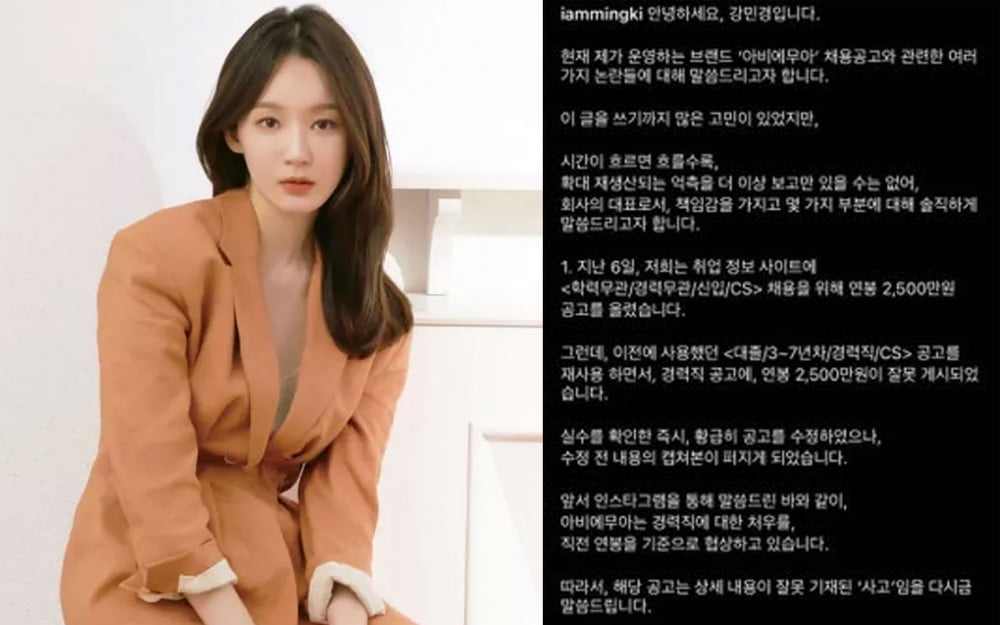 Davichi's Kang Min Kyung was recently under fire over a job listing for a three-month contract customer service job for her apparel company Avie Muah.

The singer received criticism when her company sought an experienced degree-holder with three to seven years of experience; they offered a salary of just 25 million KRW (~20,078.47 USD), which is significantly lower than the average wage for a position requiring such extensive experience.
On January 11, Kang Min Young personally apologized on her Instagram and explained that the listing was an honest mistake. She wrote, "The job listing for the experienced position was accidentally posted for the wage of 25 million KRW, which was incorrectly stated."
She emphasized, "Avie Muah is negotiating the wage of employees according to the annual salary they received from their previous employer. I would like to reiterate that the job listing was 'an accident' with incorrect details."
Kang Min Kyung also refuted the claims that her company has a high resignation rate of over 50%. She explained, "In fact, our company's resignation rate is 30.4%. Since the company was founded in 2020, 22 people joined the company, and 6 people have left. Currently, out of the 16 people in the team, 10 people are still working."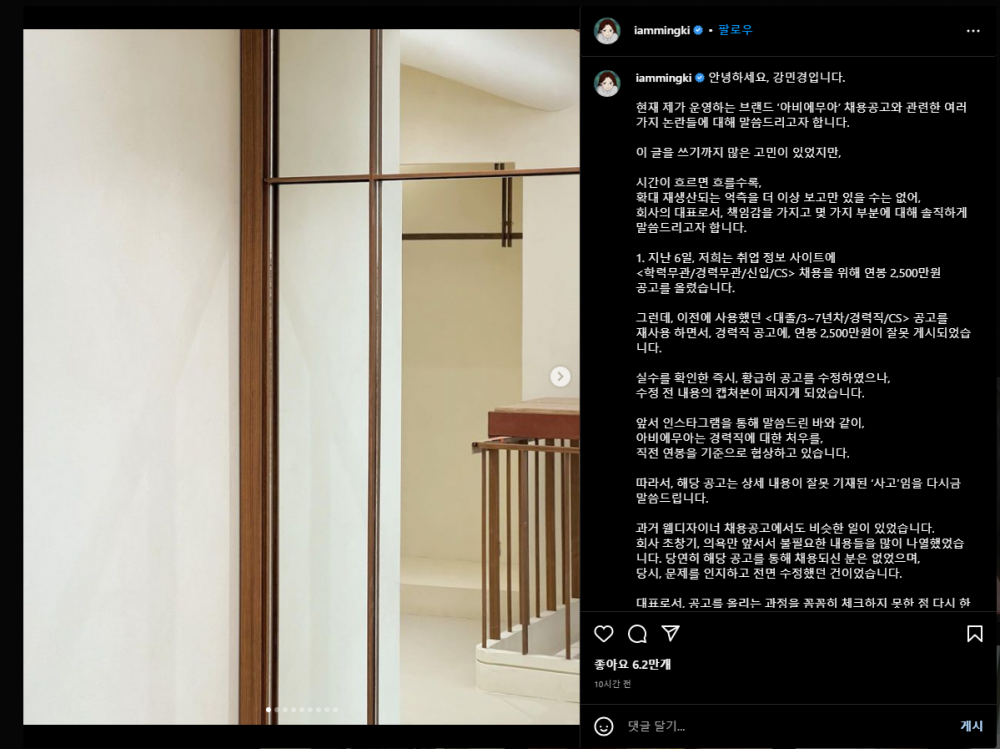 She also spoke about the controversy of using the most expensive household furniture while paying her workers a low wage. With the latest low-wage controversy, netizens criticized Kang Min Kyung's high-end house furniture and appliances were more expensive than the annual salary listed on her company job listing. She explained, "I didn't know that using expensive desks and gas stoves would become a controversy along with the job listing. As an individual with a job of being a celebrity, I lived with the idea that it was also my job to advertise and introduce good clothes and good products."

She concluded by saying, "I will take these various pieces of advice to be more attentive to my surroundings. I wasn't aware that this (the latest controversy) would reduce the value of those who are dreaming to enter the same industry." Kang Min Kyung stated, "Taking this latest incident as an opportunity, we will adjust the starting salary of all new recruits regardless of their academic background or career experience and to the current employees of Avie Muah to 30 million KRW (~24,091 USD)."
Nevertheless, Kang Min Kyung continues to receive criticism as netizens say she is tone-deaf and still ignorant of the current wage for experienced new workers. Netizens commented, "She's so tone-deaf and is so greedy for money. She is looking for an employee with experience that's good enough to be hired by Samsung but she wants to pay a slave," "I don't think the image of her company will increase with just a few million KRW increase. She probably wouldn't have corrected the job listing if it didn't get media attention," "The type of worker she wants can get paid 45 million KRW entry position," "I'm more disappointed that she said a job as a celebrity is to advertise and introduce good clothes and good products. Celebrities don't get popular because they show off expensive items," "She thinks 30 million KRW is a lot still for that position," "What you did was not introduce 'good' clothes and 'good' products but it was showing off the fact that you can buy 'expensive' products," and "She said her YouTube advertisement issue was a mistake and she didn't know. She wants us to think she didn't know about this too?"