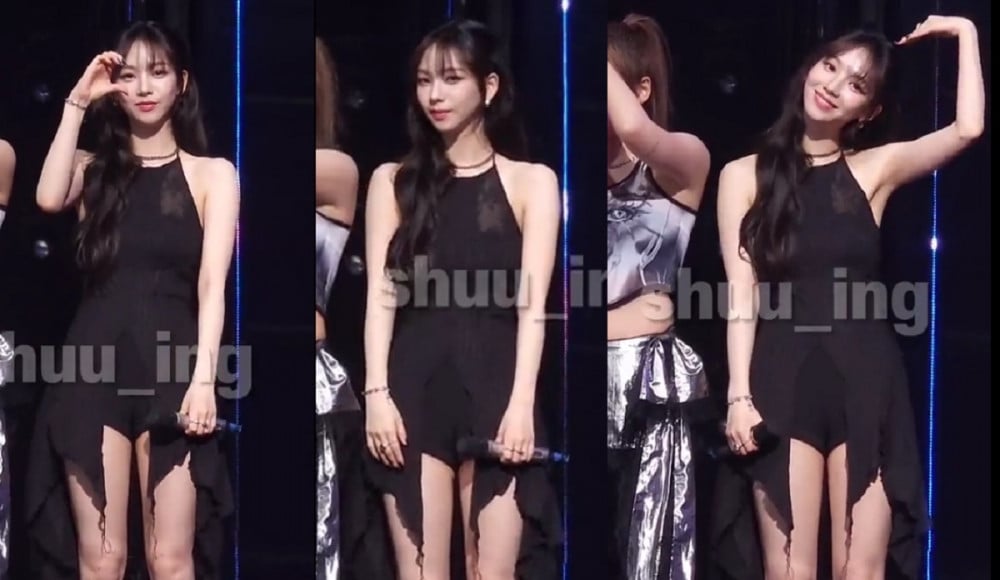 aespa's Karina is gaining attention for her playful interaction with another group's fan.
On an online community forum, netizens talked about Karina's adorable teasing of an audience member taking a fancam of her during '2022 MBC Gayo Daejejeon.' In the video, Karina is pointing out that the fan is holding a different light stick, signaling that their bias group is not aespa.
Surprised, the fan did not even know at first that Karina was speaking to her from afar. According to the netizens, the interaction in the video is as follows:
Karina: ("Is that for me?"), (suspicious), (heart), (suspicious again), ("Your light stick isn't ours!"), ("Should I do a heart for you or not?"), (*smile* / heart).
In the video, we can also hear the fan eventually pleading Karina to make a heart for her. The title of the clip is: "I really do love you......I was taking a fancam of you T_T"
Netizens called Karina "adorable" for interacting with this fan and left reactions such as:

"LOL she is so cute"
"Her gestures are so cool and attractive"
"So lovely..."
"Karina is a goddess!"
"So beautiful...her personality is so cool"
"Haha her light stick"
"She is a KING"
"Crazy beautiful"
"Guilty for stealing my heart"
"Haha, the fan is also cute for asking her to do the heart"