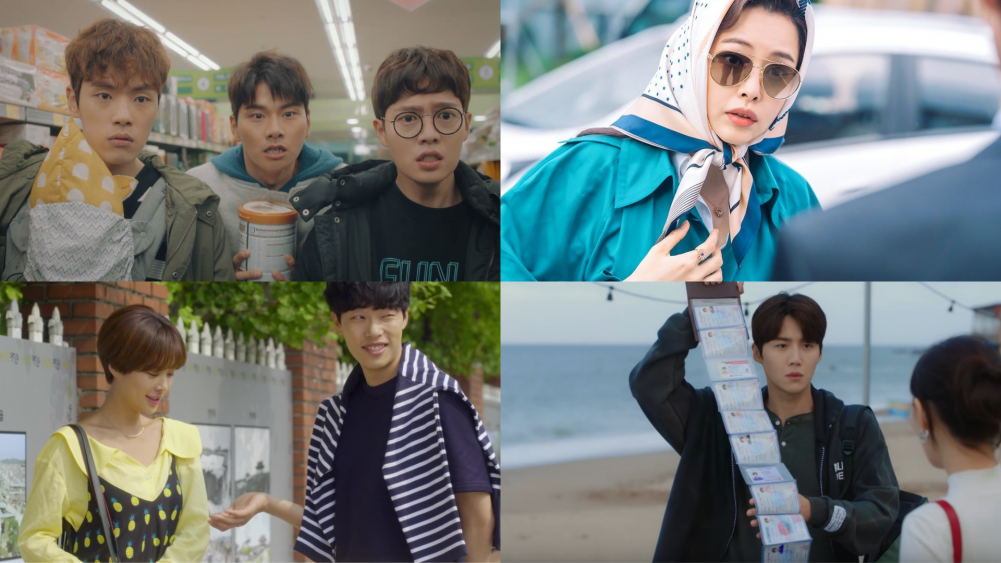 2023 is finally here, and many of us are either attempting to pick up the pieces of what we left behind in the last year or seeking ways to begin the year with a sense of calm and positivity. Some are creating their to-do lists and starting to fulfill their New Year's Resolutions, while others are curating their Korean drama watchlists to ensure an excellent start to the year.
If you love Korean entertainment, then I have good news: Here are some fun and light K-Dramas that you can watch to make the first month of 2023 a great start to the year!
"Welcome to Waikiki"
The "Waikiki" guesthouse in Itaewon is meant to attract a lot of overseas tourists with funds to be used for their dream movie, yet they rarely have guests, with loans getting bigger on top of utilities and bills to pay. This was managed by three best friends, Dong Goo (Kim Jung Hyun), the personification of bad luck who aspires to produce movies, Joon Ki (Lee Yi Kyung), an aspiring actor with an extremely peculiar personality, and freelance writer Doo Shik (Son Seung Won) who spends the vast majority of his time doing nothing or working part-time. When they meet an infant who seems to be left behind in their guesthouse, their already unique life becomes much more interesting as they experience a lot of changes in their lives together. The drama is not only interesting, but has a lot of extremely funny scenes that would make you laugh out loud or feel unending second-hand embarrassment, making the start of your year light and fun! Fans of comedy, this is a much-watch!
"One The Woman"
When Jo Yeon Joo (Honey Lee), a talented and strong prosecutor, wakes up from comatose and learns that she has memory loss brought on by a car accident, her world is entirely turned upside down. She is confused about the woman who resembles her, Kang Mi Na. Mi Na is the second daughter-in-law of the Han household, the proprietors of the Hanju Group, and the youngest daughter of the Yumin Group. Both Kang Mi Na's family and her husband's family regard her poorly since she is an illegitimate child. Eventually, Yeon Joo retaliates against the family's unfair treatment of her while she lives as Mi Na together with the Han family. While there can be themes that seem to be heavy, Yeon Joo's comebacks are extremely satisfying as she stands up for herself. "One the Woman" is an amazing mixture of various genres like comedy, social criticism, mystery, and romance which makes it a great watch for the start of this year.

"Lucky Romance"

Shim Bo Nui (Hwang Jung Eum), a young, gorgeous woman aged 26 years old, is excessively and obsessively superstitious. She is said to have been born unfortunate; thus, she constantly believes the shaman Goo Shin's fortune-telling. She was instructed by the shaman to sleep with a guy born in the year of the Tiger in order to save her sister Bo Ra who is currently comatose due to an accident. She then encounters Je Soo Ho (Ryu Jun Yeol), the brilliant CEO of the game development company Zeze Factory, who rejects superstition and is a remarkably logical and rational person. Coincidentally, Soo Ho is born in the Year of the Tiger, which prompts Bo Nui to ask him to sleep with her. Aside from being able to sympathize with the daily problems Bo Nui face due to Jung Eum's amazing portrayal, their chemistry is to watch for. It is also a great watch as it is interesting to see their interactions despite their huge differences in personalities.
"Hometown Cha-Cha-Cha"
Yoon Hye Jin (Shin Min Ah), a perfectionist and accomplished dentist from Seoul, travels to the picturesque coastal neighborhood of Gongjin on the day of her mother's birthday after her life takes an unexpected turn. There, she makes the decision on the spur of the moment to operate a dental office and meets multi-talented Hong Du Sik (Kim Seon Ho), also known as Chief Hong. Chief Hong is Gongjin's handyman, and although he may not have a formal job, he is constantly trying to help people. He excels in all areas and seems to aid his neighbors with any odd jobs they require assistance with. When Hye Jin later attends a party to advertise the clinic, she unintentionally uses the microphone to talk against Oh Cheon Jae, which gives the entire town a poor impression. Then, Du Sik makes sure to help Hye Jin to fit into the quaint village of Gongjin and eventually fall in love with each other as both of them help the people in Gongjin. It truly is a heartwarming drama and will make you believe in genuine love and happiness despite the challenges of life. The cast and storyline in this drama are amazing.
"Touch Your Heart"
Leading actress Oh Jin Shim (Yoo In Na), also known by her onstage as Oh Yoon Seo, suffers a controversy that harms her reputation and leaves her unemployed for two years until she is granted the opportunity to land a significant role in an incoming series. She should first gain legal background, though, if she wants to clear her record and return to acting by appearing in a work by a well-known author. She subsequently accepts a position working under the guise of a secretary for Kwon Jung Rok (Lee Dong Wook), a hard-working prominent attorney who genuinely cares a great deal about the standing of his firm. They gradually fall in love, and the subsequent events are what drive the plot along. Aside from this being the reunion project of the well-loved tandem, Dong Wook and In Na after "Guardian: The Great and Lonely God," their chemistry shone once again, especially as the personalities of their characters go from clashing to complementing. You will also get to love all the lawyers from the firm and enjoy various relationships that eventually play out. If you're a fan of plot twists then potential viewers will not be disappointed.
"A Love So Beautiful"
A remake of the Chinese hit series of the same title; this coming-of-age drama highlights the experiences and lives of five high school friends and their journey as they grow until adulthood. Shin Sol I (So Joo Yeon), is a seventeen-year-old cheery female student attending Chun Ji High School. She develops an affection on Cha Heon, a neighbor and fellow student Cha Heon (Kim Yo Han). Cha Heon, who seems indifferent but is actually hesitant to convey his sentiments, hears her proclaim her affection to him several times. Then, national swimmer Woo Dae Seong (Yeo Hoe Hyun) enrolls at Chun Ji High School and meets Shin Sol I, whom he will fall in love with. While there may be hints of unrequited-requited feelings and a ton of teenage complications, this is actually a feel-good drama and will make you reminisce your own high school memories!
Are you a fan of dramas from South Korea? Here are only some of the good dramas to start your 2023 on a good note! Which K-Drama did you first watch as the year changed? Enjoy the coming year, and let's all anticipate a great line-up of Korean dramas to come!