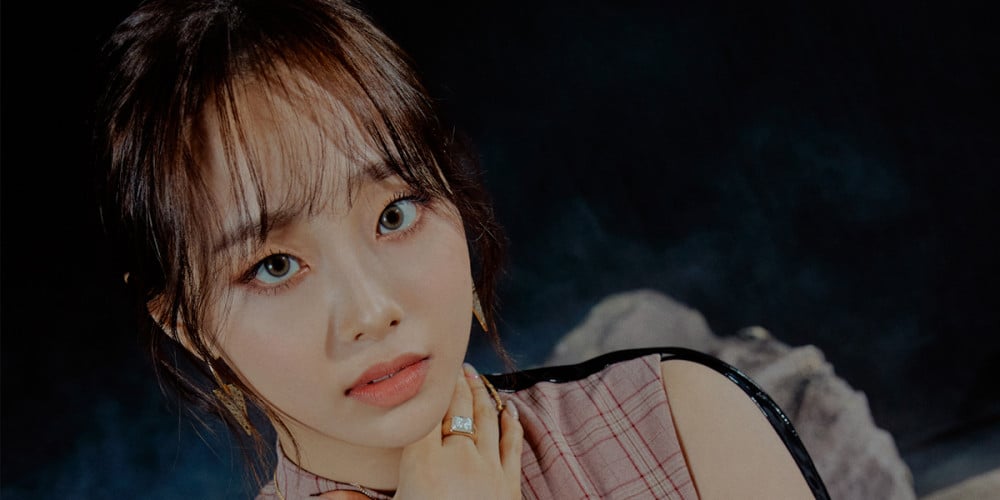 On December 22, SBS News exclusively publicized new KakaoTalk messages exchanged between former LOONA member Chuu and her managers at BlockBerry Creative,
Previously, a 'Dispatch' report unveiled the full details of Chuu's legal dispute with BlockBerry Creative. Prior to Chuu's lawsuit in January of 2022, the idol's exclusive contract stated that all earnings from Chuu's entertainment promotions with BlockBerry Creative would be split with 70% going to the agency, and 30% going to Chuu. Additionally, all costs required for the activities would be split 50% between the two sides, after the distribution of earnings.
Finding this unequal distribution of earnings and costs problematic, Chuu went to court and won her case against BlockBerry Creative, leading to the establishment of a revised contract in April 2022. This revised contract stated that Chuu and the agency would split all earnings with 70% going to Chuu and 30% going to the agency. The distribution of costs would remain the same, but several new clauses allowed either party to demand a compensation amount of 50 million KRW for any potential damages. New clauses also allowed Chuu to exercise her right to prioritize her individual promotions over her group promotions, meaning that the idol could sit out of LOONA's group promotions up to three times a year.
New KakaoTalk messages exchanged between Chuu and her manages below occurred after the legal revision of her exclusive contract with BlockBerry Creative in April of 2022: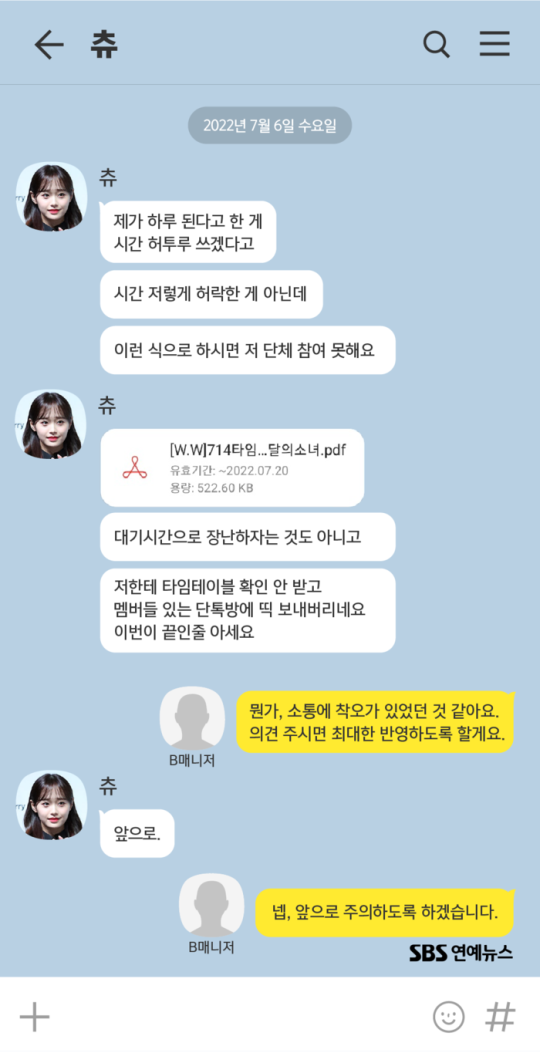 [July 6, 2022]
[Chuu] When I said that I had a day free, I didn't mean I wanted to waste my time that day with this kind of unproductive schedule. If this continues, I can't participate in group activities. (Sends a file.) I don't know if you're trying to play games with these wait times or what. But you sent the schedule to the group chat room with all of the members before confirming the times with me. This is the last time I'm giving you a warning.
[Manager B] It seems that there were issues in communication. Please let me know of any changes you would like me to make, and they will be reflected.
[Chuu] From now on.
[Manager B] Yes, I will take caution.

[Presumed to be the same day]
[Chuu] You said you wanted me to participate in the group documentary. But if the wait times are like what they were in that schedule, I will quit immediately. I'm serious. For real, are you joking with me. You played games with money and as if that wasn't enough, you won't admit to your mistakes and you still want to treat me like a fool. I see it with my own eyes. Everything from the part division to each person's lines. You're proceeding with all of these knowing that you're breaching our contract?
[Manager B] We will adjust the filming schedule so that your wait time will be cut down to the bare minimum.
[Chuu] I've mentioned the wait time a handful of times already, but it seems that nothing is being adjusted. I have to do this every, single, time?
[Manager B] I'll make sure it doesn't happen again. I apologize.

[July 15, 2022]
[Chuu] The Season's Greetings shoot next week. Send me the schedule ahead of time before the full schedule is sent to everyone.
[Manager B] Yes, please wait. I am adjusting Jiwoo-nim's length of stay. I will forward you the schedule in advance as soon as it is out, and will discuss matters with you then.
[Chuu] Not just how long I'm staying. The full Season's Greetings schedule.
[Manager B] Yes. Here it is. Take a look and let me know if you want to reflect on any matters!
[Chuu] My participation time is too long. Adjust it so that I only need to stay until 7 o'clock. Pull the group shoot up earlier, so it goes in a direction where I can leave earlier or something like that.
[Manager B] Yes. I will try to adjust it and let you know how it goes.
[Manager B] Jiwoo-nim, I requested a change in the schedule, but received the response that changing the schedule is too difficult. I'm sorry I couldn't be of help. As there is nothing more I can do, you may send any legal notices via your mother.
[Chuu] Alright.


Finally, according to one series of messages newly revealed by SBS News on this day from October of 2021, Chuu was seen strongly expressing her wishes to cut out the costs of living in LOONA's dorm from the overall costs she has to pay for her activities: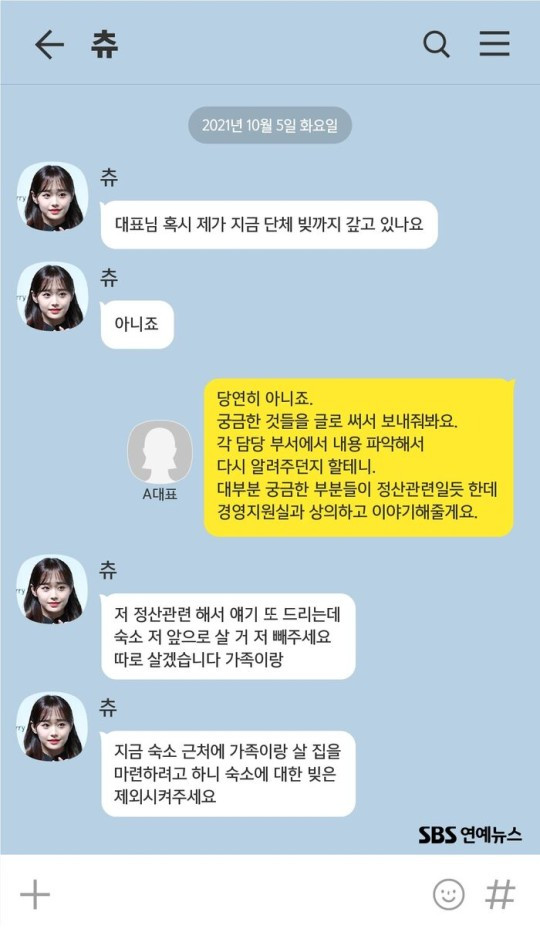 [October 5, 2021]

[Chuu] President, am I perhaps paying for the costs accrued by the group? No, right?
[President A] Of course not. Write down all of the questions you have and send them to me. I will forward them to each branch so that they can confirm the information, and I will get back to you with the answers. I assume that most of your questions will be regarding your payments. I will discuss the matters with the management team and let you know.
[Chuu] Regarding payments for my earnings, I want to let you know again that I want you to take out the costs of living in the dorms. I will be living with my family and not in the dorms with the members. I am looking for a place near the group dorm to live with my family so take out the costs of living from my overall costs.
Meanwhile, earlier on December 22, BlockBerry Creative announced the indefinite postponement of LOONA's comeback album '[0]'. The agency cited "unresolved concerns over recent events" as the reason for the decision.