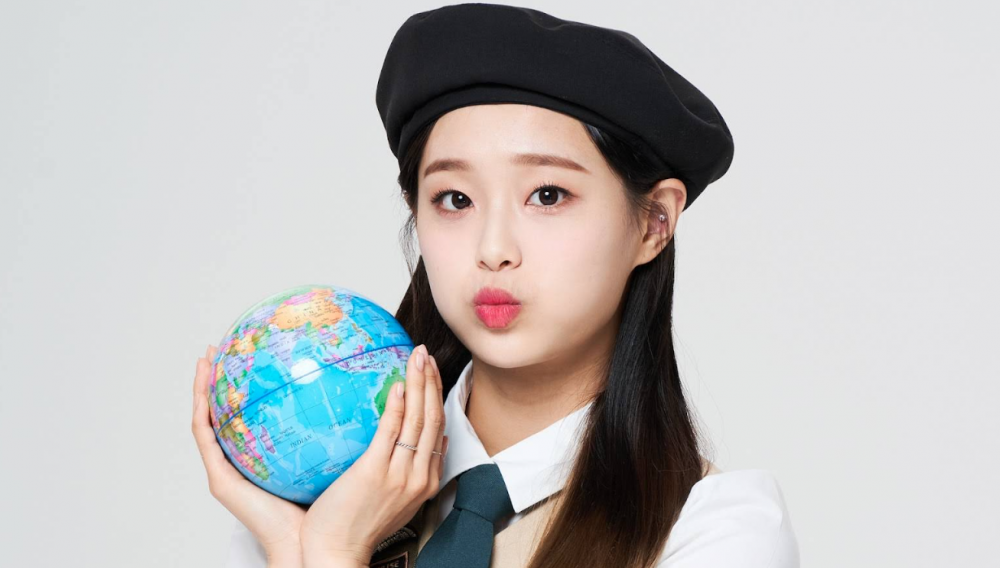 'Dispatch' claimed there is no single villain in Blockberry Creative and Chuu's dispute.

On December 19th, 'Dispatch' revealed lengthy text exchanges and profit distribution between Blockberry Creative and Chuu. The media outlet claimed their relationship is a lot more complicated than what is known to the public and there is no real single villain in their dispute.
Back in December 2017, Chuu wrote a heartfelt letter to Blockberry Creative's director B. Part of her letter included phrases such as "Happy new year, and I, Chuu! I promise I will make everyone at the company happy with my positive energy from now on."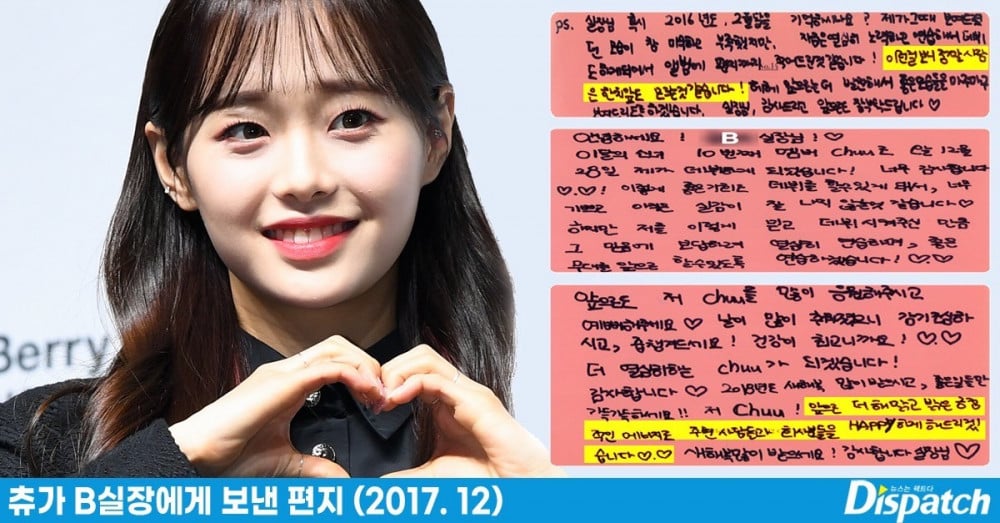 In June 2022, Chuu's text to director B was the complete opposite. Part of her texts included phrases such as "Are you seriously blaming me for that one second? lol, I'm not participating in this album.", "Will you pick up the pieces after I write everything that has happened and die?"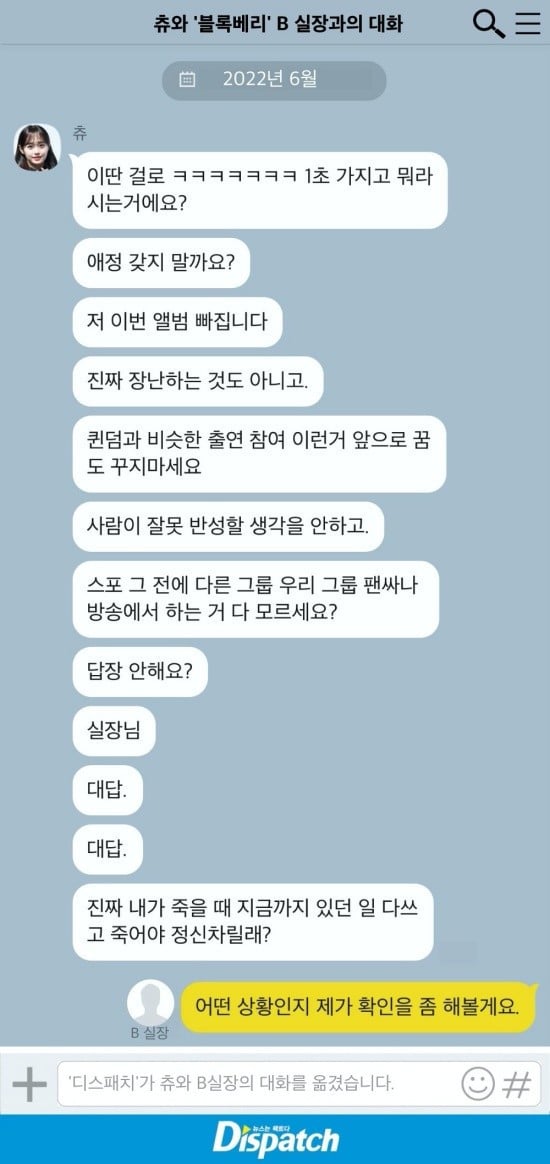 Apparently, this conversation happened after Chuu spoiled a bit of choreography for the upcoming song during her video fan sign event. Representative A complained about this to Chuu's mother and Chuu subsequently reached out to director B regarding the issue.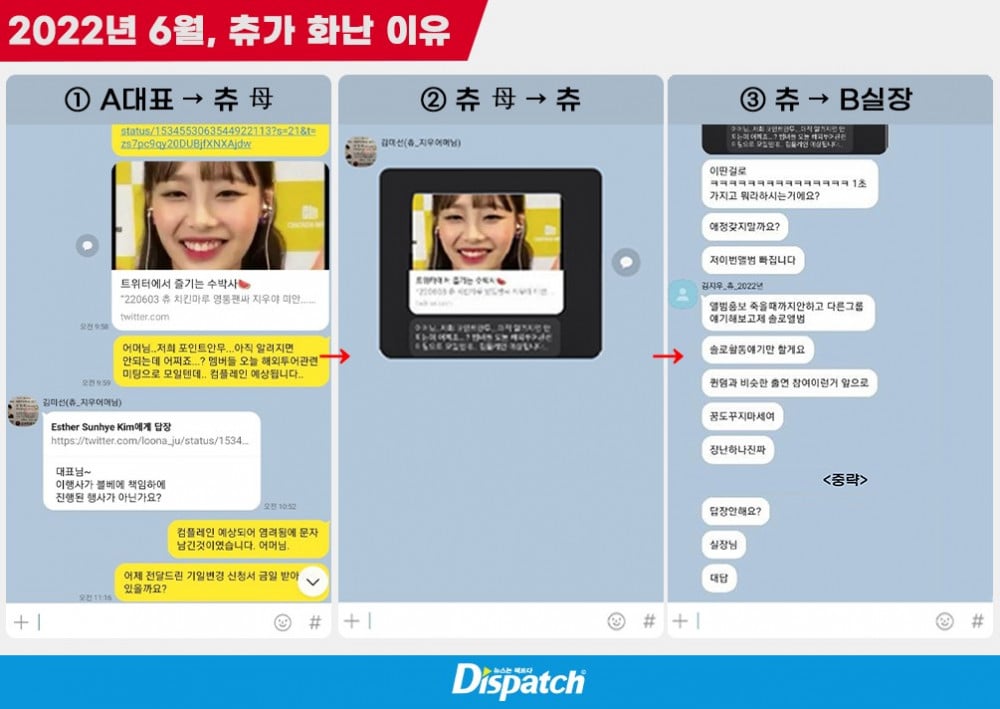 'Dispatch' says their relationship started off on the wrong foot. On December 4th, 2017, Chuu signed an exclusive contract with BlockBerry Creative. BlockBerry Creative included the clause where the company and Chuu split the cost evenly, while the company takes 70% of the profit. This is unusual in the industry, as the cost distribution mirrors the profit distribution. This later backfired because Chuu sued for an injunction to nullify the contract in 2022.

After the court sided with Chuu in January of this year, Blockberry Creative lost bargaining power and tried to renegotiate the contract with Chuu. In the new contract that was proposed in April, BlockBerry Creative now takes 30% of the profit and Chuu could sit out from LOONA's activity as a group for up to 3 times a month. In addition, Blockberry Creative will pay Chuu 50 million KRW and Chuu can exercise the right to terminate her contract immediately if Chuu was harmed. Blockberry Creative also agreed to relay any external proposal to Chuu without fees. This new sub-contract was supposed to be effective until the end of this year on December 31st.
On May 24th, when LOONA was filming their music video for "Flip That", the filming got delayed. The group choreography that was originally scheduled for 11 PM was delayed to 12: 27 AM on May 25th. That was when one of the LOONA members called representative A to notify him that Chuu was leaving the set. At 12:35 AM on May 25th, representative A called Chuu's mother.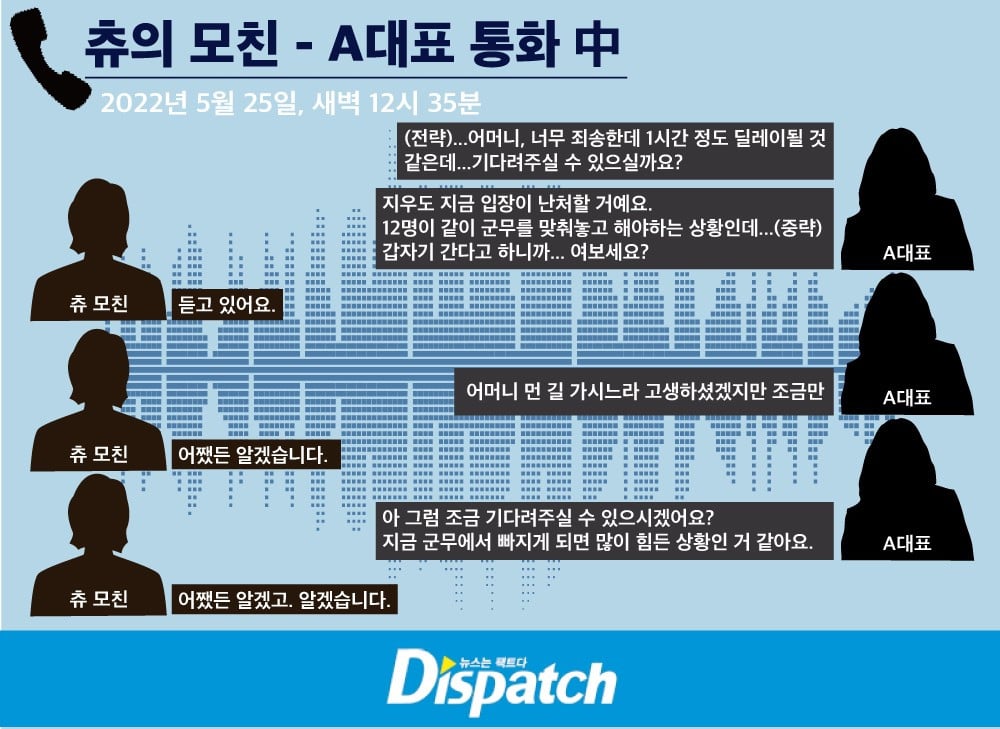 A: Hello, I know you're waiting to pick up your daughter from the set. I am so sorry but I'm wondering if you could wait a little longer. There was a delay of about an hour. I think Chuu is also in a difficult position right now. All 12 members have to perform a group choreography but...hello?
Chuu's mother: Yes, I'm listening.
A: I understand you've traveled from afar but
Chuu's mother: Okay, I get it.
After hanging up, Chuu's mother sent a text message to representative A saying she will be exercising her right to 50 million KRW as written in their new sub-contract for disturbing Chuu's personal schedule to film an advertisement on May 25th. Representative A replied if Chuu can stay until they film the 19th scene as she will be paying the fine anyway. The group choreography scene was the 16th scene. Chuu stayed until they finished the 16th scene, but she left around 3 AM without filming the 19th scene. Originally, the 19th scene was where all members showed up before getting on the train.
On November 25th, BlockBerry Creative issued a statement regarding its decision to remove Chuu from the girl group LOONA due to her abuse of power based on their communications from August 2021 to July 2022.
'Dispatch' wrapped up their report by delivering Chuu's perspective as well. Chuu said she wanted to set the contract straight because in some cases she would be losing money despite working hard. For instance, if the profit was $100 and the cost was $70, Chuu will be losing $5 according to the original contract although she did not have to split anything with the members. All LOONA members had an individual contract with BlockBerry Creative, so anything the member makes will be split between that member and the company, not with the other members in the group.
Chuu also said she lost faith in the company last year and she did not want to participate in 'Queendom' but she signed the new sub-contract because she wanted to continue the group activity. She also provided a voice recording of one of the company's representatives, saying he looked down on her as if she was a child so she thought she had to be assertive, which in some cases could have come off as being rude.
Do you agree with 'Dispatch' in that there is no real single villain in their dispute?