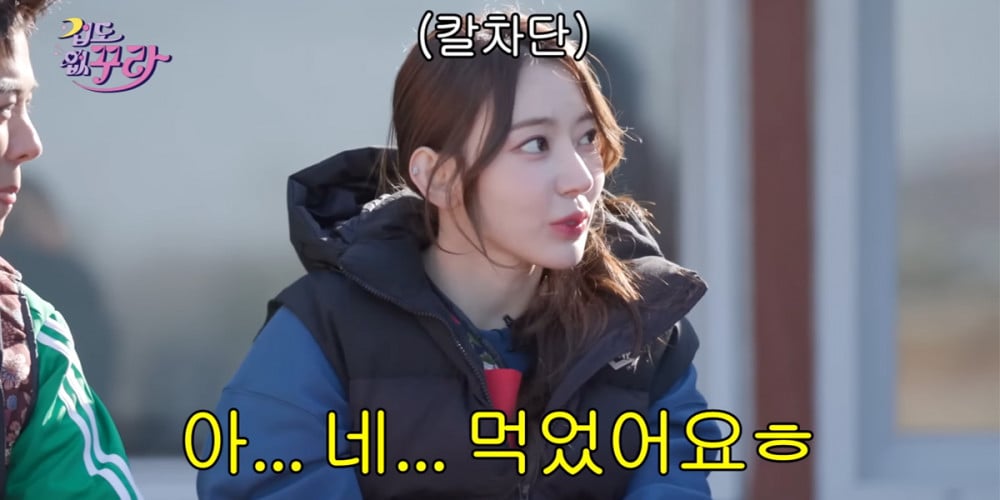 On November 30, LE SSERAFIM's Sakura revealed the second episode of her new YouTube series, 'Fearless Kkura'!
On this day, Sakura continued where she left off during episode one, during which she was given the task of making 100 cabbages into kimchi. Joined by guest Kangnam, Sakura got to work washing vegetables, salting, seasoning, and more.
While laboring away, Kangnam shared a story from when he was still adjusting to Korean culture. He said, "When I first came to Korea, I had a strange experience at the sauna. Even though the bath water was extremely hot, the men would go in and say, 'The water is so cool!'."
Hearing this, Sakura also said, "For me, I didn't know why people kept asking me 'Did you eat?'. I thought, 'Why are they curious about if I ate or not? Are they trying to invite me to a meal?'. So even if I didn't eat, I always answered, 'Yes, I ate'. I didn't want to go eat with people I didn't know well."
The mother helping Sakura and Kangnam make kimchi then remarked, "It is just a way of showing that Korean people are caring toward their neighbors. If people say they didn't eat, we bring them home and give them a meal."
You can watch the latest full episode of Sakura's 'Fearless Kkura', below!