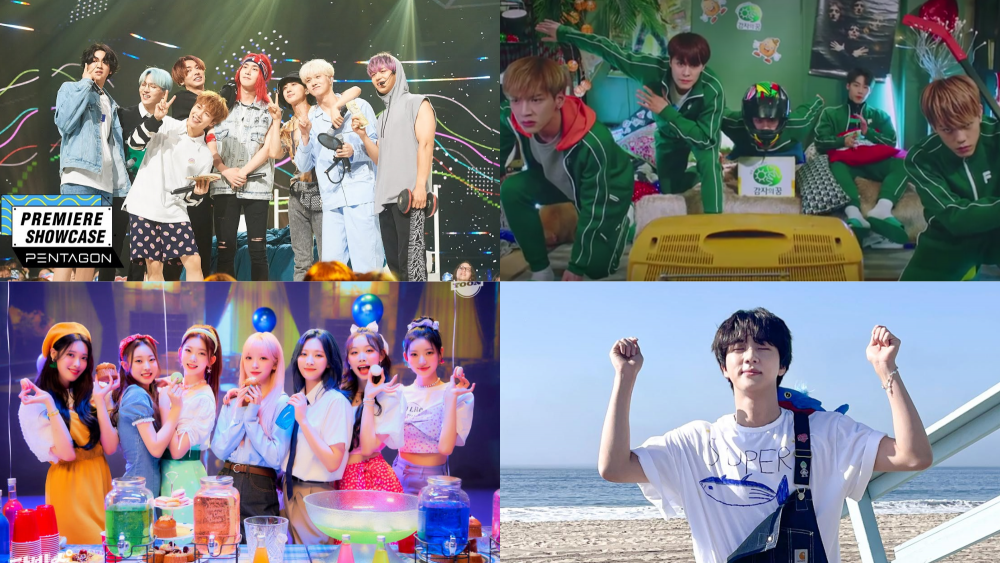 You know, sometimes, K-Pop doesn't have to be that deep. No need to overthink it; no theories, no love stories, and no poetic meanings. Just silly and fun lyrics about anything from dissing each other to foods. These lighthearted songs are always so enjoyable to listen to! Here are some K-Pop songs with unserious lyrics that are sure to bring a smile to your face.
Pentagon - Round 1 & 2
Diss tracks are always fun. Especially when they're dissing each other. In these two memorable tracks, that's exactly what Pentagon members did. For Round 1, they did it in a boxing match 1 vs. 1, where one member disses another right after another. For Round 2, they acted as the member they were dissing and just dissed himself. It's such a fun song. We're still waiting for Round 3! Check out Round 2 HERE.
Stray Kids - Maknae on Top
To show their love for their beloved youngest, Bang Chan & Changbin made a song just for their maknae, I.N., who is the boss of the group, which becomes the anthem for all the maknaes.

Xdinary Heroes - Zzz...
The Korean name for this song translates to 'sleep talking,' so basically, the lyrics are basically just nonsense. (But why is it my top-played song?)
"A wild goose, even if you flip it's still a wild goose,
Red, orange, green, blue, navy, rainbow,
I don't sleep because I don't sleep"

j-hope - Chicken Noodle Soup
This bop will get you dancing non-stop and after, making me want some chicken noodle soup with a soda on the side too.
Jin - Super Tuna
Why is this the most Seokjin thing to do? Randomly singing a song about tuna and just 'reels' everybody in with his cute antics and smile.
N.Flying - Hot Potato
So basically, they want to be famous hot stars but, like... as a hot potato. I guess that is better than being a couch potato, huh? The fun music video shows a switch of them from being broke to being stars.
1TEAM – ULLAELI KKOLLAELI
This fun song is about them affectionately calling their friend a loser after their break up. I guess it's a fun and loving way of cheering your friend up.
EXID – Are You Hungry?
I actually am, thank you for asking, especially after the three food references we just had. But this retro-sounding song is actually about making food for their lover with a lot of eating onomatopoeia.
ONEUS - English Girl
This super cute song is about them trying to flirt with a girl but... they can't speak E..English well. No need to apologize! I can't speak Korean well too! So maybe we can just keep playing charades during our date?
SHINee - Woof Woof
They really know how to skip the boring bits with this super energized and funky song about... being a dog. I'd keep a fluffy Minho anytime, despite my allergies.

MCND - H.B.C
This has to be one of my favorite unserious songs because it's about honey butter chips, and I am a huge fan of the snack. It's even for an advertisement. Not sure why they're not the face of the snack yet because this bop is basically just free advertising for honey butter chips..
Hoshi - Tiger Power
Hoshi is so unserious about this. The song is just about how he wants to be a tiger. The lyrics sing, "stop teasing me by calling me 'hamster'. It's really annoying because I'm a tiger, so don't do that." Okay, okay, Hoshi, you're our cute little cub.
SuperM - Jopping
Mark may be serious about spitting straight facts, but this song is so unserious for introducing a new word to the English dictionary; Jopping. However, three years later, this song is still very much a JOP.
Billie - Patbingsu
Totally love the whole retro concept this music video had, but what I loved more was that this song is literally a recipe for patbingsu. As a huge fan of the shaved ice dessert, I really appreciate the song, but it is easier to just go to a store and eat it. (I write this as I eat a bowl of it on a cold winter evening).

Oh My Girl - Banana Allergy Monkey
They may be super unserious with the song, but let's give it some sympathy. It's a song about a monkey with a banana allergy, but still l ikes it anyway and loves banana milk. Four years later, they're still waiting on that promotional commercial for the banana milk brand. Come on now; they'll be super cute doing so!
WJSN Chocome - Super Yuppers!
Who needs MARVEL or DC superheroes when we have our Cosmic Girls? This song is solely about them being superheroes. They were already cute before, but this just melted me more with how absolutely adorable they are.