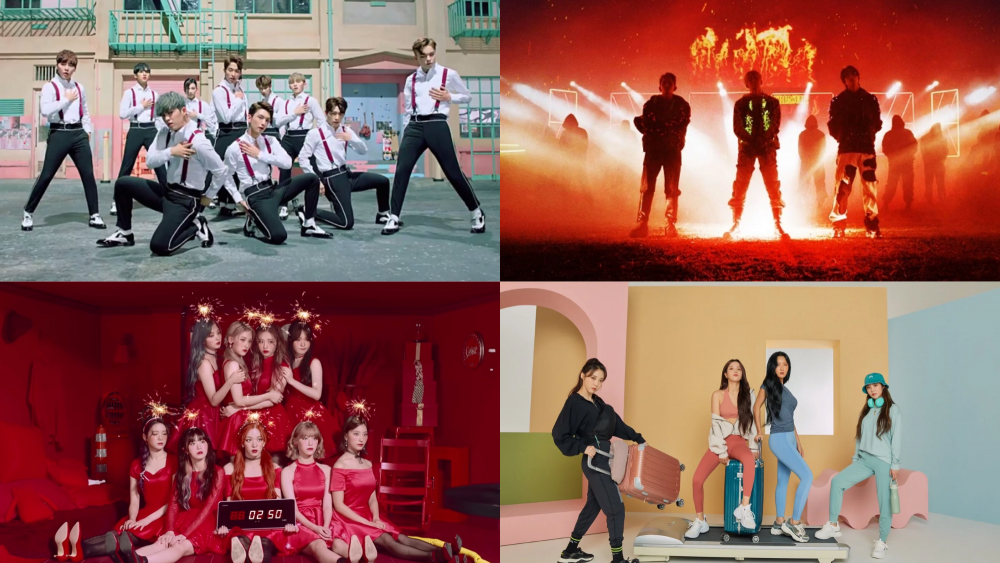 Do you have a song or two (or a whole playlist, really) that, when it comes on, fills you with so much energy that you don't need caffeine or sugar anymore? I feel like a bunch of K-Pop songs can fit such a description, and believe me when I tell you that it was so hard to pick which to include in this article. So, don't call me out for missing some of your favorites - instead, share them with us!
ATEEZ - Guerrilla
I probably shouldn't start our own Guerrilla with this one, but I do want to start punching things when this comes on. The song kind of makes you feel like you're unstoppable.

Stray Kids - MIROH
It's most probably the energetic "STRAY KIDS WHOOO," the insane rap and intense yet super fun dance that makes me feel like I can take over the world and push through whatever life throws at me because, in this rough jungle, I was the one who ran into it.

fromis_9 - Love Bomb
Despite the somewhat sad instrumental, their warm voices inherently evoke feelings of happiness. An underrated yet legendary song, this song will certainly make you explode all of your energy bombs.

SHINee - Sherlock
One of the most OG hype songs, SHINee, will always be back on your playlist. Released almost 11 years ago, this masterpiece is still the go-to hype track.
SEVENTEEN - Aju Nice
Even if you're not a fan, you'd know this legendary song. It's the song that will make you feel VERY, VERY NICE. Fans absolutely love this track, and it's even better in a loop.
The Boyz - Maverick
Member Kevin might not know what MAVERICK means (a person who thinks and acts in an independent way), but what we know is that this track definitely pumps in so much energy and adrenaline, making you indisputable as if you can take over a city of night.

SuperM - JOPPING
Three years later, we're still jumping and popping, we JOPPING, and don't forget Mark's legendary line will forever be iconic.
Joy - Hello
You won't need any morning coffee when you have this song playing in the morning. This song makes you feel like the main character of your own show, and it's the opening theme song for the morning.
MAMAMOO - Wanna Be Myself
Despite being only for an ad, this empowering masterpiece will have you moving, grooving, and loving your best self.
TWICE - Fanfare
This powerful and cheering song will certainly give you the boost up you need. Especially when it's one of those blue and slow days.
Chuu - Heart Attack
Can we just agree that anything Chuu sings will give us the biggest heart attack because of how insanely great she is? This super fun song, along with how fresh and sweet Chuu's voice, will give you the energy booster you so badly need.
NCT 127 - Kick It
One of 2020's best masterpieces, this song will teach you a new thang or two and make you want to kick it with Bruce Lee.
Enhypen - Go Big Or Go Home
So will you go big or go home? On days when you kinda feel like "meh," this song will make you want to go big. ENHYPEN's energy in the song and their performances also will give you addictive energy.
BTS - So What
It's 2 am, and you're staying up late working on something and in need of that little pick-me-up? Here's the song for that. This song makes you want to run around late at night with a bunch of friends, not giving a care in the world because you are young, wild, and free.
PENTAGON - Do Or Not
This insanely catchy and fun song will make you scream SO WHAT I DON'T CARE ~ no matter the hours. They never disappoint in making songs that will keep you hooked.
MONSTA X - Follow
Does this song not just make you go FOLLO-LO-LOW ~ out loud? The insane energy these "monstas" have in this track will give you the most energy you will ever need. Not even 6 shots of Espressos can beat.
TREASURE - VolKno
Did you see how they totally took over the MAMA stage and made it their own concert with this track? Yeah, insane. That's TREASURE for you. This super fire stage will erupt all of your energy like a volcano indeed.
Purple Kiss - memeM
The 2022 song that just lives in your mind rent-free, but it does not freeload. It provides you with the energy and boosts you need with how insanely good and addictive it is.