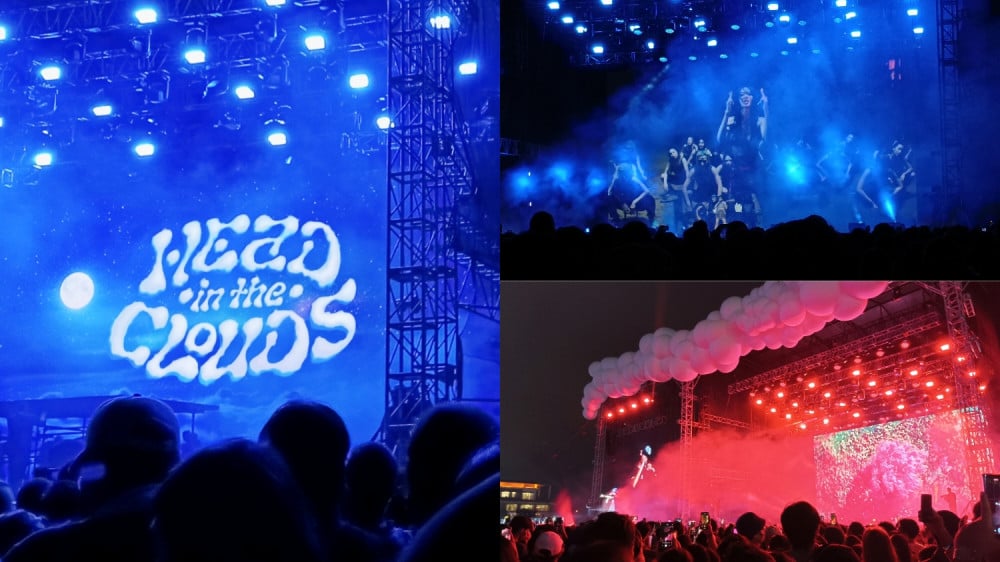 'Head In The Clouds' wrapped up its tour festival in Manila, Philippines with a two-day-and-night show, which took place on December 8-9 at the SMDC Festival Grounds.

On December 8, the Friday night performers included Jinzxhou, Adawa, Zack Tabudlo, Stephanie Poetri, Manila Grey, Gakko!, SB19, Manila Killa, Warren Hue, Milli, Yoasobi, Joji, Rich Brian, finally completing the list, Korean-American rapper/singer Jessi and GOT7 member/solo artist Jackson Wang.

It was both Jessi and Jackson Wang's second visit to the Philippines for a stage performance, with Jessi's first-ever solo show that happened on September 30 and Jackson being part of the lineup of the 'K-Pop Masterz' joint concert last July.

Clad in an all-red fit, Jessi graced the stage with her energetic and fun performance of her hit songs "Put It On Ya," "Zoom," "Nunu Nana," and "Cold Blooded."

Cheers erupted from the full-packed audience as Jackson Wang took the stage, opening his run with the fiercest performance of "100 Ways," "Go Ghost," "Just Like Magic," and more.

He also performed more B-side tracks from his latest solo album 'Magic Man,' including "Blue," "Drive It Like You Stole It," and "Blow." Throughout his 50-minute set, Jackson was able to keep the hype with the crowd as the last performer for the first day of the festival.

The following day, December 9, BIBI and eaJ graced the stage. The second night also included a star-studded lineup, namely DJ E-MAN, Denise Julia, Spence Lee, Guapdad 4000, Akini Jing, Elephante, Ylona Garcia, August 08, Zedd, and NIKI. Ylona and August 08 were unable to perform on stage and face the crowd due to the inclement weather.

BIBI opened her set with "Blade," "The Weekend," and "She Got It," delivering great live stage performances.

The singer continued to rock the stage with her thrilling performance of "PADO," "LAW," and "Vengeance," showcasing her stage presence.

eaJ then showed up on the stage, delivering a chilling performance of his songs including "Voices," "Eden," and "Traveller."

The next tracks on his setlist included "In My Civic" and "LA Stars." eaJ concluded with an extensive set with "Lennon," "Forest," and "Car Crash."