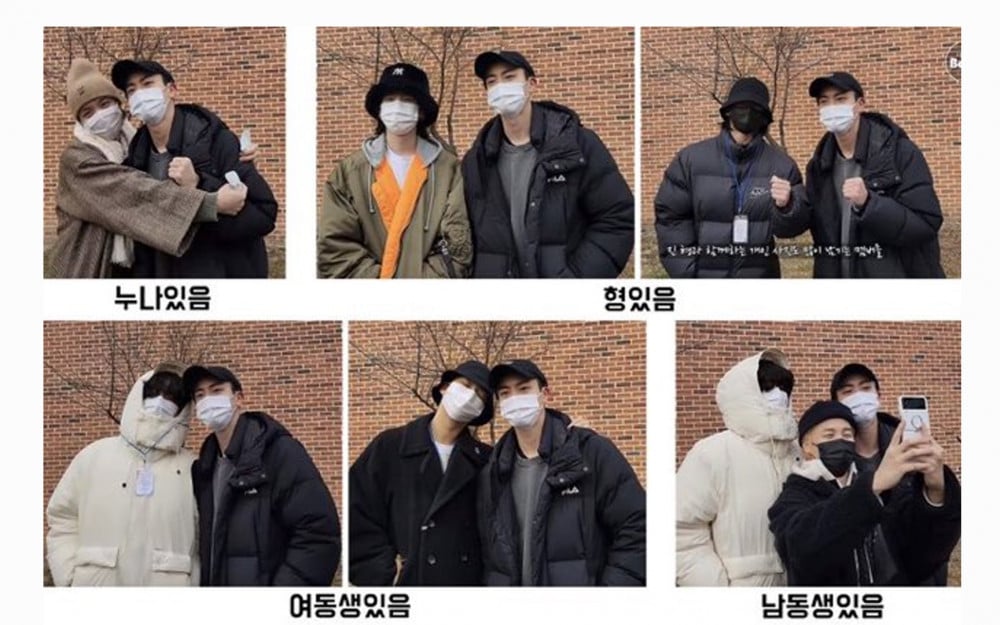 Two days ago, the BTS members sent off their eldest member Jin as he enlisted in mandatory military service.
The members accompanied Jin as he went to the military training center and said their goodbyes to him by rubbing his short hair.
The members also took turns taking photos with Jin, and fans noticed the different ways the members took photos and realized the members with different siblings all posed in their own distinct way.
J-Hope, who has an older sister, hugged Jin, showing lots of aegyo and affection to Jin. Members SUGA and Jungkook, who both have older brothers, nonchalantly stood by Jin's side to take photos. V and RM, who both have younger sisters, leaned their heads against Jin's. And finally, Jimin, who has a younger brother, playfully took photos with Jin and V.
One fan shared in an online community, "I have an Oppa too (older brother) and he always poses the same way as V and RM when we take photos together, lolol."
Other fans joined and also were fascinated by BTS members' photos with Jin. They shared, "I have a Hyung too, this is freakin hilarious," "It's funny cause V also has a younger brother and he's in both photos - the one for younger sister and younger brother, lol," "I laughed so hard at the photo showing the members who have hyungs (older brothers)," "OP, I'm shocked that you take photos with your Oppa lol," and "It's more fascinating that fans found this pattern lols."