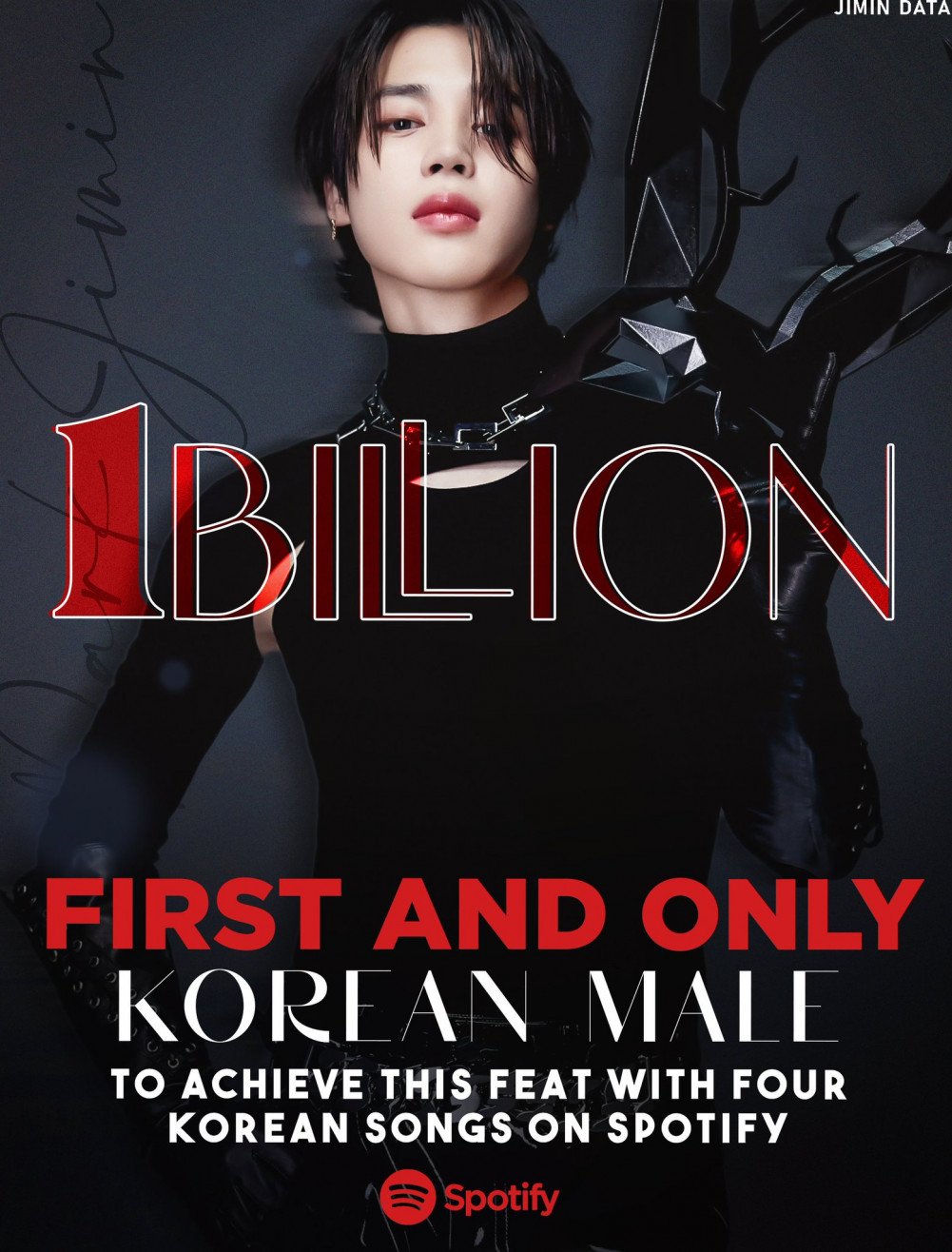 Jimin has written another new and incredible record, with the solo songs credited to him as a singer within BTS and outside the group.
On the 4th of October, streaming data from the largest digital streaming platform Spotify was reported to show how much Jimin's songs have performed so far. It was discovered that the singer had surpassed 1 Billion streams on Spotify across all solo credits. With this milestone, he now becomes the FIRST and ONLY Korean Male to achieve the feat with 4 Korean songs or less.
The aggregate was achieved by accumulating the updated streams for 'Filter' (324,554,698), 'Serendipity' Intro & Full versions (328,756,974), 'Lie' (187,774,097) and 'With You' original track plus its Instrumental (159,264,514) adding up to 1,000,350,283 Billion streams overall.
On Social Media, this great milestone so quickly achieved was celebrated with SPOTIFY KING JIMIN, #Jimin1BonSpotify, and more to congratulate him. SPOTIFY KING JIMIN peaked on WorldWide Twitter trends at #27, with #Jimin1BonSpotify accumulating over 33K tweets.
Jimin has been said to release nothing that is less than iconic. The songs 'Filter,' 'Lie,' and 'Serendipity' are all certified gold in the United States after selling over 500K units each by March this year. This made him the FIRST and ONLY Korean soloist to achieve the feat with only three of his solos.'With You' released in April, has already sold over 105K units. In total, Jimin has sold an accumulated 1.8 Million units in the United States so far across all his solo credits.
Ever since it was revealed through his Weverse magazine interview that his solo album would show an explicit, raw, and mature side to him, everyone has been showing heated anticipation for it. In September, South Korea's leading beauty editorial W Korea expressed eagerness for his solo work based on the stunning records of his solo songs so far.
Kpopstarz, US media, also recently cited his unpredictable sides as some of the reasons why there's anticipation for his music. Apart from his unique vocals and excellent dancing, his creative ability and willingness to try new things will make for a thrilling album.
Jimin's solo songs have been covered by countless artists and utilized on different occasions. As of writing, his first self-composed, written, and performed masterpiece 'Lie' has surpassed 187.8 Million streams on Spotify, being the most streamed solo of Wings album on the platform. It retains that title on Melón with over 43 Million total streams. On YouTube, the official audio is at 25 Million streams, and the short film with 18 Million views.
'Serendipity' Full and Intro versions are magical ballads that have a combination of over 328 Million streams on Spotify; its full version earned its 57th №1 on Bahrain iTunes. On YouTube, the Music Video has over 166 Million views, with the official audio amassing over 44 million streams. On Melón, both now have 79 Million streams. 'Filter' is Jimin's most streamed Korean Male solo of 2020 and 2021. It is the fastest song by a Korean Male soloist to surpass 324 Million streams on Spotify, as well as the most streamed solo song of the MOTS 7 album. The official audio on YouTube has over 102 Million streams and on Melón remains the most streamed track of a Korean Male soloist at 127 Million streams from MOTS 7 album and 2.1 Million streams from the PROOF album.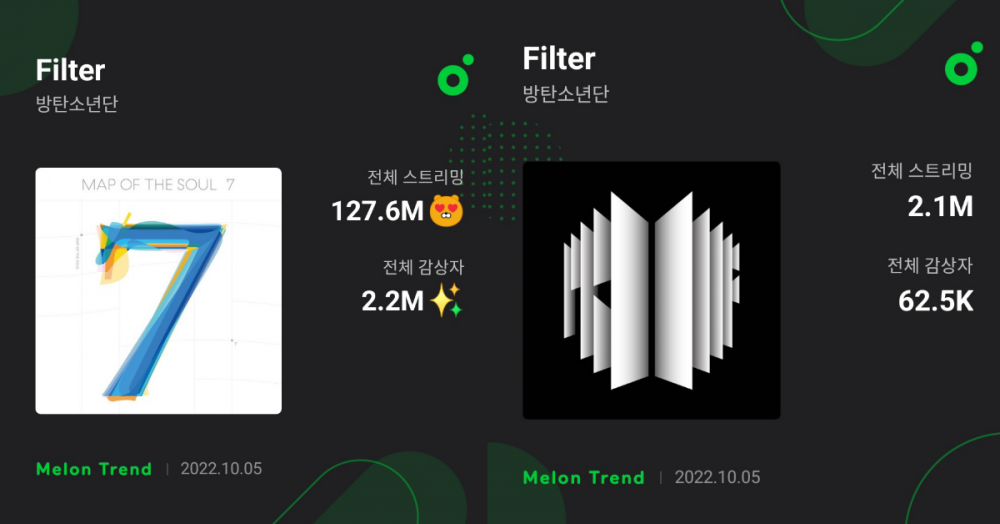 'With You' is Jimin's first dive into complete solo work and independent of BTS, sung with Ha Sungwoon, the song has received critical acclaim and been categorized among the best OSTs of the year by Genius Korea, Netflix MENA, RollingStone India, among others. The song is the fastest Korean OST to surpass 147 Million streams on Spotify, and the Music Video is at 27 Million streams, together with all other versions, adding up to 42 Million streams. On Melón, the song has 40.3 Million streams and 1.3 Million unique listeners.
Jimin's first gift to fans, the record-breaking 'Promise,' remains the most streamed song of all time on SoundCloud, with 324 million streams.'Christmas Love' which was released in 2020, has combined streams of 110 Million on SoundCloud and YouTube. 'Friends' sang with fellow member V was used on Marvel's Eternals; it is also among the popular BTS unit songs with over 180 Million streams on Spotify and 2 Million on Melón.
Congratulations Jimin!