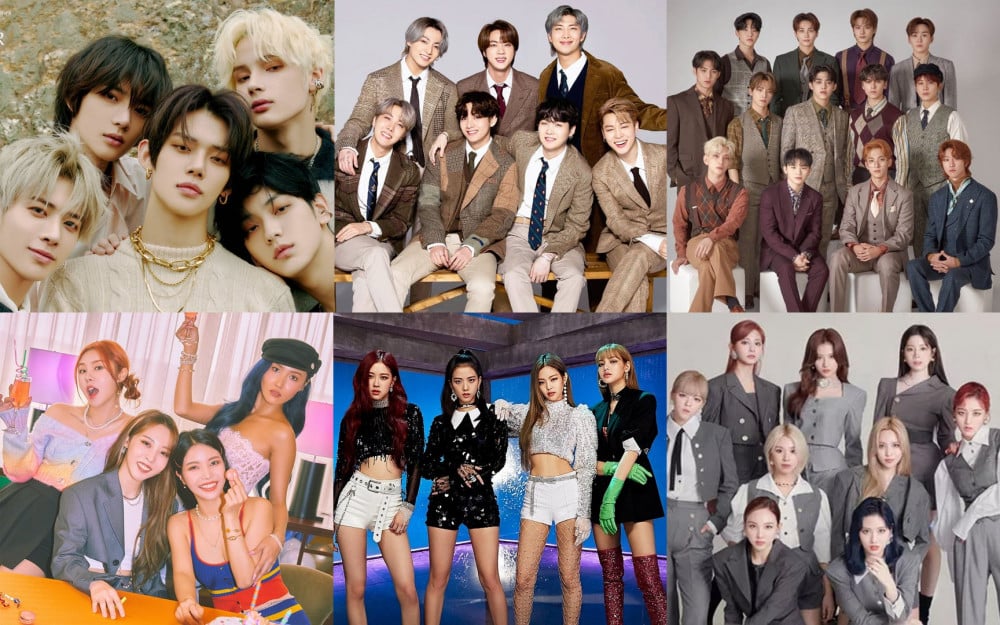 What makes up an ideal K-Pop group? Is it their music? The number of members? The range of talents? So many aspects make up a K-Pop group that it's hard to tell. Is there anything such as an ideal K-Pop group? That's the real question.
Let's start with what is the ideal number of members to have within a group. Personally, I do not think there is an ideal number of members in a group, but with more members comes less line distribution and less of an opportunity for each member to truly shine and show their talents. Back in the early 2000s and even the 90s, most K-Pop groups consisted of 5 to 7 members. Even when SM Entertainment came out with a 12-member boy group and a 9-member girl group, many thought that SM was out of their mind. But now we're seeing groups debut with a range of members anywhere from 5-13 members at a time. But is that too many members within one group? Is that even fair to all of those members who spent countless hours in training to at least have a spot in the limelight? While it's worked for many groups such as Super Junior, Girls Generation, EXO, and Seventeen, it just feels like entertainment companies are pushing and shoving as many trainees onto the stage without giving it a second thought.
Also, a significant factor to consider and one that has been a great controversy, especially with the recent debut of New Jeans: age. Should there be a minimum age requirement for when trainees can debut? Should their talent be a justifiable reason to put them on the stage? Even before that, a lot of K-Pop idols end up becoming trainees at 14 years old, some even entering the entertainment industry at the age of 12, just like former Wondergirls member Ahn Sohee. Even when NCT was making their debut, fellow member Jisung debuted at the age of 14. Former KARA member Jiyoung also debuted at 14 years old, along with Wonyoung from IZ*ONE. Veteran singer BOA made her debut at the age of 13 as a solo artist too. Of course, entertainment companies want to debut artists at a prime age, but to be honest, even at 16, that's a pretty young age to be exposed to the dark world of entertainment. Considering the fact that a majority of fans are almost double or even triple their age. Just imagine the amount of mental and physical damage young K-Pop trainees and idols have to face even before stepping up onto the stage.
As with any K-Pop idol group that makes their debut, there are also the "title roles" that come with each member. Whether it be the center, vocalist, rapper, main dancer, sub-vocalist, etc., are these labels really necessary in creating an ideal K-Pop group? If you're familiar with K-Pop groups, it always tends to be the member labeled as being the "center" that ends up receiving the most care, attention, and spotlight. But once again, the question of whether or not this is fair comes into play. Branching off of this also comes the issue of spotlighting. In other words, singling out a certain member to be given all the spotlight. For example, IZ*ONE's Wonyoung received much criticism because it was found that she was given nicer outfits when performing and more camera shots. This was also a very big issue with HyunA during the time that she was in 4MINUTE, miss A's Suzy, and more. Often times with members like these, they also receive more endorsement deals and more love calls to appear on variety shows. If the companies are planning on doing this, then why not just debut this artist as a solo, rather than having them overshadow fellow members who worked just as hard to make it onto the stage?
Not only that, but also the fact that many of these idols are so thin, just having a vast array of body types would be great to see, especially as a lot of the fans who are of younger generations look toward these idols as their role models. But upon debut and even before debut, as seen through "Sixteen" for members such as TWICE's Jihyo, they are subjected to face discrimination just for being more on the chubbier side rather than the thin side.
It's really great to see how far K-Pop has expanded and how well-known K-Pop is today, but with more awareness and exposure, these idols are set to higher expectations which means high standards for these idols to become the "ideal" idol there is. So truly, when it comes down to it, is there really anything called the "ideal" K-Pop group? Definitely not. But that does not disregard the fact that there are aspects within a group that is unjust and could be changed for the better well-being of the idols themselves.