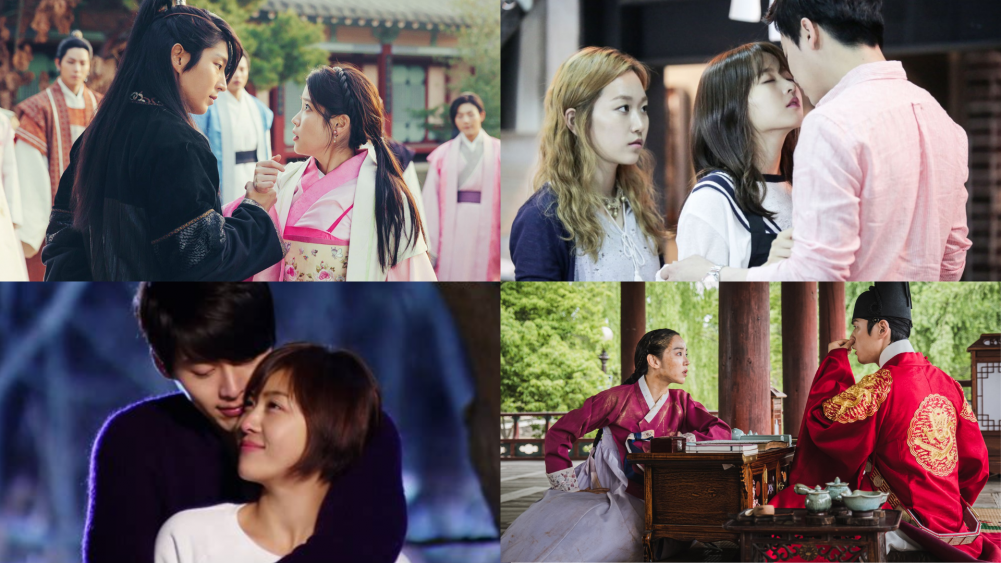 We all have different reasons for watching a K-drama. There are varying tastes when it comes to the drama actresses and actors we look out for, plots we surely tune in to, and genres that we put more interest into. One of K-drama's genres is fantasy, which is a genre way beyond the fictional world, but a much more imaginative story filled with mythical themes that are almost impossible to happen in real life. This further fulfills the reasons for some to watch a K-drama, which is to escape from reality and dive into the unknown realms and possibly uncharted waters.
One of the fantasy themes prevalent not only in literary works but also in dramas is soul-swapping/identity-switch, presented in different formats and mixed in with other genres and themes, providing varying ways to enjoy the concept with different plots. It can be souls switching between the two main leads, souls from the present to switch with a soul from the past, and even wandering dead souls who want to fulfill their last wishes by switching with someone alive.
With this, here are twelve of the best soul swap K-dramas you should definitely watch if you love the theme and genre!
"Secret Garden"
Gil Ra Im, a stuntwoman, and Kim Joo Won, the CEO of a department store, cross paths. Ra Im and Joo Won come into contact due to a misunderstanding while working to resolve a scandal involving his cousin, and he is astounded by her coolness. Joo Won resolves to pursue Ra Im because he can't figure out why she keeps coming to mind all the time. Ra Im is initially repulsed by him, but she eventually begins to feel the same way. While Joo Won's mother objects to their relationship, the couple still finds themselves enthralled with each other despite leading completely different lives. They made the decision to go to the competition in Jeju Island one day, but an unexpected turn of events caused them to wake up the next morning in each other's bodies.

Cast: Ha Ji Won, Hyun Bin, Yoon Sang Hyun, Kim Sa Rang
Na Bong Sun, a shy and timid chef, has a unique talent—she can see ghosts and communicate with them, thanks to her shaman grandmother. Her daily life as an assistant chef at Sun Restaurant appears to be ordinary and uninteresting until a lonely temptress ghost named Shin Soo Ae takes over her body and decides to live vicariously through her in order to "resolve her grudges" and pass into the afterlife. In the middle of all, the haughty star chef Kang Sun Woo, Bong Sun's boss, and her longtime crush take notice of how Bong Sun is beginning to change.
Cast: Park Bo Young, Jo Jung Suk, Lim Ju Hwan, Kim Seul Gi, Park Jung Ah
"Mr. Queen"
As the President's chef, Jang Bong Hwan enjoys a relatively affluent lifestyle. However, everything changes for him when, following a potentially fatal fall, he awakens in the body of a young queen during the Joseon Dynasty. In his desperate attempts to return to the present, Bong Hwan unavoidably discovers the sinister secrets that the palace has as Queen Cheorin, is stuck to figure out how to work around her relationship with King Cheoljong, and in the middle of the fighting clans of the Andong Kim clan and the Pungyang Jo clan.

Cast: Shin Hye Sun, Kim Jung Hyun, Bae Jong Ok, Kim Tae Woo, Seol In Ah, Na In Woo

"Moon Lovers: Scarlet Heart Ryeo"

Go Ha Jin inexplicably finds herself in the body of a sixteen-year-old in the Goryeo Dynasty after a total eclipse. She awakens amid the several princes of the governing Wang family in the year 941, during King Taejo's reign, in the body of Hae Soo. She initially falls in love with the sweet-natured and kindhearted 8th Prince Wang Wook, but she eventually starts developing a relationship with Wang So, the terrifying 4th Prince who wears a mask and is mockingly referred to as a "wolf-dog." Hae Soo accidentally becomes involved in the politics of the palace and the rivalry among the princes as they vie for the crown as the plot progresses.

Cast: Lee Joon Gi, IU, Kang Ha Neul, Hong Jong Hyun, Baekhyun, Nam Joo Hyuk, Ji Soo, Kang Han Na, Jin Ki Joo, Seohyun, Sung Dong Il
"Two Cops"
Cha Dong Tak, a stern and unyielding investigator in the violent crimes unit, finds himself in an odd position where his body is cohabiting with the spirit of a sleazy con artist named Gong Su Chang. They are now forced to work together to solve crimes despite their evident differences because they are living together as one person. It becomes more interesting as he falls in love with a feisty rookie reporter, Song Ji An, who attracts both of their souls.

Cast: Jo Jung Suk, Lee Hye Ri, Kim Seon Ho

"49 Days"

Shin Ji Hyun seemed to be leading a beautiful existence. Song Lee Kyung, on the other hand, is a miserable person who feels like she has nothing to live for. In the end, she puts herself in front of a moving automobile in an attempt to kill herself, but, much to her surprise, someone saves her. But as a result of her actions, Ji Hyun gets into an accident and sustains catastrophic injuries, which leaves her in critical condition. She meets an angel who offers her one final chance at life if three people, excluding her family, mourn for her. After doing so in Lee Kyung's body, Ji Hyun discovers that her mission is more complicated than she initially thought.
Cast: Lee Yo Won, Nam Gyu Ri, Jo Hyun Jae, Bae Soo Bin, Jung Il Woo, Seo Ji Hye

"Big"
Gil Da Ran, a substitute teacher who is working hard to earn her certification, is extremely excited to wed her soon-to-be husband, Dr. Seon Yoon Jae. It is a fairy tale that comes true until one month before the marriage, Yoon Jae bafflingly becomes distant. At the exact same time, Da Ran encounters an 18-year-old transfer pupil from the United States, Kang Kyung Joon, who's got an aversion towards everyone but Da Ran. Her dream wedding is faced with an unexpected circumstance when her fiancé gets into an accident with her student. Yoon Jae tries to save Kyung Joon, but in the process, Yoon Jae ostensibly dies, and Kyung Joon ends up in a coma. Kyung Joon soon wakes up to discover himself in Yoon Jae's body.
Cast: Gong Yoo, Lee Min Jung, Bae Suzy, Shin Won Ho

"Please Come Back, Soon Ae"
Heo Soon Ae is a 40-year-old devoted and loving wife to her pilot husband, Yoon Il-seok. She resides in her home along with her son and her mother-in-law. She one day learns that her pilot husband is having an affair with Han Cho Eun, a 28-year-old flight attendant. Han Cho Eun confronts Heo Soon Ae and demands that she divorces and get rid of Yoon Il Seok so that she can wed him and succeed in her place as the wife. To meet Yoon Il Seok and let him decide who does he love, they dispute in a car on the way to the airport. However, they get into an accident, and their souls trade places. The loving wife is imprisoned in the body of the younger flight attendant, while Han Cho Eun is imprisoned in that of Heo Soon Ae. Realizing their predicament, they must learn to lead the life of the other.
Cast: Shim Hye Jin, Park Jin Hee, Lee Jae Hwang, Yoon Da Hoon
"Please Come Back, Mister"
Arriving in the afterlife, Young Soo and Gi Tak both feel compelled to go back, Young Soo to make amends with his wife and show that his death was not a suicide, and Gi Tak to defend his loved one, Yi Yeon. They were allowed two months to live again in new bodies, Gi Tak as Han Hong Nan, a stunning young woman, and Young Soo as Lee Hae Joon, an attractive young man. Despite this obstacle, they both set out to ensure that their families can carry on despite their unexpected deaths. They are not allowed to expose their true identity, and taking revenge or interfering in human affairs is prohibited. If either of these guidelines are broken, the fact that both of them has ever existed will be eliminated.
Cast: Rain, Lee Min Jung, Oh Yeon Seo, Kim Soo Ro, Lee Hanee

"Room No. 9"
Jang Hwa Sa is a death-row inmate who is the notorious killer behind a poison murder case, and Eulji Hae Yi is a gorgeous but cunning lawyer with a 100% success rate in court. When Eulji Hae Yi visits the strange visitation room 9, their fates are reversed when they exchange bodies. Along with a pivotal character, Yoo Jin, Hae Yi's boyfriend, and a family doctor, who appears intelligent and kind but has a secret sinister side, Hae Yi must figure out how to save her client as if her own life depends on it.
Cast: Kim Hee Sun, Kim Hae Sook, Kim Young Kwang

"The Miracle"
The differences between the Kwon twins are extreme. Kwon Shi Ah, a member of the well-known female group known as Miracle Girls, is regarded as a lovely sister and is absolutely stunning. Whereas Shi Ah may be considered well-liked and seen to be beautiful, her twin, Shi Yeon, is frequently teased for having a bigger physique. Shi Yeon has turned into a recluse; as a result, preferring to stay at home and create an Internet broadcast from the privacy of her room. Shi Yeon visits a strange tarot reader, which causes the sisters' bodies to switch, and forces each other to live in each other bodies and succeed despite their extreme differences.
Cast: Hong Yoon Hwa, Kim Na Hyun, Dong Hyun, Yang Hak Jin

"Abyss"
Cha Min, an unattractive but wealthy heir to a cosmetics dynasty, is the friend of the successful prosecutor named Go Se Yeon. After passing away in separate circumstances, they are both revived by supernatural entities through an "Abyss" into different bodies. A celestial object called the "Abyss" has the ability to bring back to life anything that has passed away as the reincarnated bodies take on the look of the deceased person's soul. Comparatively speaking, Go Se Yeon appears plainer than before, while Cha Min becomes much lovelier and more youthful. They begin collaborating to determine what brought about their revival and what killed Go Se Yeon.
Cast: Park Bo Young, Ahn Hyo Seop, Lee Sung Jae

Among these soul-swap dramas, which is your favorite, and which among these dramas would you recommend to your fellow K-Drama fans?