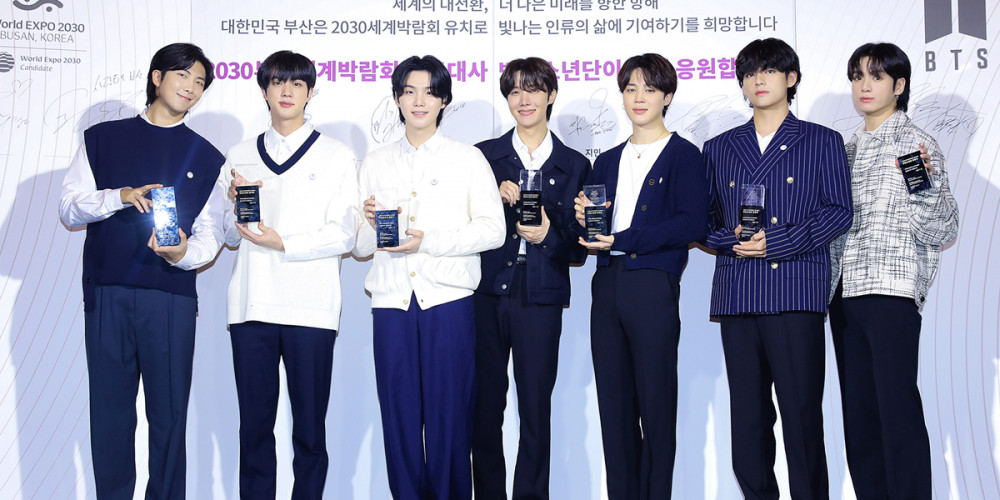 Big Hit Music has officially announced a change in the location of the free BTS concert taking place in Busan next month, in light of fans' concerns over safety and logistical concerns.
On September 2, the agency issued,
"Hello, this is HYBE/Big Hit Music.
We would like to notify you regarding a change in the location of the '2030 Busan World Expo' bid concert, 'BTS in Busan'.
The location of this concert has been changed from the Ilkwang special stage to the Busan Asiad Main Stadium.
In July of this year, BTS took on the role of ambassadors for the successful bid of the '2030 Busan World Expo'. As the first step in their ambassadorial roles, Big Hit Music planned a large-scale, global concert which BTS could enjoy with fans from all over the world while they supported Busan's bid for the '2030 World Expo'. As a concert meant for global fans of BTS and the general public to enjoy together, this show will be free of charge.
The agency hoped to aid in Busan's bid for the '2030 World Expo' by making South Korean culture known around the world through a unique, massive scale show and stage effects. With this in mind, the agency chose the Busan Ilkwang area as the venue for the concert after an assessment of several locations. The agency was in the process of working closely with the city of Busan, the Busan police, the Busan fire department, and the Korean Railroad Corporation to ensure that attendees would not experience discomfort.
However, it has been decided that the primary task at hand is to bring attention to the city of Busan's bid for the '2030 World Expo' without diluting the attention of the press elsewhere. Thus, in order to prioritize the safety and comfort of attendees and ensure a smooth and transparent concert environment, while still protecting the purpose of this concert, the company has come to the decision to change the concert location.
Even with the change in venue, all related programs geared toward boosting the 'World Expo' bid will resume as planned."
Additionally, Big Hit Music stated that the 'LIVE PLAY' event, a live streaming of the concert taking place at the surface parking lot of the Busan Port International Passenger Terminal, will also provide more audiences with the chance to be a part of the global concert. Details on how to reserve tickets for the 'BTS in Busan' concert at its new location will be posted soon.