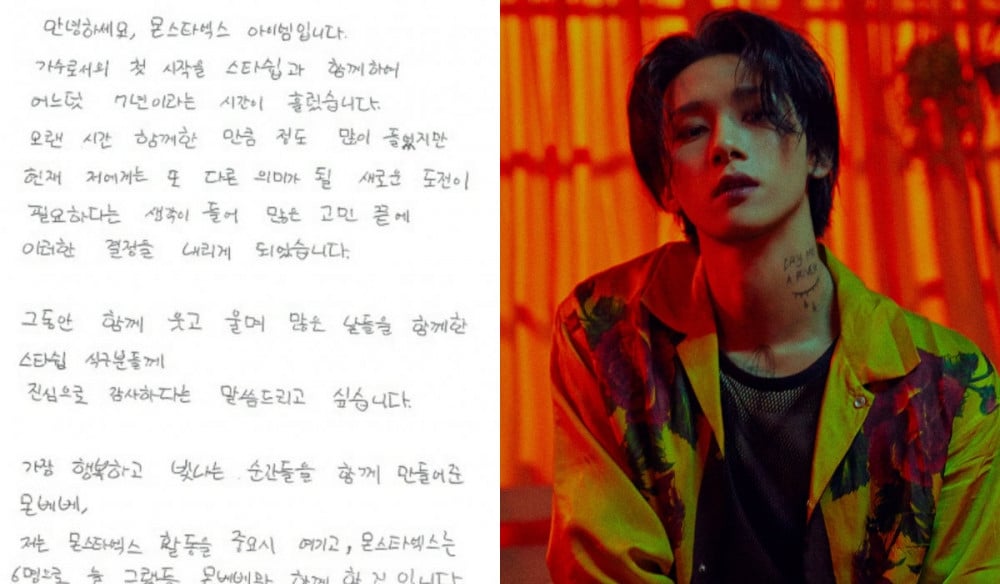 MONSTA X's I.M is opening up about his exit from Starship Entertainment.
On August 8 KST, a few hours after Starship Entertainment released a statement about MONSTA X's new contract statuses, I.M uploaded a handwritten letter to the group's official fan cafe to speak to the fans. The message reads as follows:
"Hello, this is MONSTA X's I.M.

Seven years have passed since I started my first career as a singer with Starship. As it's been a long time, I've thought about it a lot, and I came to this decision after much deliberation because I thought that I needed a new challenge that would have a different meaning for me now.

I would like to express my sincere gratitude to the Starship family who I spent many days laughing and crying together with.

Monbebe, who made the happiest and brightest moments together with me. I value MONSTA X's activities, and MONSTA X will be with Monbebe with six members just as always. I love you, Monbebe. I will become Im Chang Gyun/I.M. who will show you even more growth than I've shown you now.

Thank you."

Meanwhile, as previously reported, all six members of MONSTA X will be continuing with the group. I.M will be departing from Starship Entertainment upon the expiration of his current contract, but the five other members have renewed.