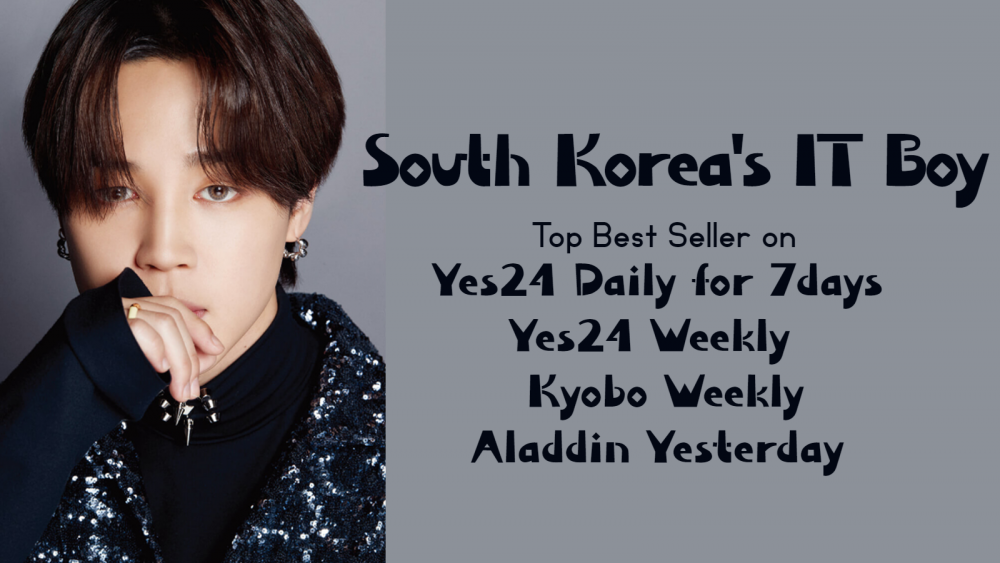 Jimin has proven his popularity all around the world over the years, and most especially in his home country, South Korea. Not only does he have the biggest fanbase in the country, but the media and the general public also recognize and acknowledge him overwhelmingly. Whenever the media reports on news regarding BTS or even K-pop's impact generally, they will always use Jimin as a reference, such as by mentioning him or using images and/or video footage focused on him. On the side of the general public, most people tend to name him as the member they like the most in the group. Individuals who have no interest in K-pop or BTS still know him by name and by face, even if they are unable to recognize any other member in the group. His top-tier performance skills, coupled with his angelic visuals and charming personality, all make him simply irresistible to anyone. This is why he has been the #1 idol in brand reputation ranking for a total of 41 months as of June 2022 and 35 consecutive months as of November 2022.
His unparalleled popularity in South Korea has continued to be evident with the release of the D'FESTA Lenticular covers, where there were eight versions of the cover, including individual covers for the seven members and a group cover. Jimin immediately dominated the best seller charts on South Korea's biggest bookstores, including Kyobo, Yes24, and Aladdin.
As of July 11th, the cover is currently the top best-selling cover out of all eight on these three platforms in various categories, namely:
Yes24 Daily Bestseller chart for seven days
Yes24 Weekly Bestseller chart
Kyobo Weekly Bestseller chart
Aladdin Yesterday's Bestseller chart
Kyobo Weekly Bestseller in Magazines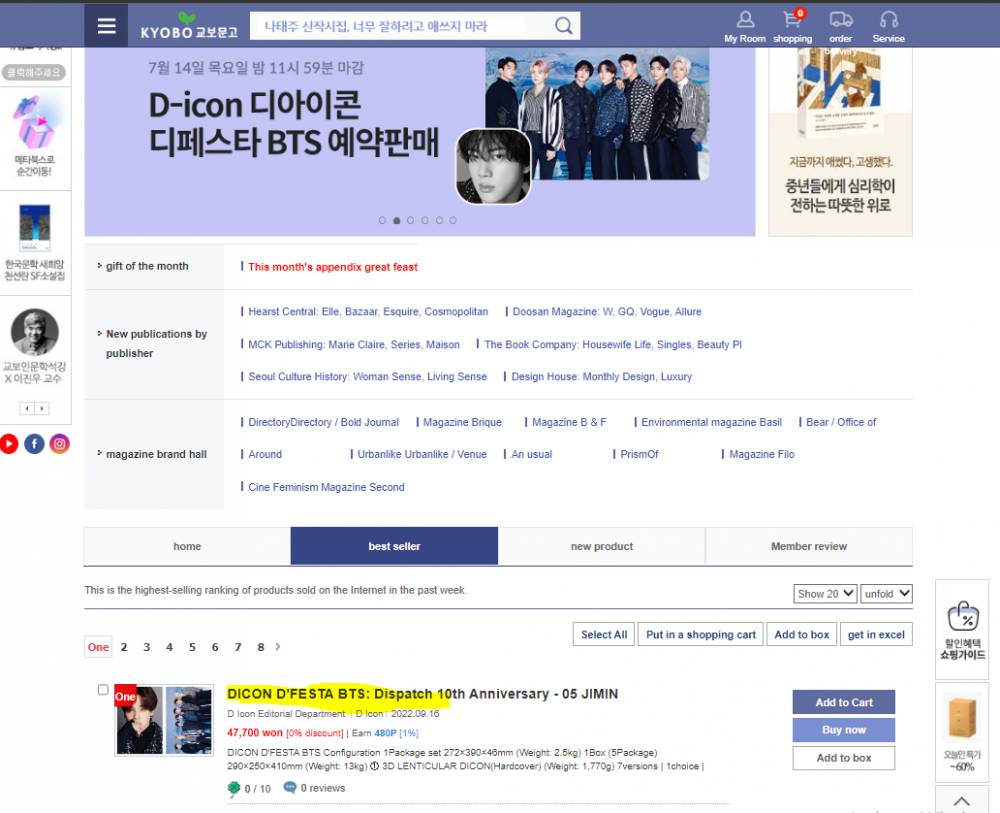 The best seller on Aladdin's Yesterday's best-seller chart among all the D'FESTA covers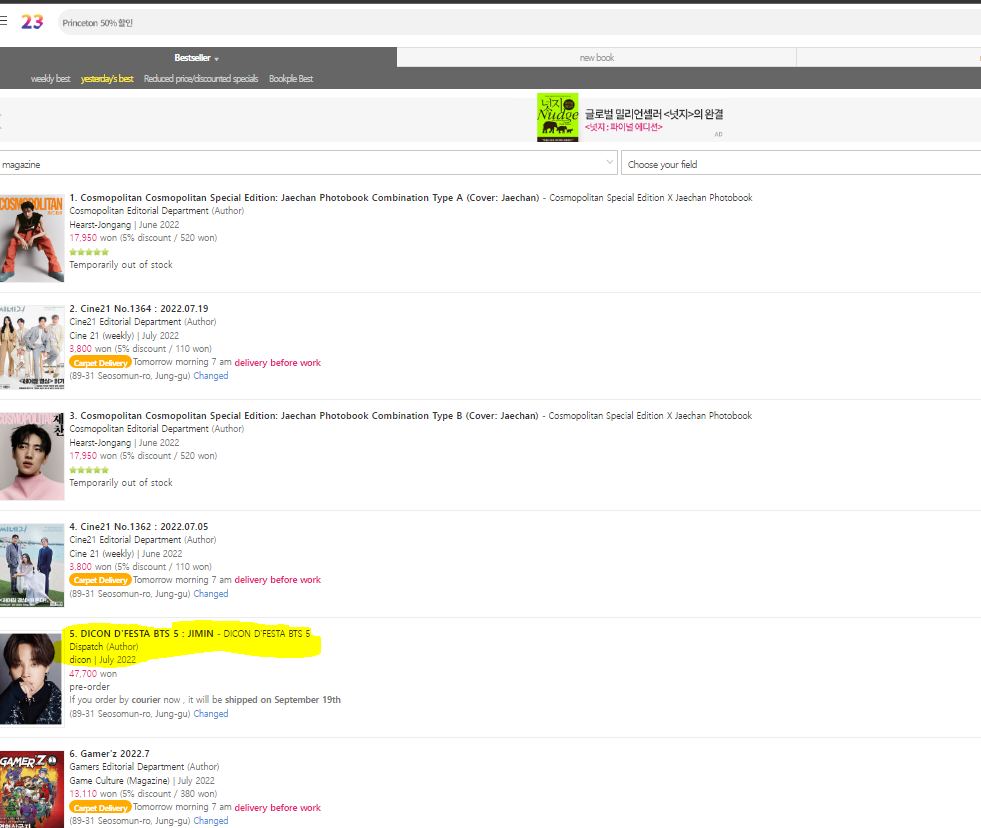 #1 Bestseller on Yes24 Weekly Bestseller chart for magazines.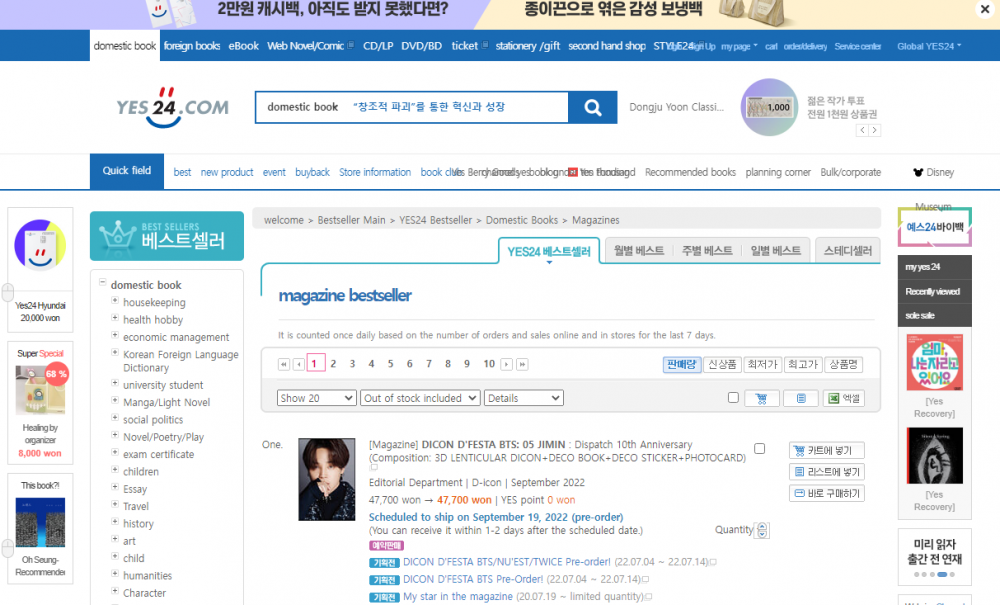 The best-selling cover among all the D'FESTA covers on the Yes 24 Daily Chart over the past week. Here are images for the Yes24 Daily Bestseller charts for each day from July 5 to July 11.