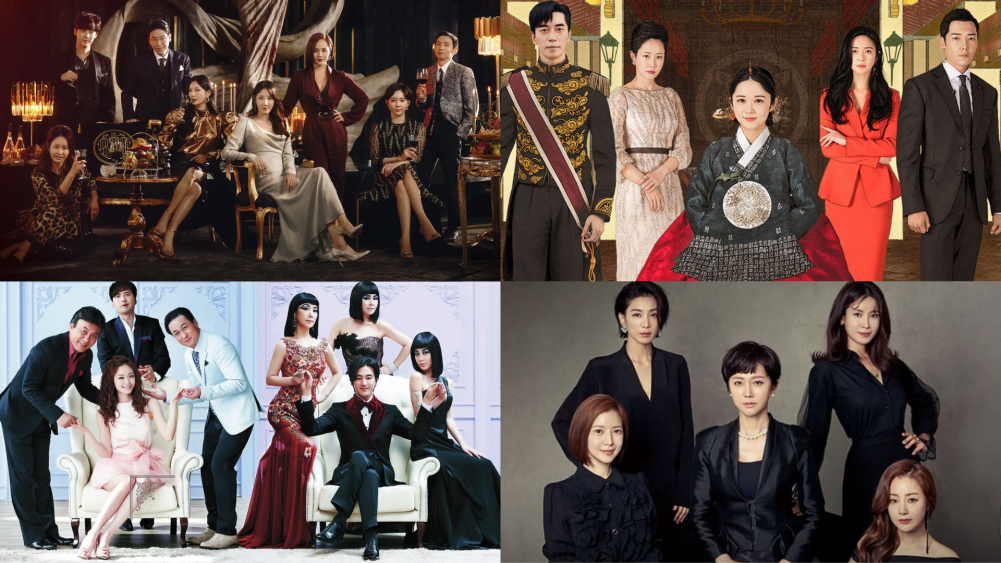 Makjang is a non-standard version of the word kkeutjang, which signifies end or conclusion, and is not an officially recognized phrase. A kkeutjang denotes a situation of having reached a point where further progress or completion is no longer possible. Makjang is a word used in popular culture to describe excessive art.

Makjang, in the context of dramas, is a form of drama that is difficult to comprehend or accept based on common sense or ordinary moral standards. Despite how ludicrous the tale is, it decides to play up wild storylines to pull viewers in. Forced situations, complex relationships, adultery, and birth secrets are all included in these dramas. There are many K-dramas whose plot relies heavily on emotive and over-the-top narrative, but this is explained by writers in the industry as a way for viewers of relieving stress either to empathize or just entertain themselves through the stories of the characters.
Although dramas with such themes aren't everyone's cup of tea, here are some of the makjang dramas you should give a try if you are interested!
1. Penthouse: War in Life
Cast: Lee Ji Ah, Kim So Yeon, Eugene, Uhm Ki Joon, Yoon Jong Hoon
2. The Last Empress
Cast: Jang Na Ra, Choi Jin Hyuk, Shin Sung Rok, Lee Elijah, Shin Eun Kyung

3. Princess Aurora

Cast: Jeon So Min, Oh Chang Seok
4. Sky Castle

Cast: Yum Jung Ah, Lee Tae Ran, Yoon Se Ah, Oh Na Ra, Kim Seo Hyung

5. VIP

Cast: Jang Na Ra, Lee Sang Yoon, Lee Chung Ah, Kwak Sun Young, Pyo Ye Jin, Shin Jae Ha

6. Mine

Cast: Lee Bo Young, Kim Seo Hyung, Cha Hak Yeon, Park Hyuk Kwon

7. Love ft. Marriage and Divorce

Cast: Sung Hoon, Lee Tae Gon, Park Joo Mi, Lee Ga Ryeong, Lee Min Young, Jeon Soo Kyeong, Jeon No Min

8. Love in Sadness

Cast: Ji Hyun Woo, Park Han Byul, Ryu Soo Young, Wang Bit Na

9. I'm Sorry, I Love You
Cast: So Ji Sub, Im Soo Jung

10. Maybe Love

Cast: Park Si Eun, Kim Bo Kyung, Ahn Jae Mo, Hwang Dong Joo

11. The World of the Married

Cast: Kim Hee Ae, Park Hae Joon, Han So Hee

12. Temptation of Wife
Cast: Jang Seo Hee, Byun Woo Min, Kim Seo Hyung, Lee Jae Hwang

13. Shining Inheritance
Cast: Han Hyo Joo, Lee Seung Gi, Bae Soo Bin, Moon Chae Won

14. The Second Husband
Cast: Cha Seo Won, Uhm Hyun Kyung, Oh Seung Ah

15. That Winter, The Wind Blows
Cast: Jo In Sung, Song Hye Kyo

16. Stairway to Heaven

Cast: Choi Ji Woo, Kwon Sang Woo, Kim Tae Hee, Shin Hyun Joon

17. Money Flower

Cast: Jang Hyuk, Park Se Young, Jang Seung Jo

18. Tomorrow Victory

Cast: Jeon So Min, Song Won Geun, Phillip Choi, Yoo Ho Rin

19. Autumn in My Heart

Cast: Song Seung Heon, Song Hye Kyo, Won Bin

20. Innocent Man
Cast: Song Joong Ki, Moon Chae Won, Park Si Yeon

21. Mask
Cast: Soo Ae, Ju Ji Hoon, Yeon Jung Hoon, Yoo In Young

22. Secret Boutique
Cast: Kim Sun A, Chang Mi Hee, Park Hee Von, Go Min Si, Kim Jae Young, Kim Tae Hoon

23. No Matter What (Anyone Says)
Cast: Na Hye Mi, Choi Woong, Jung Min Ah, Kim Jung Heon

24. The Heirs
Cast: Lee Min Ho, Park Shin Hye, Kim Woo Bin

25. I Have A Lover
Cast: Ji Jin Hee, Kim Hyun Joo, Lee Kyu Han, Park Han Byul

26. The Queen's Flower
Cast: Kim Sung Ryung, Lee Sung Kyung, Lee Jong Hyun, Yoon Park

27. Dear Heaven
Cast: Yoon Jung Hee, Lee Tae Gon, Cho Yeon Woo, Lee Soo Kyung, Wang Bit Na

28. Everybody Say Kimchi
Cast: Kim Ji Young, Kim Ho Jin, Won Ki Joon, Cha Hyun Jung

29. King of Baking, Kim Tak Gu
Cast: Yoon Shi Yoon, Eugene, Joo Won, Lee Young Ah

30. The Secret of My Love
Cast: Song Chang Eui, Kang Se Jung, Kim Da Hyun, Park Jung Ah

31. New Tales of Gisaeng
Cast: Im Soo Hyang, Sung Hoon, Han Hye Rin

32. Come! Jang Bori
Cast: Oh Yeon Seo, Kim Ji Hoon, Lee Yoo Ri, Oh Chang Seok

33. Never Twice
Cast: Park Se Wan, Kwak Dong Yeon, Youn Yuh Jung, Oh Ji Ho

34. You're Beautiful
Cast: Jang Keun Suk, Park Shin Hye, Jung Yong Hwa, Lee Hong Gi

35. Bride of the Century
Cast: Lee Hong Gi, Yang Jin Sung

36. Secret Love
Cast: Hwang Jung Eum, Ji Sung, Bae Soo Bin, Lee Da Hee

37. My Unfamiliar Family
Cast: Jung Jin Young, Won Mi Kyung, Choo Ja Hyun, Han Ye Ri, Shin Jae Ha, Kim Ji Seok

38. Hide and Seek
Cast: Lee Yoo Ri, Song Chang Eui, Uhm Hyun Kyung, Kim Young Min

39. Woman of Dignity

Cast: Kim Hee Sun, Kim Sun A, Jung Sang Hoon

40. Man in a Veil

Cast: Kang Eun Tak, Uhm Hyun Kyung

Which of these dramas is your favorite? Do you have know-how or a tip for people who get too carried away or stressed whenever they watch makjang dramas?