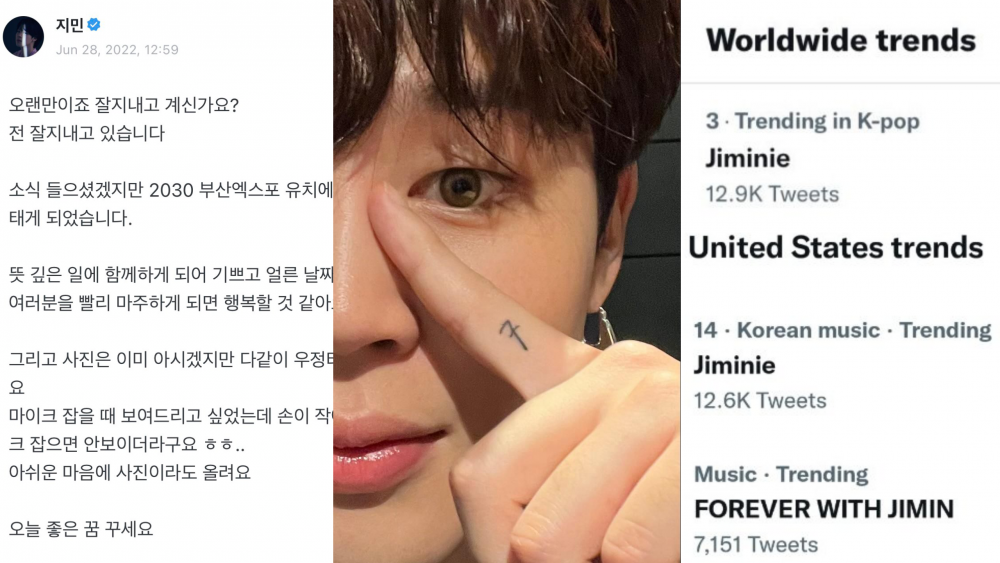 No matter what he does, Jimin always brings joy to fans and is well-loved for his sweet nature and amiable personality.
On the 29th of June, BTS Jimin decided to surprise fans with a sweet post that many would admit had been long overdue because they had missed him. He took to Weverse to share a selfie of his friendship tattoo imprinted on the side of his index finger with the number 7. This was placed along the left side of his nose, showing off half of his face.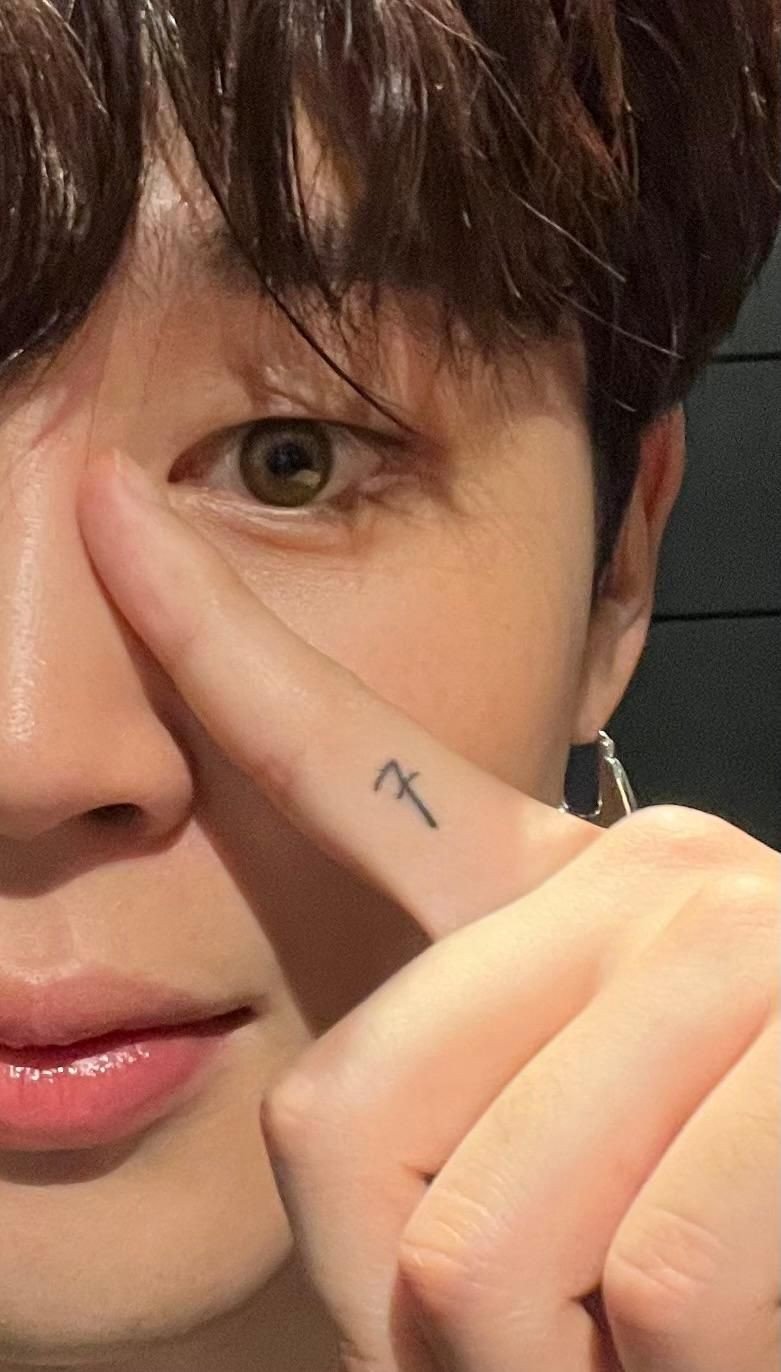 This breathtaking photo was then accompanied by an explanation for the fans. It read:
"It has been a while, are you all doing well? I am doing well.
You probably already heard the news but we will be helping to support the 2030 Busan Expo. I am very happy to be a part of this meaningful event, and I hope the date will be scheduled as soon as possible so I get to meet you all.
And about the picture-you probably know already but we all got friendship tattoos. I wanted to show it to you while holding a mic but since my hand is small, it wasn't visible when i was holding the mic hehe..
It is a bit sad to do it this way, but I thought I'd at least post a picture
Have Sweet dreams today."

BTS members had announced earlier that they would be sealing their friendship with similar tattoos, one by one, they have since been revealing them, and Jimin was the sixth member to show his. Fans were enamored by how pretty the tattoo looked, praising Jimin's thoughtful placement of it. In fact, it added to his beautiful face and features that fans, together with media outlets, could not stop gushing over him. Fellow member J-Hope even replied with three heart emojis in the comments section of the post to show his appreciation.
Although fans had prior seen Jimin's tattoo photo from his visits to promote their new album, it was great to finally have Jimin acknowledge it and talk about it with fans. They were also happy to see him excited about the Expo that would take place in Busan. According to Korean media on the 24th, BTS was selected as the ambassador for the 2030 Busan World Expo. As such, they will actively cooperate with domestic and public relations in creating content as part of the publicity for the Expo as well as holding a global Busan concert.
Jimin, who is known as the Prince of Busan, has in the past and recent times been honored for his significant contributions in philanthropy, development, and tourism to the region. There have been tourist photo zones at the school Jimin went to, the snack shop he visited as a child, and the Oryukdo beach where he visited. In 2019 his hometown of Geumjeong-gu won the best booth management award after showcasing at the 22nd Busan international travel fair. The booth's theme was traveling to Geumjeong with Jimin. In the same year, he donated 100 Million won to the Busan Metropolitan City office of Education to help students from low-income families, and in the same year, the Busan Tourism Organization selected his hometown as one of the most popular places to visit in Busan as well as receiving an honorary diploma from his alma mater the Busan Arts High School this year.
In response to his surprise post, fans took to social media to express their excitement and joy. On Twitter, he dominated the trends, Jiminie took the 3rd spot worldwide, and 14 in the United States others included: FOREVER WITH JIMIN, Mimi, MY JIMIN, JIMIN CAME HOME, MY BABY, Park Jimin, O Jimin, Weverse, 우리 지민 and JIMIN JIMIN which amassed over 800K tweets.