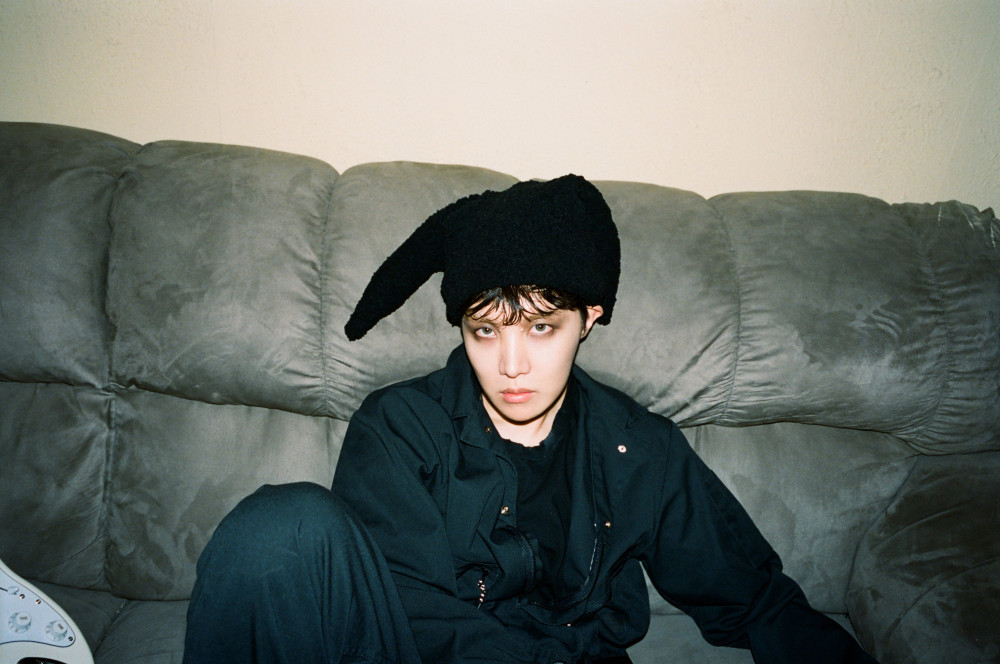 A wave of frenzy swept across the world's biggest music market within hours after Big Hit unexpectedly dropped a teaser for j-hope's new album, which was mysteriously titled "Jack In The Box."



#JackInTheBox peaked at #1 worldwide, while #Hobi and #JackInTheBox were in the top spot in both the United States and France, according to Get Day Trends, a comprehensive and premiere resource for tracking Twitter trends. These hashtags, along with #jhope and #hoseok, also made it to the top ten trends in the UK, Germany, and Canada.
Over in South Korea, #JackInTheBox has consistently been within the top four trends 17 hours since Big Hit released the album's teaser.
A LONG WAIT AFTER BACK-TO-BACK SOLO SUCCESSES


j-hope's new album has been much-awaited since the critical and commercial success of his first mixtape, "Hope World," in 2018. The self-produced, self-composed album made j-hope the first BTS member to make it to the Billboard 200 and its Emerging Artists chart.

It also proved his mettle as a musician capable of conveying complex thoughts coherently through varied genres. "It has a combination of retro and modern sensibility to amplify his own color," cites esteemed music critic Kim Youngdae. He also cites how "this work gives a high level of musical satisfaction," that is a hint of j-hope's capabilities as a multi-faceted artist.
But since his mixtape release in 2018, j-hope's fans had only been given one single release – Chicken Noodle Soup. This alone exceeded expectations about his growing ability to produce high-quality hit music. The result: j-hope became the first Korean soloist to make it in the Billboard's Pop Digital Song Sales chart, among many other record-breaking feats in rap history.


AMPED UP FOR JACK


Two back-to-back solo successes have left many eagerly waiting for more. And the announcement at near midnight on Sunday literally caught the music world by surprise, like a clown puppet springing out of a box.
Soon after, music aficionados had begun musing about j-hope's new album concept.
An even bigger surprise is how j-hope had, in fact, used jack-in-the-box as early as 2021 for his cover art for 'Blue Side.'

j-hope penned "Blue Side," his mixtape's outro, to open up about his melancholic side, often overshadowed by his "sunshine" persona. Following the full version's release in 2021, the soloist often expressed his yearning to create a tune that is extremely dark and raw to reflect his growth as a person and a true artist.
True to his word, j-hope is bold and boundless, unafraid to learn, experiment, and fail.
Anyone who has worked with j-hope also attests to his perseverance and discipline, an indubitable sign of j-hope's commitment to developing his talent to its fullest.

BUT WHAT'S IN THE BOX?
j-hope's "Jack In The Box" does seem to be a track that would bring an eclectic mix of sound. The album's 25-second teaser points to the use of house, a music and dance genre that has only recently gained ground in South Korea but is one of the artist's favorite beats.
Jack-in-the-box is also a basic move for house music, and its complimentary usage in the album concept is highly likely intentional rather than coincidental. (Or perhaps an inspiration, too?) j-hope is a lyricist well-known for cleverly devising multiple meanings in his choices of words. For BTS's "Be" album, he used an economist's term "grey" as a metaphor for depression.
For Whalien 52, BTS themselves were mind blown by j-hope's lyrical ability.
But what has left his fans and the music world seriously intrigued is the story j–hope would tell through his lyrics, beats, and melodies. "Hope World" shares the genesis of his dreams as well as the peaks and troughs of self-made success.
Could "Jack In The Box" reveal j-hope's full artistry beyond his work for BTS?
Or could it seal his place in the industry as a real ace and true-blue jack of all trades?
A HOPEFUL ANTICIPATION
Fans will only know for sure once the album is fully released on 15th July, 1 PM KST. As the suspense builds up for that day, j-hope has broken yet another record. On 26th July, a day after his teaser's release, he became the first Korean soloist to surpass 10.7 million followers on Spotify, the world's largest music streaming site.
j-hope is truly the history-maker who has always kept his fans and music observers on their toes with curiosity and excitement. The craze about "Jack In The Box"'s teaser only proves that Jack – the real Jung Hoseok - intends to awe. Now the world awaits with hopeful anticipation.