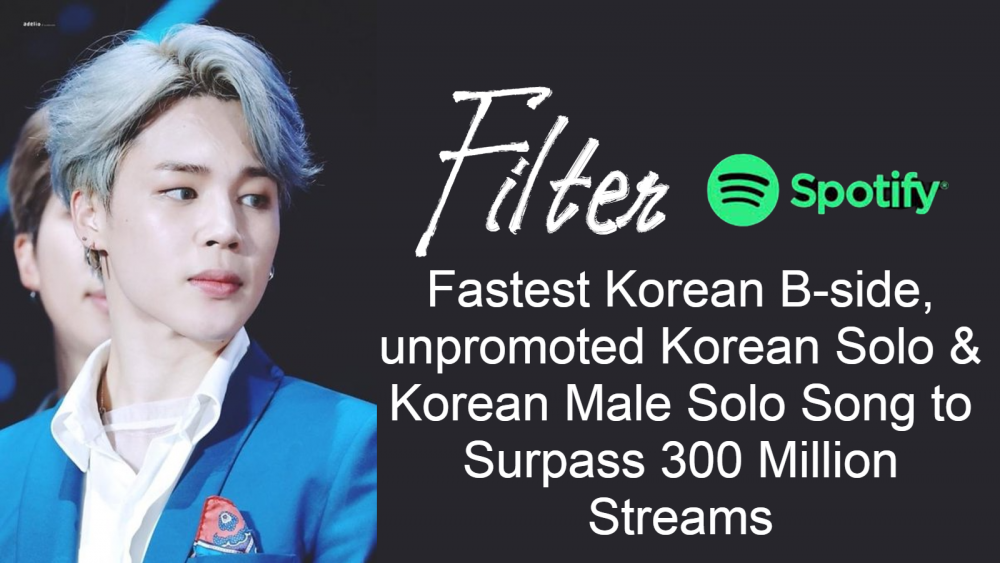 Jimin's enthralling artistry continues to make headlines in the music world as his solo song 'Filter' reaches a new milestone of surpassing300 million streams on Spotify, setting a new record as the Fastest Korean B-side track, Fastest unpromoted Korean Solo Song, and Fastest Korean Male Solo Song to achieve this feat on the platform, which is the world's largest music streaming platform.
'Filter' recorded this impressive milestone on July 25th, making it the 14th song under BTS' discography to hit this mark, an achievement that it made 855 days after its release. Additionally, the song extended its record as the most-streamed solo song from BTS' MOTS:7 album and the second most-streamed BTS solo song overall on Spotify.
As fans celebrated this milestone, they looked back at Filter's achievements through time from when it was released to date, praising Jimin as always having been at the top of his game.
The song has especially been widely popular on Spotify, with records such as:
Being the most-streamed Korean solo song and B-side track in the years 2020 and 2021
Achieving the most entries for a Korean solo track with no music video on Spotify's Top 200 music charts after charting in 54 countries and regions
Charting in 11 countries and regions on Spotify Viral 50
Being the highest-charting Korean solo song on Spotify Global 200 at #33
Being the highest-charting Korean solo song on Spotify Top 200 in 12 countries, including in big music markets like the US, the UK, and Canada
Being the longest-charting Korean solo song without an MV on Spotify Top 200
Being the fastest Korean solo song to achieve 10M streams and the fastest Korean male solo song and unpromoted solo song to achieve 120 million through to 300 million streams on the platform, and many others.
On Billboard charts, 'Filter' became the only solo and B-side track to rank on the Billboard Hot 100 chart for US and Canada and also ranked on UK's official charts/Top Singles at #87, #88, and #100, respectively, upon its release. It also entered Japan's Billboard Hot 100 at #64.
On other platforms like iTunes, 'Filter' holds the record as the B-side track with the most #1s, having topped iTunes charts in 117 countries so far. Upon the song's release, it was also the highest-charting solo song and B-side track on the worldwide iTunes chart after ranking #2 only after the album's title track.
On Melon, it is the record holder as the most-streamed solo song by an idol group on the platform. On YouTube, it holds the crown as the most-streamed Korean official audio track on the platform, as well as being the most liked Korean solo audio and B-side track on the platform.
It is also the highest-charting and most-streamed Korean solo song on other music platforms like Anghami, Gaana, JioSaavn, and Gaon, to mention a few, and it became the highest-charting Korean solo song on Billboard's World Digital Song Sales chart having ranked inside the Top 10 for 55 weeks.
Here is a look at more of 'Filter's' achievements on different music platforms and charts both in South Korea and internationally.
'Filter' was also nominated for the Song of the Year award at Gaon Music Awards in 2020 alongside his first-ever self-written, composed, and produced song 'Friends,' making it the first BTS solo song ever to receive a nomination in this category.
Fans also reminisced Jimin's first and only performance of 'Filter' and how he completely captivated the audience and stole the show, making the song to become even more popular.
As the celebrations went on, numerous tags entered Twitter trends, with 'HISTORY MAKER JIMIN' entering the worldwide trends list and peaking at #8.
Presently, Jimin is the only Korean soloist with two songs, each surpassing 300 million streams on different music platforms!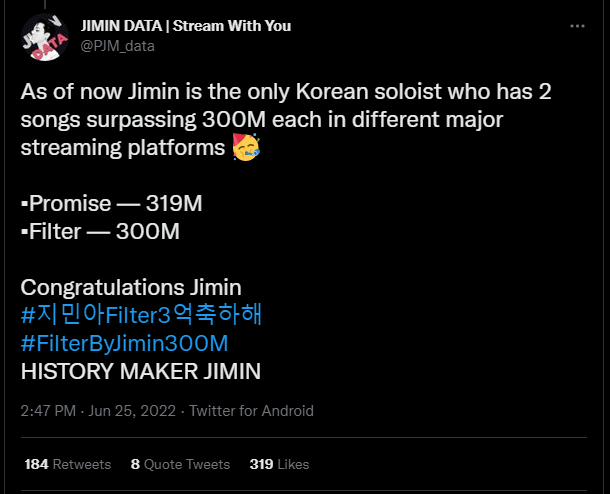 Congratulations Jimin!