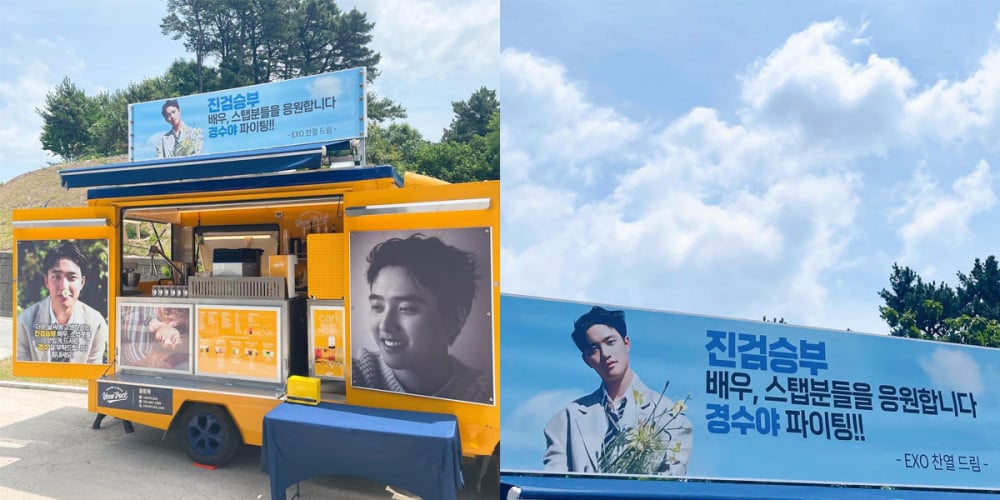 EXO's Chanyeol sent over coffee and churros to cheer on the cast and crew of KBS2's upcoming drama series 'Battle of True Swords' (working title), starring D.O!
On June 13, coffee truck service 'Yoontruck' revealed photos of the truck decorated in support of EXO member D.O, requested by client Chanyeol.
'Yoontruck' wrote, "We were busy setting the truck up when the doors opened, and I heard a familiar voice. Actor Do [Kyungsoo] recognized us, smiled brightly, and greeted us saying, 'Your truck changed'. He then came up and asked, 'Have you eaten?', and also thanked us for coming. It should be us thanking him! After looking at the menu, he chose the 'fine ice sikhye' and some churros. As he passed by the truck throughout the day, he made eye contact and bowed to us every time, even though he must have been busy. As always, his tone was so kind and he was so well-mannered."

Meanwhile, in his message to D.O written above the truck, Chanyeol said, "I am cheering on the cast and crew of 'Battle of True Swords'. Kyungsoo, fighting! To all the cast and crew working hard in this hot weather, please enjoy and also please take good care of Kyungsoo!"
Meanwhile, KBS2's 'Battle of True Swords' tells the story of a rogue prosecutor who isn't afraid to get his hands dirty if it means serving up justice to the powerful elites of society. D.O will be starring as the drama's male lead. His fellow member Chanyeol is currently carrying out his mandatory military service duties, and is expected to be discharged in September of this year.