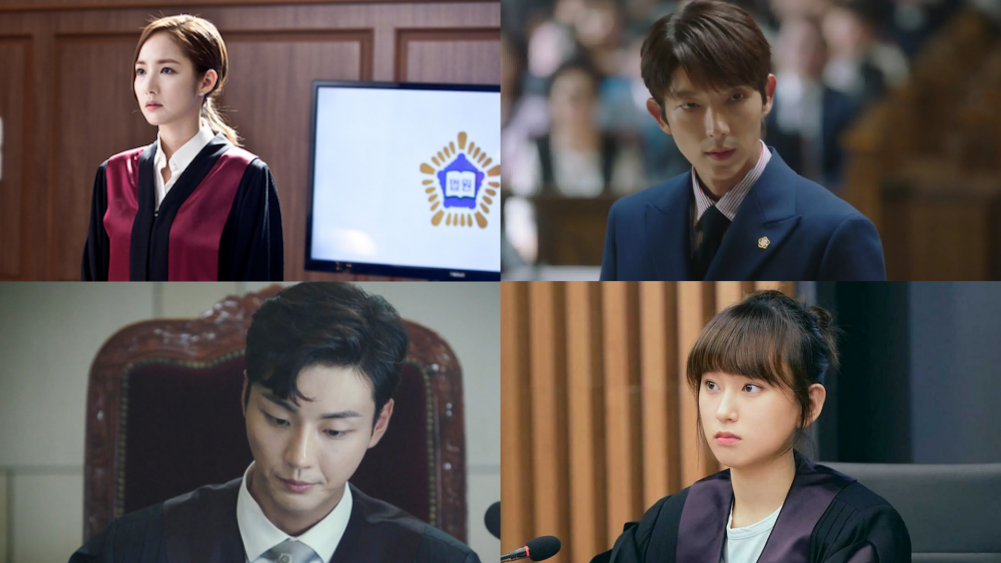 Watching K-Dramas can be different depending on the viewer, but it really brings comfort to the viewers who like the show, sometimes even more than entertainment. One of the famous themes is Legal K-Drama, portraying stories under the concept of law and legality, court proceedings, and even crimes.
Legal Dramas aren't just dramas with gorgeous lawyers and sometimes fictionalized stories of crime and law, but it is also laced with other subthemes, may it be friendship, romance, politics, and such. It becomes much more enjoyable, and, all the while, learning about legal terms and procedures.
Regardless of your reason for watching legal dramas, we are very sure that you should add these dramas to your watchlist if you haven't seen them yet. Here are some enjoyable and exciting legal dramas that you should definitely give a try!
1. Remember: War of the Son / Remember
Synopsis: Seo Jin Woo has a special condition called hyperthymesia, which allows him to remember almost every day in perfect detail. On the other hand, his father, Seo Jae Hyuk, has developed Alzheimer's disease, making him lose his memories. When his father becomes wrongfully convicted of murder, Jin Woo vows to prove his father's innocence by becoming a lawyer himself.
Cast: Yoo Seung Ho, Park Sung Woong, Park Min Young, Nam Goong Min, Jung Hye Sung
2. Your Honor
Synopsis: It tells the story of identical twin brothers, Han Soo Ho, a top judge who is very attached to personal belongings, and Han Kang Ho, a five-time convicted criminal who takes over his twin's job after his sibling mysteriously disappears.
Cast: Yoon Shi Yoon, Lee Yoo Young, Park Byung Eun, Kwon Nara

3. Lawless Lawyer

Synopsis: A story of two lawyers and partners, Bong Sang Pil, a former gangster turned lawyer who takes advantage of loopholes in the law and boasts an excellent win rate, and Ha Jae Yi, a lawyer of integrity who ends up being temporarily disbarred after verbally attacking a corrupt judge in court, alongside cases they thread on together.
Cast: Lee Joon Gi, Seo Yea Ji, Lee Hye Young, Choi Min Soo

4. Law School

Synopsis: During a supervised mock trial class, a law school professor is found dead at the school, and Professor Yang is arrested as the main suspect. Kang Sol, Han Joon Hwi, and other students at Hankuk University Law School work together to reveal the truth behind Professor Seo's death and prove Professor Yang's innocence.
Cast: Kim Myung Min, Kim Bum, Ryu Hye Young, Lee Jung Eun

5. Suits

Synopsis: An adaptation from the American TV show Suits, the story revolves around the capable and distinguished lawyer of the law firm "Kang & Ham" Choi Kang Seok, who recruits a young man named Go Yeon Woo, who has a retentive memory but not a law degree.
Cast: Jang Dong Gun, Park Hyung Sik

6. Witch at Court / Witch's Court

Synopsis: Ma Yi Deum, a materialistic female prosecutor who does not hesitate to use personal attacks, fabricate evidence, and incite perjury in order to win her case, is assigned to the special task force for sex crimes. She meets Yeo Jin Wook, a newbie prosecutor who graduated from law school at the top of his class and will join the task force, and together they solve crimes with a grudging chemistry.
Cast: Jung Ryeo Won, Yoon Hyun Min
7. Ms. Hammurabi

Synopsis: The drama focuses on a rookie prosecutor, Park Cha Oh Reum, and her battles with the legal system, along with other judges, Lim Ba Reun, Han Se Sang, Jung Bo Wang, and other court staff members. The series tells the story of the life of judges and the various disputes that they have to settle.
Cast: Go Ara, Kim Myung Soo, Sung Dong Il, Ryu Deok Hwan, Lee Elijah
8. Hyena

Synopsis: Hyena deals with lawyers at Song & Kim who only work for the richest 1% of society, whereas Jung Geum Ja is a lawyer who crosses the boundaries of law and lawlessness, justice and injustice, ethics and corruption. Yoon Hee Jae is her polar opposite rival, an elite lawyer who is confident in his abilities and his brilliant mind that is wrapped around his ego, but he misses the grit of Geum Ja and gets outsmarted by her on many occasions.

Cast: Kim Hye Soo, Ju Ji Hoon
9. Suspicious Partner

Synopsis: The series is about Noh Ji Wook, a prosecutor, and Eun Bong Hee, a rookie prosecutor, and how they work together on a mysterious case involving a psychopath murderer. As they start investigating the case, they start to realize how entangled their pasts really are and face more issues as Bong Hee becomes a suspect in another case.
Cast: Ji Chang Wook, Nam Ji Hyun, Choi Tae Joon, Kwon Nara
10. Innocent Defendant

Synopsis: Park Jung Woo is a stellar prosecutor who never loses a case as the head of the violent crimes division, but his life turns around when he wakes up in prison with amnesia and is a convict on death row. While grappling with his lack of memories, he now has to clear his name and uncover the truth.

Cast: Ji Sung, Um Ki Joon, Kwon Yu Ri, Oh Chang Seok, Uhm Hyun Kyung
11. Diary of a Prosecutor

Synopsis: The drama focuses on the lives and work of a group of prosecutors in the fictional city of Jinyoung, each one tackling all the different cases handled by the police. Lee Sun Woong works at the Public Prosecutor's Office in his local district, while Cha Myung Joo is an elite prosecutor who was rising on the ladder of success before being sent to a branch office.
Cast: Lee Sun Kyun, Jung Ryeo Won, Lee Sung Jae, Kim Kwang Kyu, Lee Sang Hee, Jeon Sung Woo
12. While You Were Sleeping

Synopsis: The plot revolves around the tale of three young adults who have acquired the ability to see the future through their dreams, field reporter Nam Hong Joo, rookie prosecutor Jung Jae Chan, and police officer Han Woo Tak. With their ominous dreams, they collaborate to prevent these dreams from coming to reality and take down their archenemy, the corrupt lawyer Lee Yoo Beom.
Cast: Lee Jong Suk, Bae Suzy, Jung Hae In, Lee Sang Yeob
13. I Can Hear Your Voice

Synopsis: Jang Hye Sung is a pragmatic and self-preserving public defender whose life changes when she meets Park Soo Ha, who has the supernatural ability to read other people's thoughts by looking into their eyes. As Hye Sung works with Soo Ha and a cop-turned-lawyer, Gwan Woo, she gradually lets go of her pursuit of glory, and together, they use unconventional methods to solve their cases.
Cast: Lee Bo Young, Lee Jong Suk, Yoon Sang Hyun, Lee Da Hee
14. The Good Wife

Synopsis: Following the American series with the same title, Kim Hye Kyung, a lawyer who was on a hiatus for thirteen years prior to her marriage, resumes her legal work after her husband, Lee Tae Joon, a prosecutor, gets arrested for corruption in a political scandal.
Cast: Jeon Do Yeon, Yoo Ji Tae, Yoon Kye Sang
15. Whisper

Synopsis: Shin Young Joo is a charismatic female section chief police officer, while Lee Dong Joon is a virtuous elite judge, who settles their differences as both of them join alliances together to uncover the biggest scandal ever- a defense industry corruption at Taebaek, the nation's biggest law firm.
Cast: Lee Bo Young, Lee Sang Yoon, Kwon Yul, Park Se Young
16. The Devil Judge
Synopsis: Set in a dystopian version of South Korea where people harbor hatred towards their leaders and live in chaos, The Devil Judge shows a glimpse of a society where trials are held through a live courtroom show aired on television, with three judges coming together to bring justice and peace
Cast: Ji Sung, Kim Min Jung, Park Jin Young, Park Gyu Young
17. Vincenzo
Synopsis: Vincenzo Cassano is a lawyer and a mafia consigliere who flew to Seoul to recover the gold hidden in the basement of Geumga Plaza, which is illegally taken ownership of by a subsidiary of the Babel Group. He becomes the Foreign Legal Counsel to Jipuragi Law Firm, working with Hong Cha Young to destroy the Babel Group and reclaim the gold hidden in Geumga Plaza.
Cast: Song Joong Ki, Jeon Yeo Been, Ok Taecyeon, Kim Yeo Jin, Kwak Dong Yeon
18. Touch Your Heart
Synopsis: Oh Jin Shim is formerly a top star actress who got embroiled in a drug scandal with a third-generation chaebol and attempts to clear her name and gain success. But first, she needs to take a job working as a secretary to a lawyer named Kwon Jung Rok, a workaholic elite lawyer who always wins his cases and cares deeply about his firm's reputation.
Cast: Yoo In Na, Lee Dong Wook, Lee Sang Woo, Son Seong Yoon
19. Delayed Justice
Synopsis: Inspired by true stories of real-life lawyer Park Joon Young and journalist Park Sang Kyu, who succeeded in obtaining retrials for people who had been wrongfully convicted, Delayed Justice tells the story of a public defender who managed to pass the bar exam without attending college and an empathetic reporter who fight for judicial victims, together.
Cast: Kwon Sang Woo, Bae Seong Woo, Jung Woo Sung, Kim Ju Hyeon, Jung Woong In
20. Solomon's Perjury

Synopsis: A student from an elite high school fell to his death on Christmas Day, and the police and the school were ready to wrap it up as a suicide. However, a student claimed to have witnessed the murder but got into a car accident soon after. Hounded by the media and frustrated with the adults who ignored their pleas and questions, they decided to hold their own school trial.
Cast: Kim Hyeon Soo, Jang Dong Yoon, Seo Ji Hoon
There are totally no objections to our fascination with these legal dramas! Now, we rest our case. Which among the many legal dramas did you enjoy, and which among them do you recommend to other viewers?