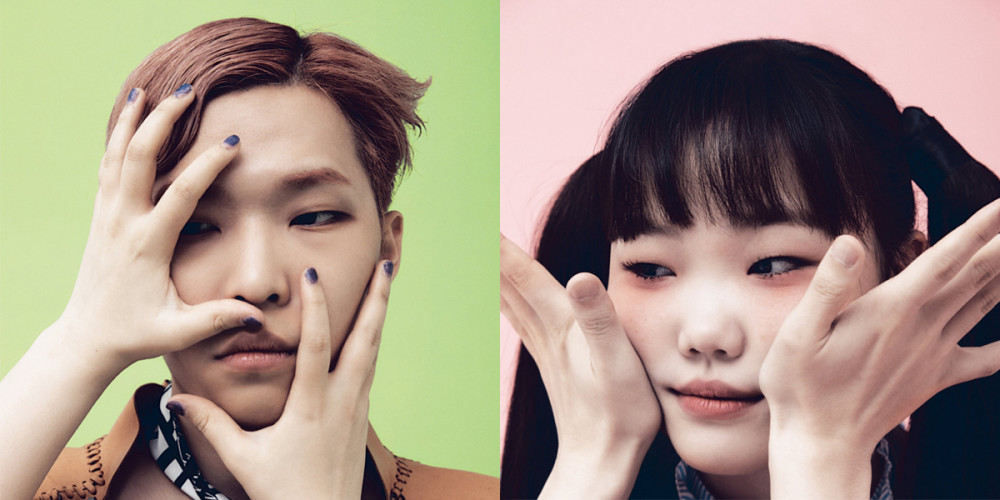 Beloved sibling duo AKMU tried out a fun and experimental photoshoot for the June issue of 'W Korea'!
For this pictorial, the AKMU siblings channeled their artistic energy with eccentric fashion styles, and also got to interfere with each other's shots by touching the other's faces!
During their interview, the siblings were asked to comment on what it was like to touch the other person's face. Suhyun said, "It was interesting. I was a little thrown off at first. But after touching [my brother's face] I thought, 'Wow, his skin is all smooth these days because he's been getting facial treatments'." Chanhyuk likewise responded, "It was fun. I got a good grip of Suhyun's face for the first time in a while."
Next, the siblings were asked how often they open up to each other, and what they talk about. Chanhyuk replied, "We always talk about serious matters. But we don't really talk about random, unimportant stuff. It's like if you're with friends, you talk about random, unimportant things easily, but it's hard to bring up serious matters. With siblings, it's the opposite."

Suhyun also added on, "We never ignore serious matters related to work or family. We have meetings when we are discussing work, and we also go to church together once a week. In the 30 minute car ride to church, we talk a lot about all kinds of matters."
Finally, how would Chanhyuk and Suhyun describe each other, and are there any surprising sides to the other person that fans don't know about? Chanhyuk shared, "I want to say that Suhyun is actually not that bright of a person. She used to be. She still is to some extent. Back in the day, that was her charm, to her fans and to our family as well. But it's time to come clean. Suhyun is not that bright anymore."
Suhyun then said, "Chanhyuk is actually a bright person. Matter of fact, he is very simple and positive-minded. He appears picky and calculating on the outside. But he's actually an easy person to deal with. If you don't know how to deal with him at first, you might have a hard time, but all you have to do is learn a few things about him. If you are interested in figuring out how to deal with Lee Chanhyuk, just call me. I'll tell you how to control him."
Meanwhile, AKMU will be performing at the '14th Seoul Jazz Festival' on May 28. Check out the duo's pictorial for the June edition of 'W Korea', below!