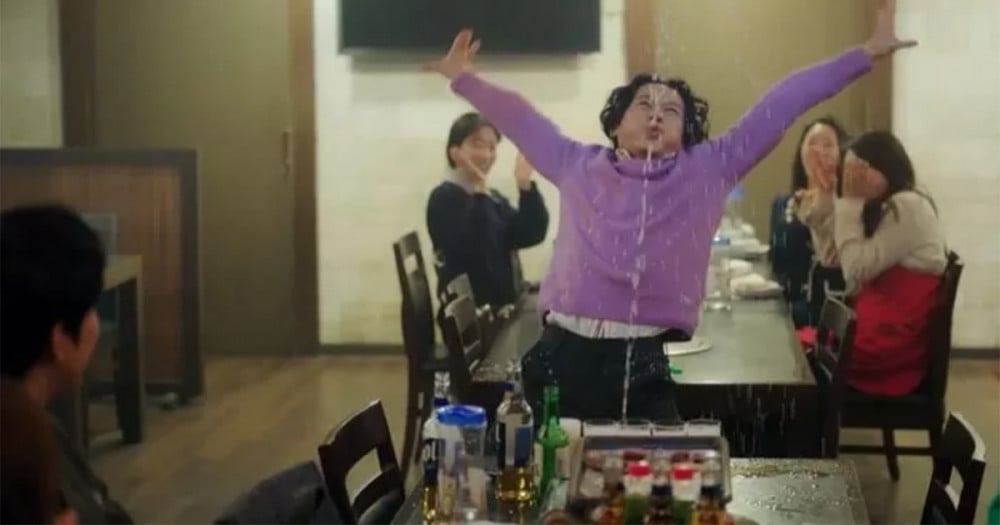 Netizens are calling this recent scene from episode 9 of SBS's 'Business Proposal' just "legendary".
During the drama's March 28 broadcast, actor Lim Ki Hong delivered a hilarious performance as he concocted five glasses of bomb shots for his fellow employees and his company president, Kang Tae Moo (Ahn Hyo Seop).
Traditionally, members of South Korea's working class consider being able to put on performance while making bomb shots at a company gathering a "social skill". Well, on episode 9 of 'Business Proposal', Lim Ki Hong put on the most epic performance in the history of company gatherings.
In his gaudy performance, Lim Ki Hong gave several shoutouts to BTS as he said, "This drink contains my blood, sweat, and tears," while dancing to BTS's "Blood, Sweat & Tears". He then also pulled out a beer bottled with a sparkler poked on top, and added on with a dance, "The name of this drink is... dyna-na-na-na Dynamite Drink!"
Finally, Lim Ki Hong wrapped up his performance with the signature "Dynamite" kick.
But wait, a performance like that would only be complete if he also made sure to clean up! Thankfully, Lim Ki Hong's character was seen personally mopping up the mess he made on the spot, relieving viewers.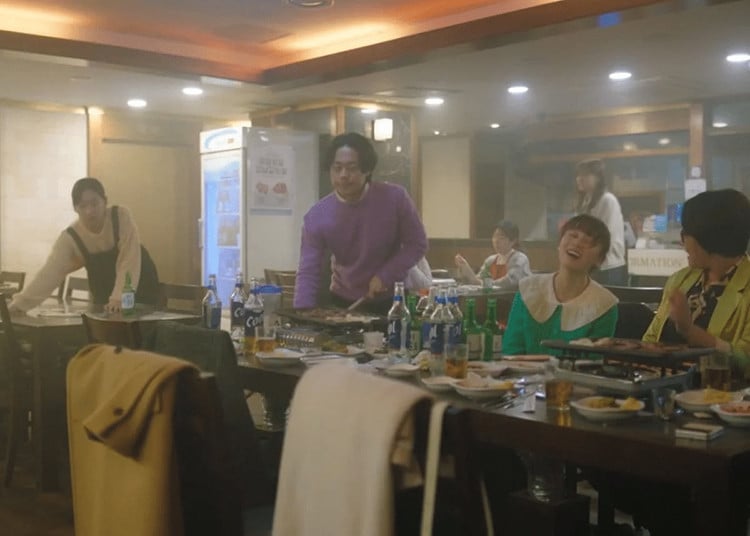 The scene is now going viral across various online and SNS communities, as netizens commented,
"Why is he so good at dancing to 'Blood, Sweat & Tears' lolol."
"The actor who pulled this off with soooo many people watching... major respect."
"I died laughing during this scene kekekekekeke."
"That was art. I wanted to try it!"
"Dancing to 'Blood, Sweat & Tears' and 'Dynamite' in that purple sweater kekekekekeke. How perfect."
"And yet another K-drama cliché kekekekekeke. The scene where the company worker has to show his 'social skill' at a company gathering, and it was done in the funniest way ever kekekekeke."
"How do I get into this company lolol."
"Legend kekekekekekeke."
"So glad they had the scene of him cleaning up too kekekekeke."
"I don't like alcohol at all but this was super funny, and I kinda wanna try it kekekekeke."

"Isn't this like contemporary art-level good????"
And more. Meanwhile, the March 28 broadcast of SBS's 'Business Proposal' recorded an average viewership rating of 11.6%, once again reaching an all-time high.