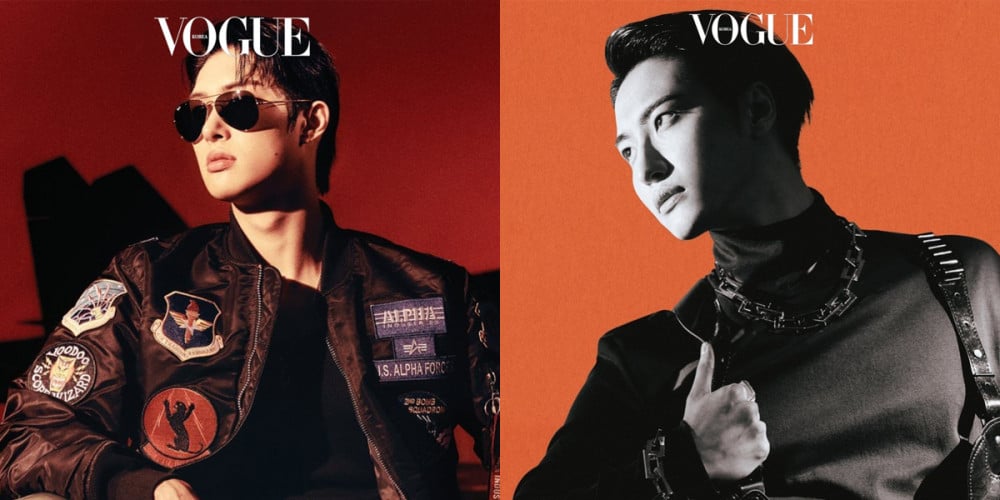 The boys of ATEEZ were featured in a pictorial under the theme of 'The Rebels' for 'Vogue' magazine's April issue.
For this feature, ATEEZ sat down with 'Vogue' for an in-depth interview about their careers thus far, and where they're headed next.
First, ATEEZ discussed the group's identity as a "powerful performance group". The 8-members all said in unison, "We all walk up to the stage thinking that it's our last time."
When asked to elaborate, Yeosang stated, "There is a strong desire inside each of us to make ATEEZ the best team. Each member on stage shows that desire in their eyes and does everything in their power to make themselves stand out during each part. Our members are really amazing." San also added on, "When I go on stage, I think of a character who fits that stage. I am Choi San, but depending on the song, I can become someone full of greed, or someone who is madly happy. It's like taking out a different outfit to wear each time."
Seonghwa also shared similar thoughts on his attitude on stage, commenting, "I am usually a shy person, but on stage, I can become anyone I want. Anything is allowed on the stage. When we debuted, I thought, 'I'm a real pirate. Nothing's gonna stop me'. Afterward, when I replay my stage, I sometimes think, 'When did I do that?'." The idol then named "stamina" as the one thing he hoped to improve on in 2020. "After performing, we crawl to our hotels and crawl to the showers. I've taken an interest these days in how to build my stamina. We all tried to build our stamina before our tour this time, but I want to focus on that even more this year," he said.

While describing how the group prepares for such powerful stages in the practice room, Mingi explained, "Each of the members have a lot of input, and we all take turns sharing our opinions. The further you get in your career, there are some things you might just give up on, but we are greedy even when it comes to the smallest details. We look at one another and think, 'He's putting in that much work, I can't lag behind'. We help one another boost our capabilities."
Finally, ATEEZ gave away a spoiler for their next comeback album. Hongjoong shared, "Since our debut, we have attempted powerful performances meant to captivate viewers. There were also other powerful concepts, such as playful ones, but over the years, each genre has become 'ATEEZ'. With our next album, we want to break that mold of 'ATEEZ' once again. A concept that raises the question, 'This kind of powerful?'." Mingi then added on, "Our last album showed a looser side of us, so this time, we think that we need to come back with something more powerful than ever."
What kind of goals have ATEEZ set for the future? A graph with a line that goes up, and up, and up. Wooyoung said, "If we make it on the Billboard charts, then there will be our next goal of going to the 'Grammys'. After that, an even bigger goal. We want to keep thinking ahead to the next thing, and also promote for a long time like Shinhwa sunbaenims." Hongjoong couldn't help but comment here, "I don't want to put a cap on anything, but I think we should perform at the 'Super Bowl' at least once in our lifetimes."

Check out ATEEZ's full interview and pictorial for 'Vogue' via the magazine's official website, here.