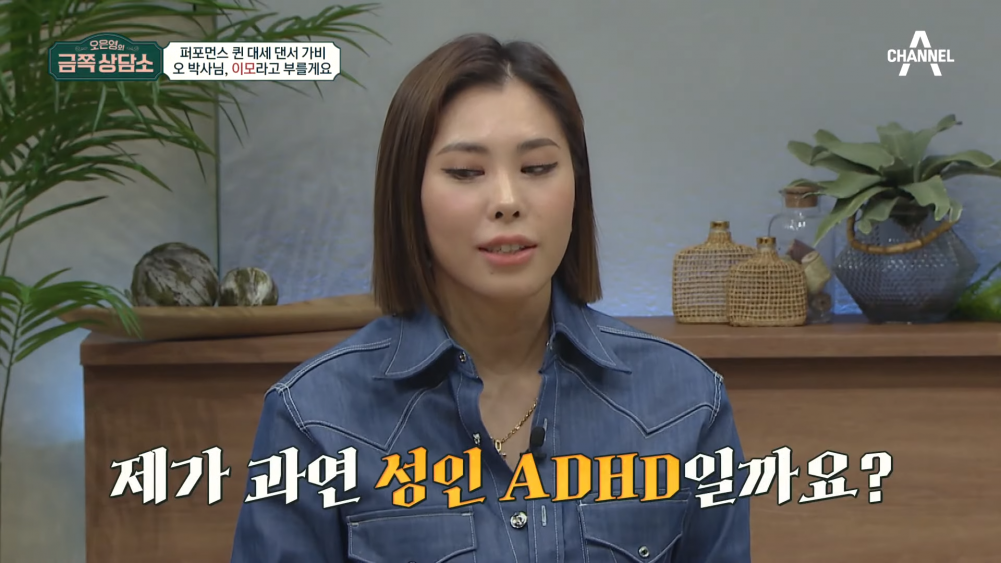 LACHICA's leader Gabee was recently diagnosed with adult ADHD by doctor Oh Eun Young.
On February 11, professional dancer Gabee appeared on Channel A's 'Oh Eun Young's Golden Clinic' and shared her contemplations.

On this day, Gabee revealed that her life had changed 180 degrees after appearing on the popular Mnet show 'Street Woman Fighter.' She elaborated that there were two large things that had changed. She explained, "One is that I was able to meet the people who I used to see only on TV." She also added, "Another thing that changed in my life is that I was able to earn a large sum of money. I would never have imagined such a large amount of money would be transferred into my bank account." She said she was able to film advertisements with her LACHICA dance crew members.




Gabee continued to then share her worries and contemplation. She began by explaining, "Even while filming 'Street Woman Fighter,' I often wondered if I have adult ADHD." Gabee explained when she was younger, she thought it was just her personality but then came to really worry that she might have adult ADHD after filming 'Street Woman Fighter. She explained, "When I would plan a choreography with my dance crew, my mind kept drawing a blank as if someone took an eraser and erased my mind." She continued to elaborate, "I couldn't concentrate, so when I would talk to a group of people, I would keep forgetting what to say, I would fumble my words, so I was so embarrassed. Moreover, I felt so sorry."

After listening to Gabee's worries, doctor Oh Eun Young analyzed Gabee's symptoms through an adult ADHD checklist that can diagnose the disorder through her daily life. Even from the first question, Gabee related strongly and explained that she is very emotionally driven and is spontaneous for that reason. As an example, Gabee explained that she was not able to go study abroad because of a visa issue. So rather than resolving the issue, Gabee decided not to go study abroad but rather buy a car with the 30 million KRW (~25,004.27USD) she had saved up. Also, she explained she spontaneously changed her name legally because she thought her name was too ordinary and got in trouble with her mother.


After hearing this, doctor Oh Eun Young pointed out that the lack of diligence and patience are some of the symptoms of adult ADHD. In particular, the tendency to become spontaneous increases since there is a lack of patience. The doctor added that people may misunderstand Gabee because Gabee's tendency to be impatient causes her to talk quickly and react quickly. Therefore, people may feel that Gabee is an aggressive person.
Further, throughout the show, Gabee continued to share the difficulties she would face in her daily life due to her lack of attention span and explained that she is often, if not always, late to her appointments. Gabee explained that she is not good at time management and would always need to return home because she would forget something important.
When Gabee asked the doctor if she has adult ADHD, doctor Oh Eun Young replied, "I believe you do have issues with attention span although you are a grown adult. I believe Gabee does have the signs of adult ADHD." The doctor added, "I can see Gabee lacks concentration and also seems to be easily distracted."