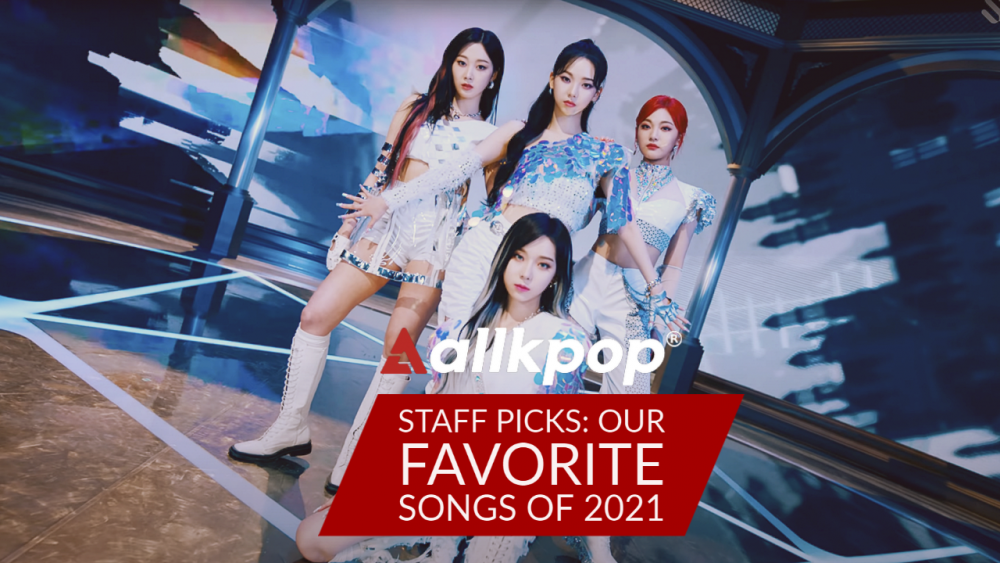 2021 was another year filled with amazing K-Pop releases. Out of the countless new songs that came our way this year, here are the favorites that the allkpop staff loved the most!
Nishtha A's Pick: TXT - Loser=Lover
I am a big fan of rock beats and head-bopping songs, Loser=Lover is just that. "Lover with a $ sign is a Loser" is a super catchy lyric; gets me hyped up.

Lorr-Ye's Pick: aespa - Next Level
aespa's "Next Level" is auspiciously the song of the year. Irresistible. Addicting. Hypnotizing. The list goes on. No song in 2021 compared. The absolute grip this song had on the K-Pop community this year was insane. From fans to idols, locals to stans, everyone learned the lyrics effortlessly. There's a reason this song was banned in schools in Korea!


Germaine-Jay's Pick: TWICE - Alcohol-Free
"Alcohol-Free" is something a little bit different from TWICE. The bossa nova beat and tropical flavor were fun to listen to, and it's definitely a song I had on repeat this past summer.
Sofia-Sayson's Pick: Seventeen - Rock With You
Seventeen never fails to give good songs. "Rock With You" is a masterpiece everyone will get attached to in the first to a few listens.
Ezra-Glow's Pick: Hoshi - Spider
I didn't expect the leader of Seventeen's performance team to release my favorite song of the year, but I'm so glad he did. "Spider" is a solid track, and I love the unique, somewhat spooky sound it has.
Susan Han's Pick: NCT Dream - Hello Future
I might be putting myself in some deep trouble here, but in truth, I didn't really understand why fans were so against the idea of NCT Dream ending. I guess a lot of people felt like the members would be out of a job if NCT Dream disbanded? But I was kind of into the idea that after NCT Dream, the members would get to debut again in new NCT units or join other units. I also sort of felt like the group lost a lot of conceptual identity after "My First and Last". And this was my opinion up until early this year, really. But then, "Hello Future" happened. Damn it SM. I could not stop listening to it. "Hello Future" is just the perfect example of the kind of genre, concept, and message that SM is freaking good at. Bright and fun, with a positive message but a little bit of sadness too. And NCT Dream was the only group in SM that could have pulled this song off this year. So, I was wrong, I was stupid, NCT Dream stays.
Jia-Lin's Pick: ONF - The Realist
I am a sucker for Cyberpunk and this has to be the most Cyberpunk-esque K-Pop song I have ever listened to. Included as a B-side in ONF's 1st full album "ONF: My Name," 'The Realist' made good use of the megaphone effect and minor scales to create a mysterious and newtro (new retro) vibe. The song also comes with a counterpart that is more positive yet equally newtro 'The Dreamer' which was included in their repackage "CITY OF ONF."
Yeom-My's Pick: AKMU feat. IU - NAKKA
The collaboration with AKMU & IU was absolutely amazing and displayed exceptional musical talent from both artists.
Sophie-Ha's Pick: K.Will - Back In Time
This was is a remake of Lyn's "Back In Time," which was an original soundtrack for 'The Moon Embracing the Sun." However, this song was remade as an original soundtrack for the Naver webtoon, 'The Moon That Rises in the Day.' The webtoon tells a story of a man whose time has stopped as he lingers in the past and a woman whose time continues to flow like the wind against her will. This song was remade into the male version and perfectly expresses the male lead character's point of view from the webtoon.
Jieun-Im's Pick: Epik High ft. Colde - Rain Song
"Rain Song (Feat. Colde)" by Epik High is my favorite song for 2021. The lyrics ask, "What is life, when you don't even know what tomorrow will bring?" The song lets you pour out your emotions just like the pouring rain, without holding back. Despite the heartache experienced from a sad love story, Epik High lets you be completely drenched in your sadness, which is quite comforting. It is, indeed, the perfect "rain song" of 2021.
Paul's Pick: Epik High ft. G.Soul - End Of The World
The laid-back guitar loop beat, G.Soul's wonderful voice, Tablo's thought-provoking lyrics, all combine into a mental eargasm. "No other song above this. No other song I prefer. Cause I got this thing called taste even if you don't agree. I want you to listen to this song. Like it's the end of the world." This song is my favorite of 2021!
David's Pick: Key - Bad Love
That eighties retro-vibe! I'm a sucker for the eighties beats with a lot of synths. Combine that with Key's wonderful voice and you got a great song.
KG's Pick: STAYC - ASAP
STAYC Girls, it's going down! This song is so fun and bright just like the members themselves. It's catchy and I was humming along to "ASAP" the most in 2021.
James's Pick: AKMU ft. Sam Kim - EVEREST
This is pure talent on display. Three soulful voices combine into something masterful that rises as high as Mt. Everest.
Mia's Pick: BTS - Butter
This song is the best out of all of BTS's English songs. It's very radio-friendly bop and you get addicted to the hook after the very first listen.
Janie-Reign's Pick: CRAVITY - VENI VIDI VICI
For my Favorite Song, I usually like to highlight a group or a song that could have relatively garnered more attention. This year, I thought CRAVITY's B-side track "VENI VIDI VICI" deserved the title. Even though the album itself had other great songs (like "GO GO", another one of my faves), this track was perfect for the boys to continue their album promotions via music programs. The song encapsulates the perfect amount of drama when one thinks of the famous words of Caesar in the title. The song begins with an unexpected horn sound and blends in a well-balanced soundscape of classical instrumentals and electronic sounds. Personally, I love the way Allen starts off the song (and on the stage) with his narration-like singing rap. It's short but very powerful. Also, in the bridge portion, the electronic guitar solo (also unexpected!) grabs the listener's attention with its instrumentals free of vocals/lyrics. 'Empty' moments like these are quite important in the bridge sections, and yet you don't find many of those in K-Pop. "VENI VIDI VICI" was the perfect follow-up song for CRAVITY, and I hope the boys get to expand on their concepts more and more in the future!
Yaki Jones's Pick: Coldplay x BTS - My Universe
It was so hard to choose just one as this year was packed with bops but I came down to choosing this iconic collaboration. BTS has been continuously writing history as they go and this collaboration was not an exception. This collaboration was a pleasant mixture of classic pop and trendy K-pop beats with both artists' smooth vocals, which was why I returned to this song the most.
Dani's Pick: TXT ft. Seori - 0X1=LOVESONG (I Know I Love You)
While TXT had been moving toward a rock sound ever since the release of their single "Run Away" back in 2019, their rock sound finally arrived at full fruition through the single "0X1=LOVESONG (I Know I Love You)" earlier this year. The track is a true love song for the underdog, and it possesses an all-too-familiar desire to take your loved one's hand and find a way to escape the present chaos. Seori's feature may be a light addition, but the contrast of her calming voice over the song's reverb-heavy guitar suits the 'her light vs. my dark' theme heard in the song's lyrics. (Also, were you even a K-Pop fan in 2021 if you didn't belt along with Taehyun's pre-chorus?)