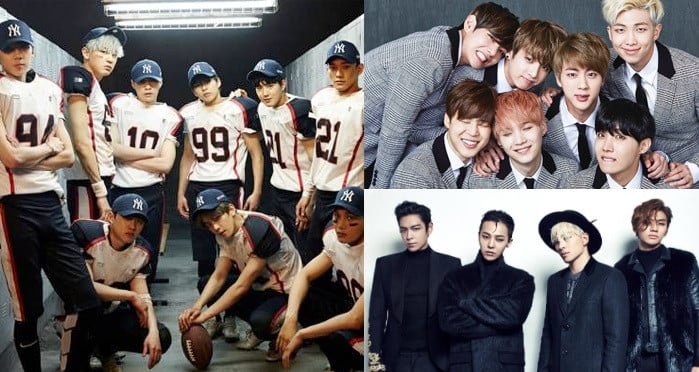 Melon is one of the biggest music platforms in Korea and the songs that rank high has been considered as the most popular songs in Korea. However, it seems like Melon's constant chart reforms, stream culture, and overseas fans' access to the app in recent years changed the Koreans' perspective on Melon. Also, some of them mentioned that it's meaningless to compare different generations.
On December 26, a thread titled "Male Idols with the most unique listeners and streams all time on Melon top 30" was posted on Pann. Here is the translation:
(source: Pann)
Rank/Male idol/Total Unique Listeners/Total Streams/Most streamed song/The song with the most listeners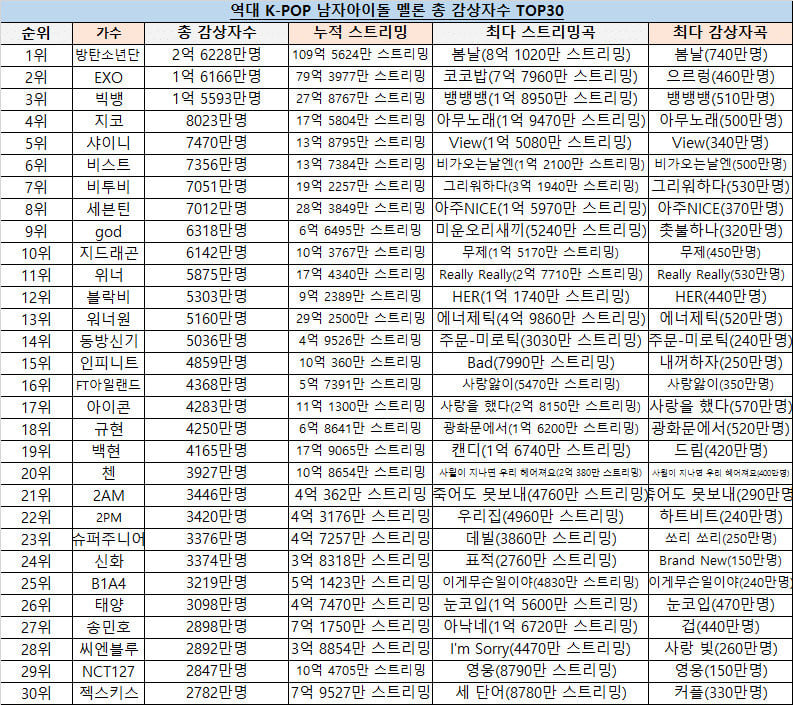 1.BTS-Spring Day
2.EXO-Growl
3.Bigbang-Bang Bang Bang
4.Zico-Any Song
5.Shinee-View
6.Beast(Highlight)-On Rainy Days
7.BtoB-Missing You
8.Seventeen-Nice
9.g.o.d-One Candle
10.G-Dragon-Untitled,2014
11.Winner-Really Really
12.Block B-Her
13.Wanna One
14.TVXQ-Mirotic
15.Infinite-Be Mine
16.FT Island-Lovesick
17.iKON-Love Scenario
18.Kyuhyun-At Gwanghwamun
19.Baekhyun-Dream
20.Chen-Beautiful Goodbye
21.2AM-Never Let You Go
22.2PM-Heartbeat
23.Super Junior-Sorry Sorry
24.Shinhwa-Brand New
25.B1A4-What's Happening

26.Taeyang-Eyes, Nose, Lips
27.Song Minho-Fear
28.CN Blue-Love Light
29.NCT 127-Kick It
30.Sechs Kies-Couple

1.[+73,-6] In the heydays of Bigbang, people had been using Cyworld + When they started promoting, it was Melon's download generation + In 2016, their last album made an entrance to the beginning of stream generation. And they have been on hiatus for 5 years. Amazing.

2.[+47,-7] I wonder who can win against Bigbang when they comeback.
MADE full album with 3 songs added in 2016
(G-Dragon's) Kwon Ji Yong album in 2018
(song) Flower Road in 2018
BTS and EXO are doing good but doing this in a 5 year hiatus period is amazingㅋㅋㅋ

3.[+39,-1] But definitely... The number of Melon users has increased dramatically since the mid-late 2010s... You can't compare different generations because the songs that are popular on the chart is due to fan streaming now.

4.[+31,-1] Melon has grown a lot over the past years. There are so many idols on the chart that I haven't heard of.. The count is based on cumulative streams but I think there are many problems in dividing idols based on this and consider it as a measure of popularity.

5.[+28,-6] Why are female idols not in? Are you afraid of Blackpink?

6.[+22, 0] In the first place, Melon users were around 6 million, but in fact that the number of users has fallen significantly recently, how is it possible to get more than 6 million even if all users hear it?

7.[+21,-9] It's just that fans waiting in line to stream it unlimitedly. What's the meaning of this?

8.[+18, 0] There was no streaming culture in the 1st and 2nd generations. And it should be taken into account that there were many people who listened to songs through illegal MP3 downloads.

9.[+17, 0] The Korean music market has grown so much that the songs in the latter half of the decade are more advantageous than in the early 10s. Super Junior and TVXQ, who had the best-selling albums at that time, had sold 200k-400k copies in their heyday. That was considered huge at that time. But today groups like Seventeen and NCT who are not even the top ones sell over 1 million. New groups like TXT and The Boyz sell at least 300K in their first week. The music market has been growing constantly every year. Comparison of numbers is meaningless

10.[+17, 0] How do you get hundreds of millions of unique listeners in a country with a population of 50 million?

11.[+16, 0] The early 2010s were not the era of streaming, but the era of downloading, so it is unreasonable to compare them on the same line. That's why Gangnam Style is not even in the top 100 on Melon right now.

12.[+15, 0] Wow I didn't think there would be Mirotic. It's a song from 2008. There were a lot more illegal downloads than official downloads~~~ There were no smartphones then, so there were a lot of illegal downloads.

13.[+14, 0] In 2017 Winner's Really Really was the first male idol song that achieved 100 million streams. Although Bigbang's songs all hit the jackpot and PSY's Gangnam Style exploded all over the world, they couldn't achieve it because the streaming was so different from today. That's why old generation songs cannot be included.