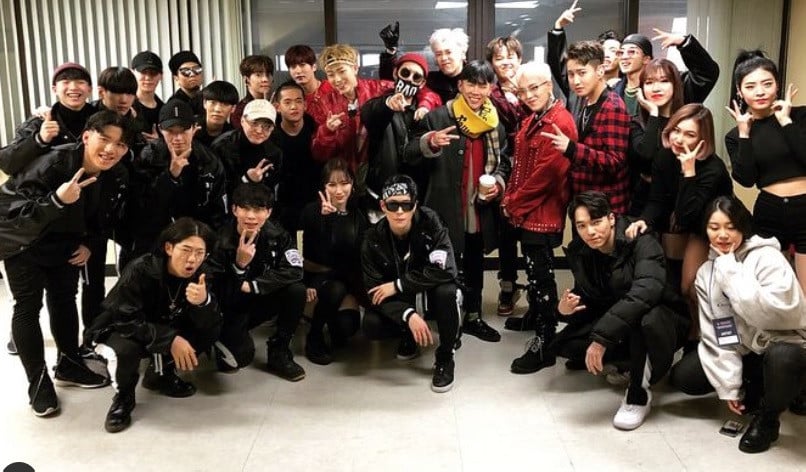 BB Trippin is a Korean dance crew that is known for being choreographers and backup dancers for many groups like; Jessi, Ailee, Wanna One, JBJ, Dawn, and more but mainly for all KQ & Seven Seasons' artists (BLOCKB & ATEEZ).You can see the BB Trippin members in the music videos and performances of these songs too!
Here are some of the choreographers of B.B Trippin!
BLOCKB - Shall We Dance

The choreographies of One Way and Don't Leave also belong to B.B.Trippin.

ZICO "Any Song"
The choreographies of Artist, Daredevil, Summer Hate also belong to B.B.Trippin.

ATEEZ "Hala Hala"

Choreographies of Pirate King, Aurora, Utopia, Win, Dazzling Light, Desire, Horizon, Inception, Thanxx, Fireworks and more are also made by B.B Trippin.


As producer team of ATEEZ, EDEN and B.B Trippin were with ATEEZ at every special moment such as Kingdom & MAMA stages, ATEEZ's world tours, and more. Although they did not have to, they went everywhere with ATEEZ and supported the members.
HyunA "I'm Not Cool"
IU "Celebrity"
X1 "Flash"
THE BOYZ "D.D.D"
SF9"Now or Never"
The choreographies of Watch Out, Easy Love and RPM also belong to B.B.Trippin.
JBJ "My Flower"

WANNAONE "Kangaroo"
The choreographies of Flowerbomb and Sorry not sorry also belong to B.B.Trippin.

NU'EST "BET BET"
SEVENTEEN "Snap Shoot"
TOO Magnolia
DAWN "Dawndididawn"
========================================================

You might have also seen the crew on stage as Jessi, Ailee, Taemin, Chungha, and Sunmi's backup dancers!

SUNMI "Gashina"
CHUNGHA "Snapping"
JESSI "What Type of X"

Who Dat B and NUNU NANA also performed with B.B.Trippin.
Ailee "Don't Teach Me"
TAEMIN "Day and Night"