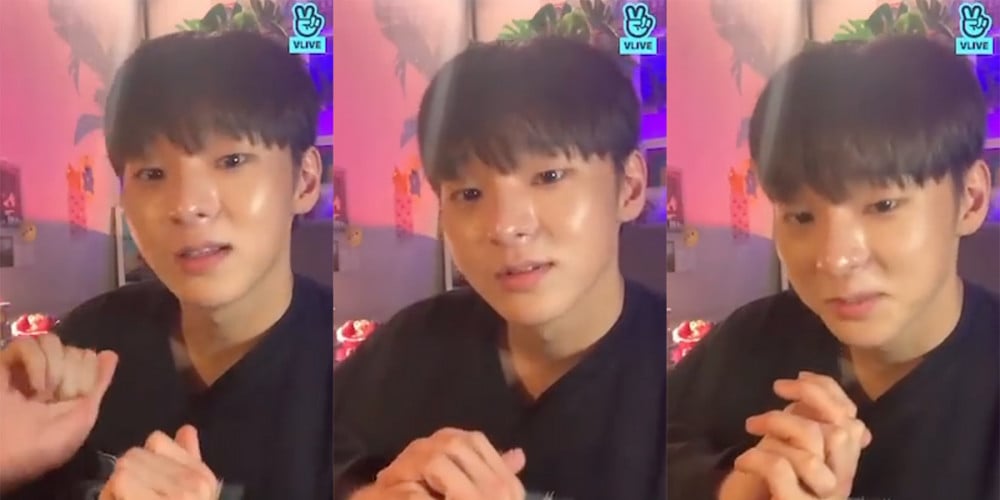 A male K-Pop idol is garnering attention on online communities for his heart-to-heart with fans about his part-time job.
During a recent 'V Live' broadcast with fans, idol group VANNER member Hyesung addressed a difficult topic. Some fans had spotted the idol working as a part-time salesperson at 'LUSH'.
Hyesung decided to explain to fans honestly why he decided to begin working part-time. He shared,
"I believe that many idols, like me, currently are not making any earnings despite promoting as idols. For me, I have been living without any earnings for about 2 years, and what I have realized is that when a person is living without any earnings for himself, your thoughts end up in a very extreme place. And so I started thinking. All I really want to do is to pay for my bus fare. Pay for my meals. And if I end up meeting a friend for the first time in a long time, and they are a friend who is younger than me, then maybe I can buy them something. Just coffee. Food. Just enough money for those simple things would maintain my welfare, but when I find that I don't have that, it turns into an ultimatum. I need to quit being a singer and an idol, I am tired of this, I need to live my life. When I realized that I was having such thoughts, I came to the conclusion that I need to just lay my pride down, and get a job to meet those few requirements. It doesn't matter if sometimes, people recognize me. If anyone asks me why I'm working there, I just need to answer that I am not making any money right now, and if I'm not even working part-time, then I can't continue being an idol. So I am working to protect my main role. That's is why I am working part-time at 'LUSH', everyone."
Furthermore, Hyesung added on, "I was supposed to start the live at 9 PM, but honestly, I was really worried. So I spent quite a few minutes just hesitating. But I'm glad now that I was able to communicate honestly with you all."
Finally, the idol relayed, "I will continue to work hard as VANNER. And all I can ask is that while you all are living your lives, if you happen to see VANNER on TV, or you hear a song by VANNER somewhere, if you could just say, 'Oh yeah, it's VANNER', or 'I remember VANNER'. If you could just remember us like that, I would be grateful."
Numerous netizens are currently sending Hyesung and VANNER words of encouragement, saying, "You can tell that he is a good and diligent person. In the end, those kinds of people will find success and happiness", "Good luck! I'm gonna go listen to you song", "His honesty makes me smile", "Why am I crying TT", and more.
Meanwhile, VANNER will be holding an online fan meeting next week on November 9 at 6 PM KST.