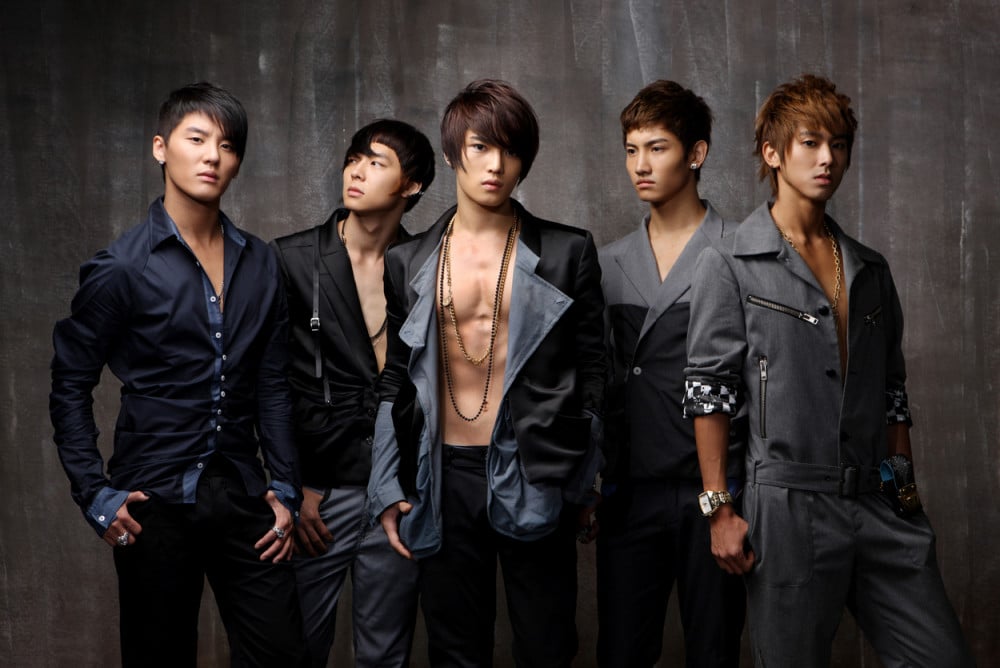 source: Pann
(Translation)
TVXQ was on another level in Japan

---


K-pop artists Oricon total sales top 10. TVXQ is #1, BTS is #2, BoA is #3.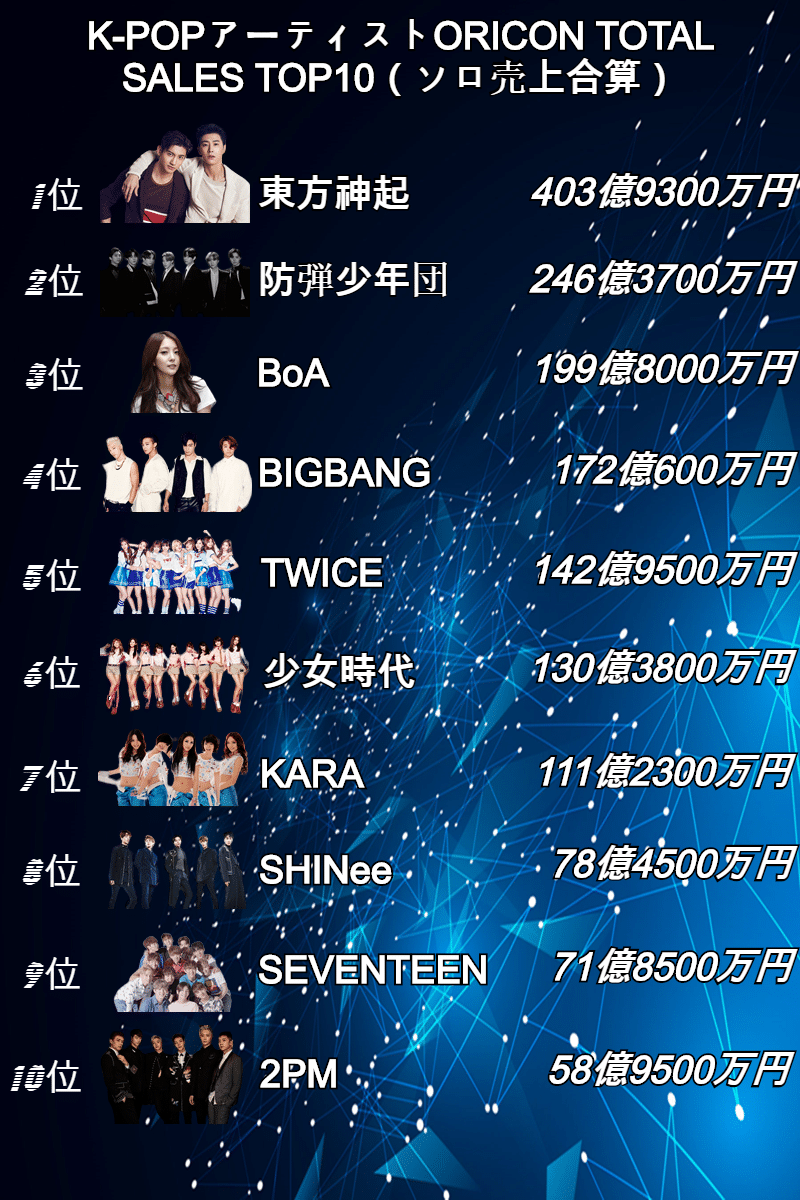 393 million Yen (~$352 million)
Topped Oricon's singles chart 12 times with overwhelming stats. Of course, they didn't have achievements like 'million seller singles' but TVXQ doesn't do much business with albums in the first place. Only 2 versions of the album are released. It's absolutely different from groups who release albums with 17 different album covers and tricks they use nowadays. In the case of full-length albums, TVXQ has been still rising. Their 6th album TIME broke their own record by surpassing TONE by selling over 300,000 copies in 3 days.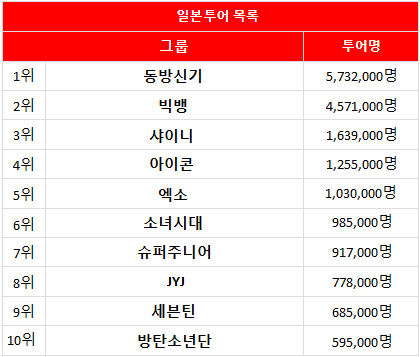 (Kpop group tour attendance in Japan; Rank-Group Name-Spectator)
-The list goes TVXQ (5.73 million people), Bigbang, Shinee, iKON, EXO, Girls' Generation, Super Junior, JYJ, Seventeen, BTS)

They are the only non-Japanese artist who held a concert at Japan's largest venue, Nissan Stadium in Yokohama, with a 75,000 seat capacity (Nissan Stadium was recently surpassed by New National Stadium in Tokyo).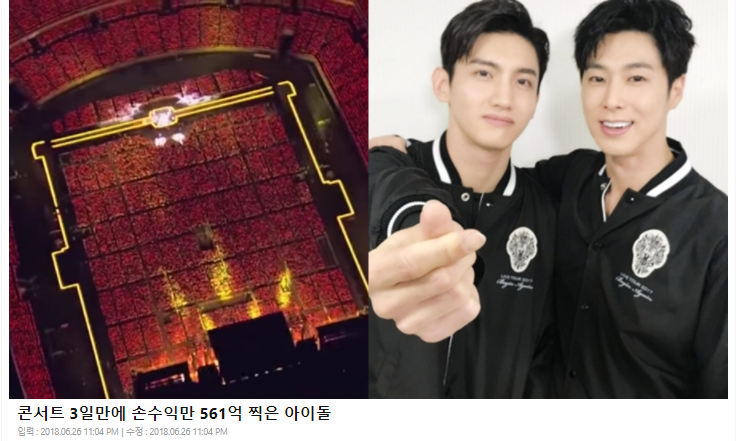 "The idol who grossed 56.1 billion Won (~$50 million) from only a 3-day concert."

The most impactful celebrities of Japan's Heisei Era (1989-2019)

TVXQ ranked 7th overall (KARA was 11th, Girls' Generation was 19th).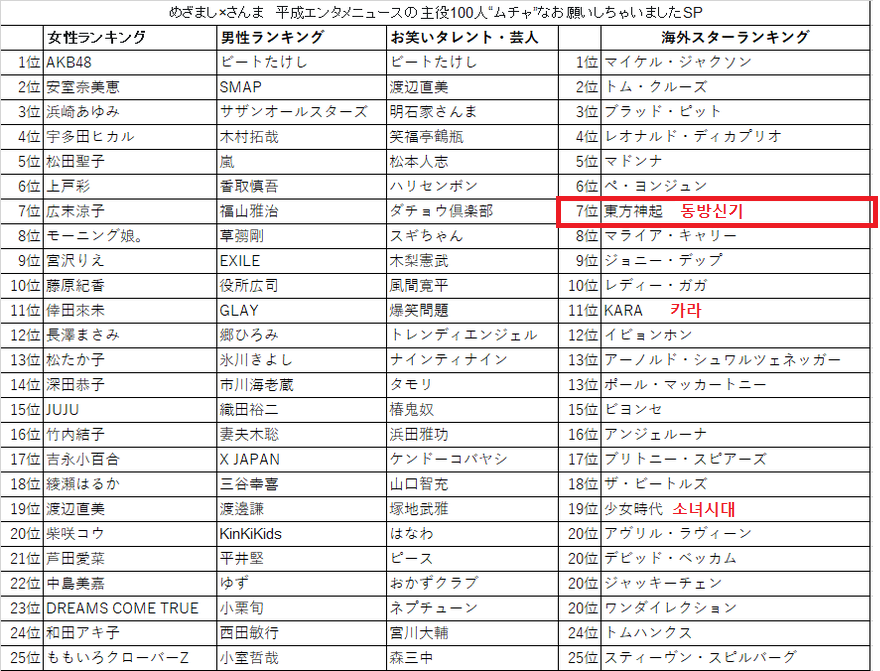 They don't only have fandom power, but also the general public: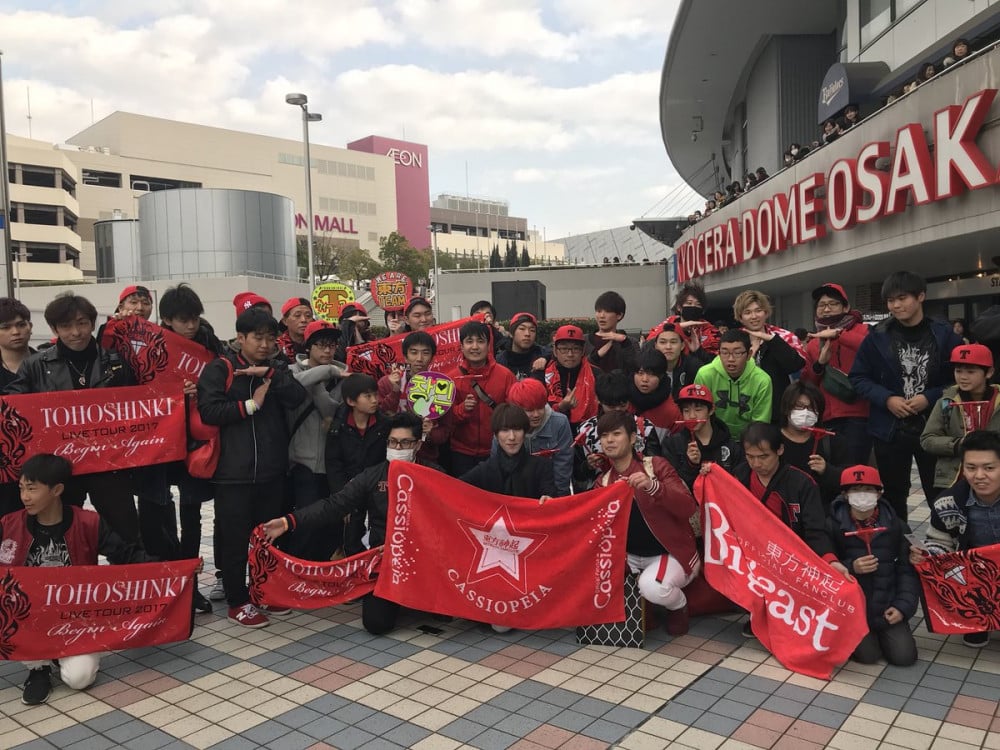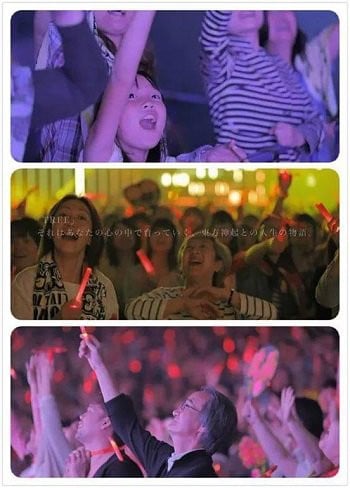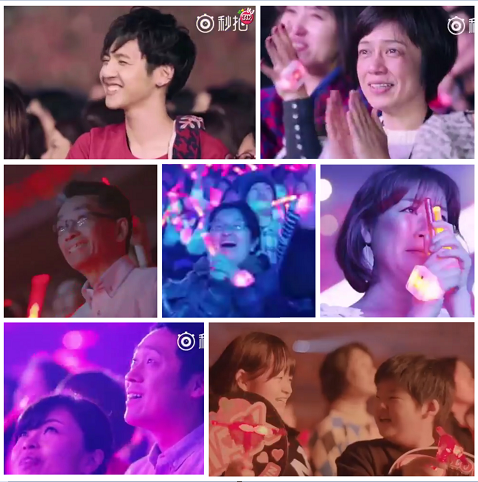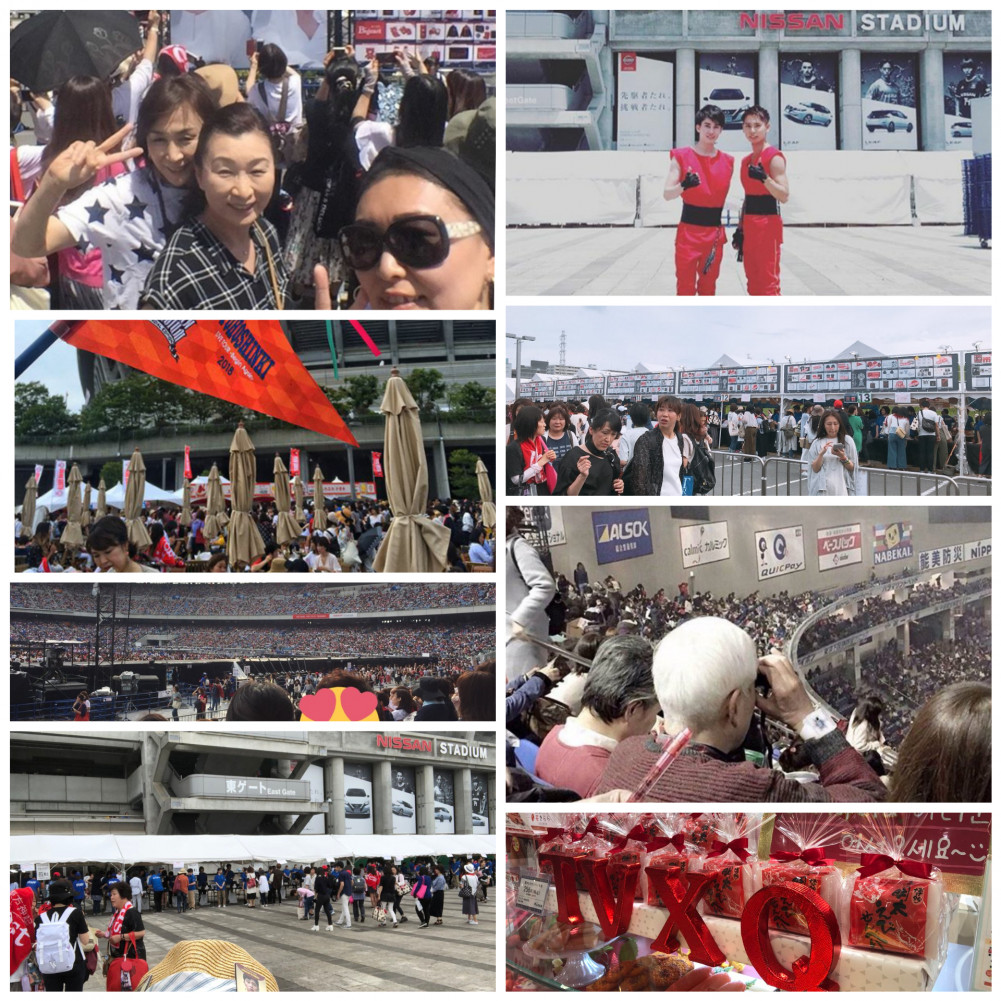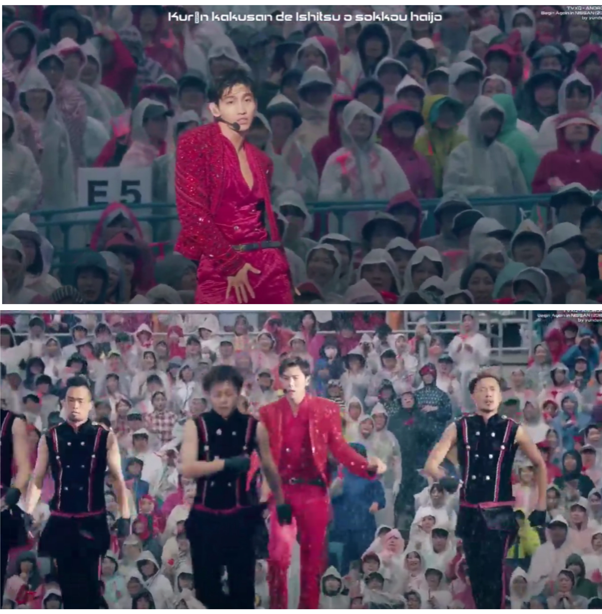 ◯In Japan, in the beginning, they really went through hardships and had to spend a long time since they were no different from an underground singer.

◯Their debut single 'Hug' in Japan ranked 77th on the Oricon chart.

◯In 2005, they released singles 'Stay with Me Tonight' and 'Somebody to Love' but the results were below expectations.

◯In March 2006, the 5th single 'Tomorrow will Surely Come' was released but the result wasn't any better than before on the charts.

◯They released their 1st full-length album 'Heart, Mind and Soul' but again, it didn't have any good results on the charts. Due to the limitations of being a rookie, the promotions were limited.
◯So, with a plan to introduce their music to more people, they held a tour in small live houses. During the tour, only 15,000 people attended their live performances.

◯Perhaps the tour was effective, 'Begin', the 1st single released after the tour ranked 15th on the Oricon chart.

◯The single 'Sky' ranked 6th on the Oricon chart, surpassing 25,000 copies.

◯However, this was still a poor record considering the influence that TVXQ had in the Korean music scene at that time. Shortly after the release of Sky, the 3rd full-length album "O-Jung. Ban. Hap." released in Korea sold 300,000 copies, which was rare for an idol group at that time.

◯Hardships still continued in 2007. Since they didn't have an established fandom, and they knew that their sales volume wasn't high in public awareness, they continued performing in the streets and small live houses.
◯Then, 'Summer' was released in August 2007. It sold over 120,000 copies and debuted 1st on Oricon's daily chart. This became an opportunity for the name of TXVQ (Tohoshinki) to become known in Japan.

◯Finally, with 'Purple Line' in 2008, they achieved their 1st Oricon Weekly no.1.

◯The situation after the release of 'Why Did I Fall in Love with You?' was truly awesome. It topped Oricon's weekly chart, achieving the first overseas singer to have 3 singles #1 title on Oricon.

◯Subsequently, TVXQ released their 24th single 'Mirotic' and 25th single 'Bolero'/'Kiss the Baby Sky. They all achieved 1st place on the Oricon chart.

◯In the same year, as they were recognized as Japan's most popular singers, they were invited to 'NHK Kouhaku Red and White' where only the most successful singers can appear.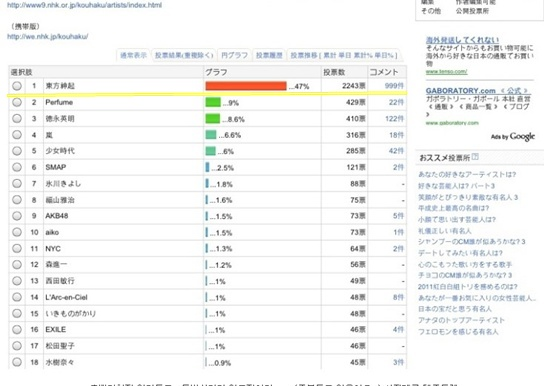 The graph shows that TVXQ won the SMS vote overwhelmingly even against the Japanese singers and groups at NHK.

◯After debuting in Japan without speaking any Japanese words, they went through hardships and achieved success after years but in July 2009, some members suffered from contract-related problems and entered a legal battle with SM Entertainment. So, after the 'NHK Red and White' singing contest in December 2009, all of their activities were suspended.

◯Afterwards in 2010, the 29th single 'Break Out!' was released but they did no promotions.

◯After temporarily suspending their activities, TVXQ returned under a two-member system (Yunho, Changmin) in 2011 and resumed their activities in Japan with their single Superstar and 5th full-length album TONE after completing their activities in Korea.


◯On January 21, 2018, during the finale performance of the Begin Again tour held at Kyocera Dome, the performance news at Nissan Stadium was announced. This was TVXQ's second Nissan Stadium tour following the TIME tour in 2013. In addition, this time, the first Nissan Stadium performance in Japanese performance history was decided for three consecutive days.
Considering that there are no foreign artists who have performed at least once at Nissan Stadium, except for TVXQ, this is a really great record...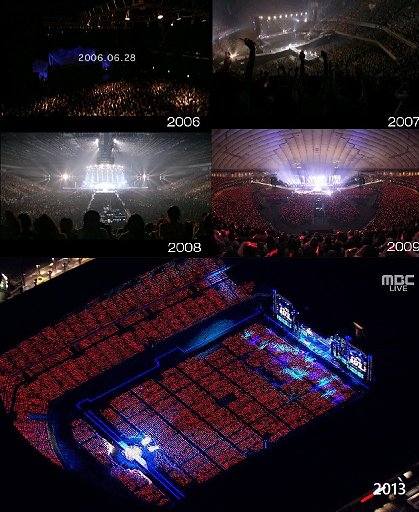 1.[+349, -44] 5-member TVXQ achieved it together but you wrote as if the current 2-member TVXQ achieved it alone.
2.[+137, -24] To explain the path TVXQ has taken in Japan, it can be said that they literally started from the bottom of the industry, overcame all kinds of hardships and difficulties, and succeeded to become Japan's top singer. With the intention of simply succeeding, they landed in mainland Japan without speaking any Japanese word, was completely ignored, and went through a difficult time amid public indifference. Due to the prejudice of the entertainment industry because of being not popular, it was difficult to appear on TV properly because of the prejudice in the entertainment industry because of being a foreigner, and they had to suffer all kinds of humiliation, such as being treated behind by staff. Since they couldn't promote properly, the members went out on the streets, turned flyers, carried amplifiers, installed amplifiers and microphones wherever there was space, and performed live on the streets.

3.[+126, -17] TVXQ is a legend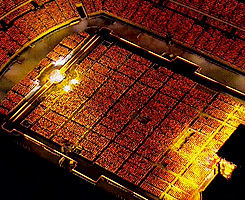 4.[+116, -13] It's the achievement of the 5-member TVXQ. 2-member TVXQ is weaker.
5.[+67, -11] They are wall.

"Right now, Korea is ahead of Japan in sectors such as film and music. When a group like TVXQ debuted, Japan was ahead but we were taken in a blink of an eye."
These are the words of Shunichi Tokura, minister of Culture of Japan, during his first meeting with reporters in April.

On that day, Minister Tokura announced that the country would also actively take steps in the future and aim to make Japanese popular culture 'global'. It is unusual for a government official in charge of cultural development to mention that a particular country has overtaken their culture. This clearly shows Japan's view of the spread of Korean culture.
6.[+61, -11] Why are some comments are unnatural and malicious?
7.[+58, -8] TVXQ isn't a Kpop singer. They are on another level. Even the limited-view seats sold for the 3-day Nissan tour.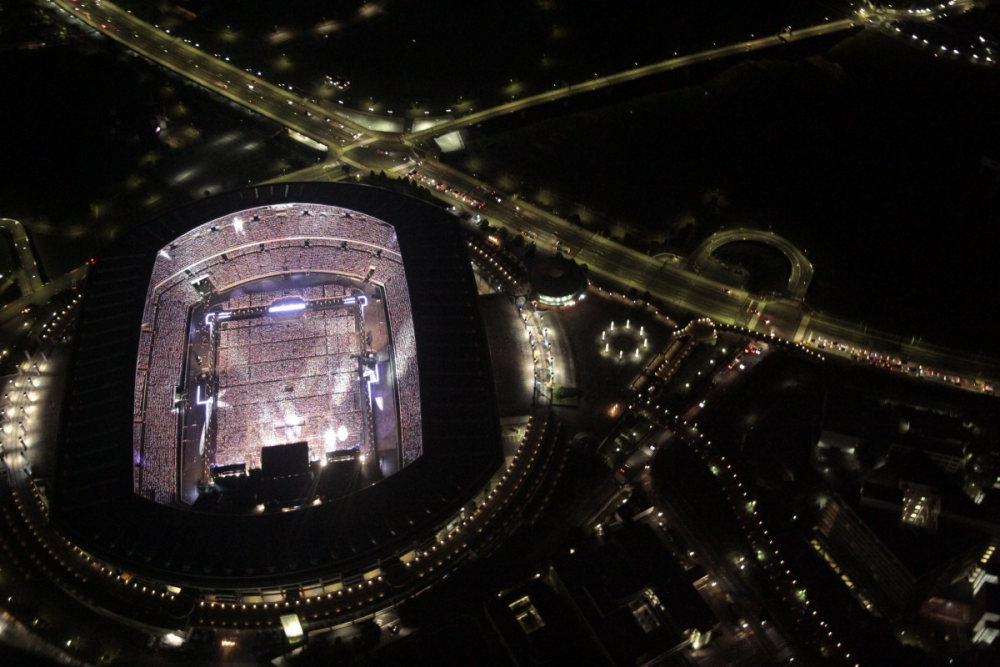 8.[+54, -6] When TVXQ started their activities in Japan, there was no Hallyu wave. They approached the top step by step.
9.[+48, -5] Personally, I think there is no Hallyu star that can surpass TVXQ in Japan. It's like opening the door and paving the way. There will be trending idols but TVXQ will always be there as an icon and a wall.
10.[+44, -4] Many Japanese people think that TVXQ is like a Japanese group, not a K-Pop. It's another level.