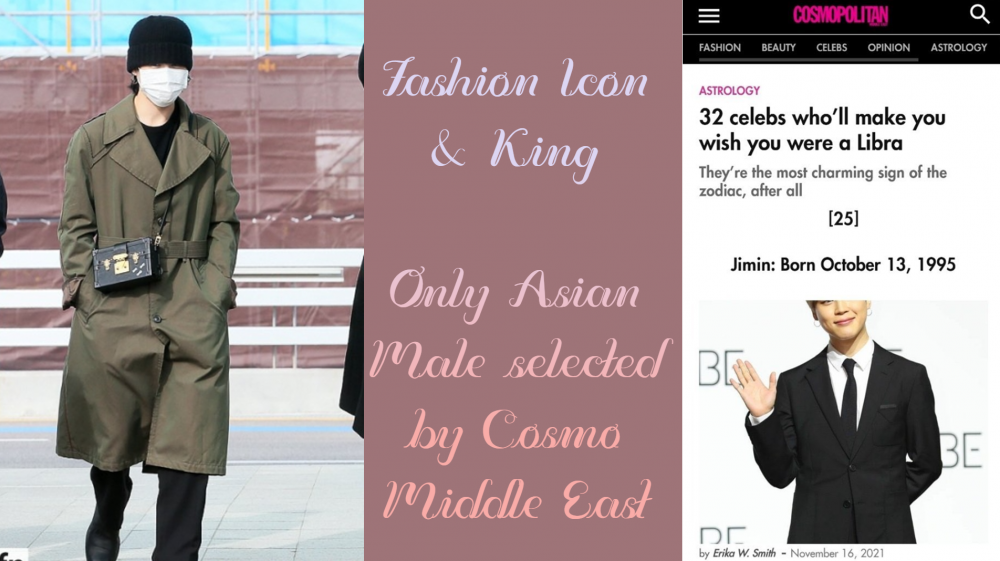 Jimin has become a figure of massive influence in the world of fashion, gaining recognition from both fashion houses and fashion magazines of influence around the world. Some of the top luxury brands that have paid attention to Jimin include Louis Vuitton, as reported by Fashionbiz, and Saint Laurent, to mention a few. Reputable lifestyle and fashion magazines such as ELLE, GQ, VOGUE, and Her World, among others, are among the many fashion publications that have recognized Jimin's power in fashion. He was also named as a member of the Business of Fashion Class of 2019, being listed as a model and muse. He was the only-third generation idol to make it to this list of a select few individuals who shape the multi-billion dollar global fashion industry.
Jimin has attracted all this attention for his exquisite taste and his extremely impressive and rare ability to match various pieces of clothing along with accessories, creating outstanding looks. In fact, in a recent ARMY membership balance game, when asked what he would do if his company adopted uniforms, he responded that he would choose his own clothes to fit his individual style. He is at the top of his game and a role model when it comes to fashion.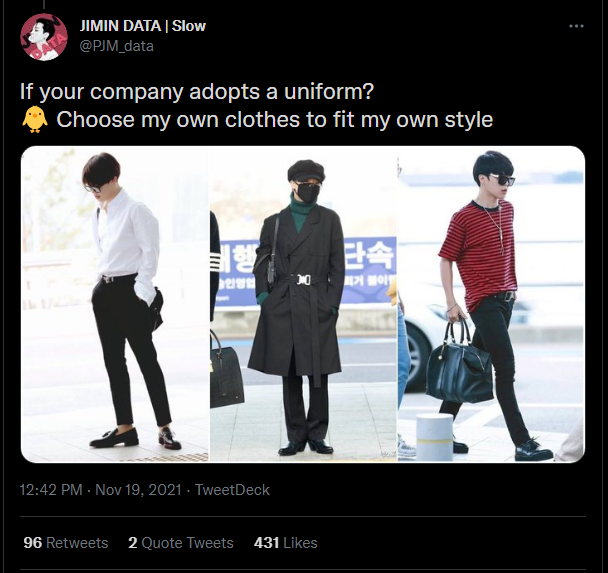 Because of his standout fashion looks, Jimin never fails to create buzz with his airport fashion, the latest being at the Incheon airport as BTS departed for Los Angeles for various activities. Several articles were immediately published in South Korea, with the media praising his airport look.
Image credit: @pjmdynamic
Soon after, there were international publications also highlighting and praising his airport fashion.
VOGUE magazine highlighted Jimin's look in an article about BTS' airport fashion, saying "The fashion brigade was led by Jimin', and further described the look and ended by saying he "delivered stealth luxury,"
Another magazine Nylon, an American lifestyle and entertainment magazine, also praised the choice of power coats, specifically mentioning Jimin's military green "power coat" from luxury designer Maison Margiela.
Influential fashion figures also praised Jimin's look. Edward Barsamian, who is a former Victoria Beckham editor-in-chief and Vogue Style editor, posted a picture of Jimin's airport look and said, "take your cues from Jimin."
Korea Odyssey also posted a picture of Jimin individually at the airport. Jimin never fails to shine with his fashion, and particularly his airport fashion, as seen from all the attention he got from local and international media outlets, as well as from fans which saw him trend worldwide just for his look.
In other news, Cosmopolitan Middle East selected Jimin among 32 other celebrities on their list of "32 celebs who'll make you wish you were a Libra." The list included famous top stars such as Kim Kardashian, Cardi B, Will Smith, Serena Williams, and Lil Wayne, to mention a few, and Jimin was the only male Asian celebrity who made it to the list. The magazine describes Libras with traits such as artistic, fashionable, intelligent, charming, trendsetters, social advocates, and "born for the spotlight," among other admirable traits, which is everything that Jimin is and more. He does not fail to shine in any aspect, just as the article describes him as a Libra, which explains why Jimin enjoys extensive global popularity and has a major influence in various fields. He receives lots of love and admiration globally irrespective of gender, age, and race, among other social distinctions.
Cosmopolitan Middle East is the largest-selling young women's magazine in the region, and its inclusion of Jimin in the publication speaks to Jimin's global popularity and impact.