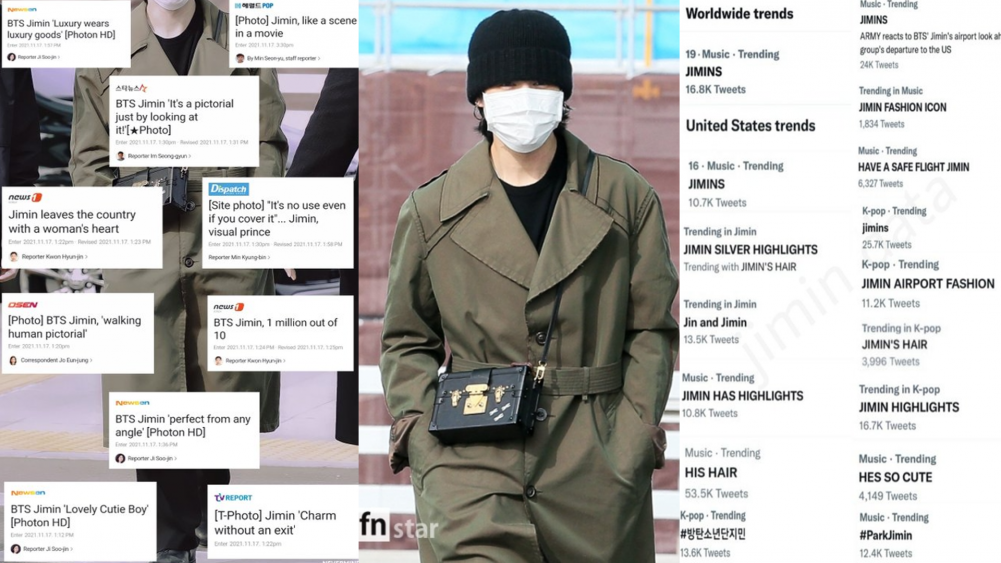 On November 17, BTS left for Los Angeles, USA, to begin their hectic end-of-year schedule. The group has various activities lined up, among which would be the much-anticipated #PTD_ON_STAGE_LA four-night concert, their first live concert in almost two years. They will also be having two performances at the American Music Awards, where they are also nominees in three categories, including the grand prize of Artist of the Year.
Spotted at the Incheon Airport, Jimin wore a Maison Margiela trench coat and a black top, black pants, and black beanie, and accessorized with Chrome Hearts earrings and a Louis Vuitton Petite Malle Bag.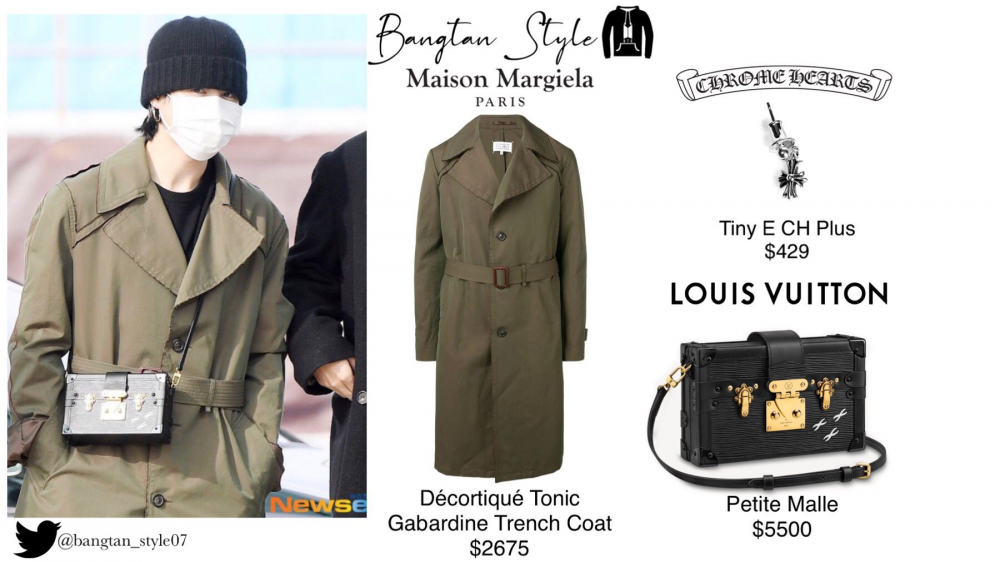 Image credit: @Bangtan_Style07

As dazzling as he looked, he caught the attention of several media outlets and high-profile individuals, who posted about him individually on Twitter. Some media outlets even used his images in the thumbnail -photos as they reported about BTS' departure for the US.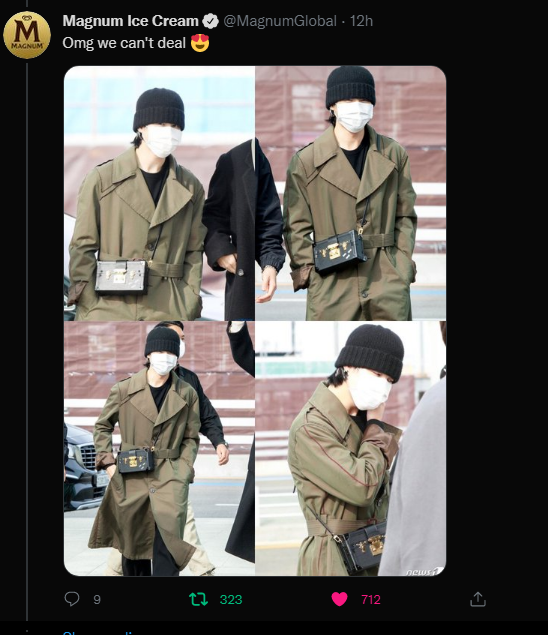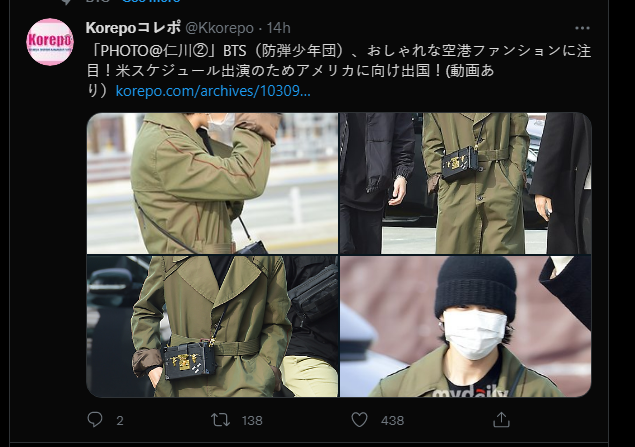 In South Korea, the media have begun to publish photo articles taken at the airport, and fans were swift to notice how much the media praised Jimin's look. While describing him, the reporters titled the articles with catchy words such as 'walking human pictorial,' 'perfect from any angle,' it's no use even if you cover it, Jimin visual prince,' and the one that seemed to really get fans was the 'I million out of 10.' Indeed Jimin looked like a million bucks.
With so many photo articles published, the 9 PM NAVER ranking had Jimin's articles occupying 17 out of the top 30 spots, him being the only BTS member to have his articles ranked on the chart. There was, in fact, no other male idol on the entire chart. This was an indication of how much his look attracted the public and therefore looked up his photo articles and gave positive feedback, hence the chart results.
Back on Twitter, fans went into a frenzy taking in this look. Jimin immediately entered twitter trends with various keywords. He was the highest trending member in the Philippines, trended in the US, and also entered the worldwide trends. There were a total of over 14 keywords trending on Twitter over his dashing look.
Fans were specifically in love with his outfit and were also gushing over his hair, which seemed to have highlights. Since he had a beanie on, all they could do was guess, but at the same time, they were overwhelmed with anxiety and could not hold their curiosity to see exactly how his hair looked.
On Facebook, 6 keywords became popular in relation to Jimin's airport appearance, whereby two of the keywords had over 250k mentions.
Jimin is much loved and adored in South Korea, considered to be the top male idol in the entire country according to the monthly Brand Reputation index, where he has now been number 1 for almost 3 years straight. He was also the first male idol to ever rank first in the Gallup survey for 'Korea's Most Preferred Idol' in 2018, further extending his reign to 2019. Evidently, Jimin has a lot of favor and enjoys strong support in his home country. As such, his fans turned up in large numbers at the airport to bid him farewell and show him support by cheering for him.
Here are reactions from fans who were at the airport and those on Twitter.
Korean fans noticed that immediately after Jimin left, his birthday Vlive broadcast from mid-October entered the daily, weekly, and monthly charts, showing that his fans in Korea were already missing him even before he landed in the US. A similar occurrence happened back in September when his fans had also started to post on Twitter asking him to go back home when they were in New York for the UNGA, because they missed him even if he had been away for just three days. He is a true treasure in the hearts of many in his own county.
Jimin showed once again that he is a fashion icon with massive popularity. With the world beginning to open up again, fans are excited to see more of his iconic fashion statements, be it at the airport or anywhere else.