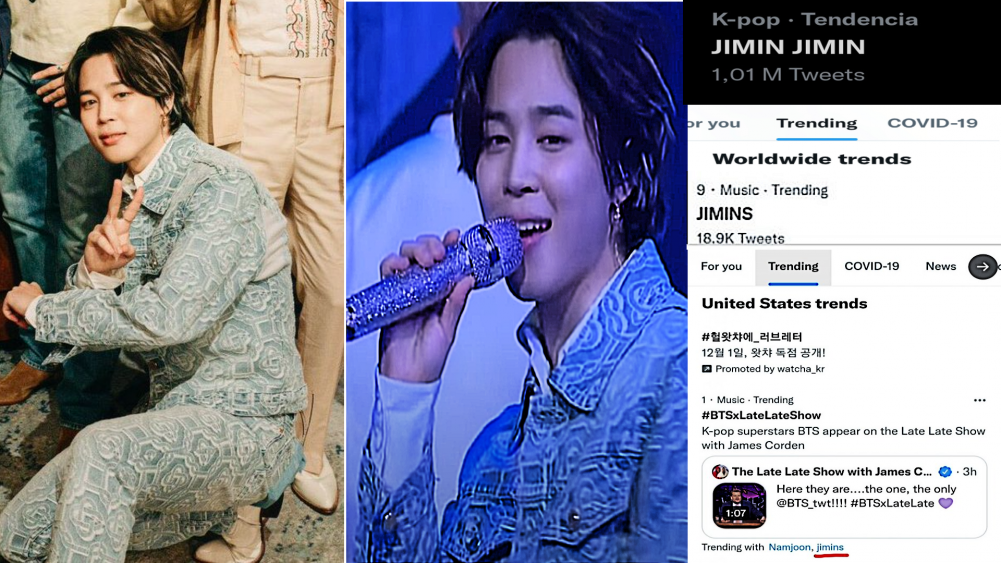 BTS appeared as guests on 'The Late Late Show' with James Corden on CBS on November 24. Jimin had a denim outfit from top to bottom, which went really well with his long highlighted black hair. Given his perfect body proportions and mesmerizing facial features, his complete look was a sight to behold, and fans could not get enough of it. His charms are not just in his physical appearance and outfits but also in the way he carries himself. He exudes confidence and royalty vibes, making him a show-stopper wherever he goes. The case was the same during the Crosswalk Concert performance shooting. He looked breathtaking


At the end of the show, following their chat with the host, the group performed one of their latest releases, 'Permission to Dance.' As expected, Jimin never disappoints on stage, and this performance was no exception. His vocal flavor is to be admired, as his honey vocals delivered the song's melody that could only be described as enchanting to the ears. The pitch was perfect, the notes crisp clear, and the range simply amazing. Fans could not stop praising and admiring his vocal skills.

Having been born for the stage, Jimin shines every time and stands out by modifying every move with his own distinctive flavor. His moves are both unique and energetic while still being smooth and on the beat, something that fans noticed for this performance as well, both on the actual show and during the shooting of the crosswalk concert performances. The overall performance was totally on point.

Apart from the performance, something else that caught the fans' attention was how Jimin spoke English. His progress is improving every day, and it is very admirable because it is known that he learns English by himself by watching movies on Netflix. Fans noticed how his pronunciation was nearing perfect, especially for some letters that would naturally be hard for native Korean speakers to pronounce. He sounded so good with his accent, too, and he impressed everyone.
One interesting occurrence during the show, as noticed by fans, is how the host seemed to pay extra attention to Jimin. James Corden is already known to be Jimin-biased, and it was evident based on this particular show. He spent most of the time talking about Jimin or looking at him, while also holding his hand. Most celebrities and television show hosts in the US have named Jimin as their bias, and fans were happy to see yet another celebrity showing his affection to Jimin. Ever since BTS arrived in the US, Jimin has met Lizzo, Shawn Stockman, Tetris, and now James Corden, all of whom have declared him to be their bias, and their interaction with Jimin took longer than it did with the other members.
The same close interaction between Jimin and James Corden was seen earlier on when BTS were shooting their Crosswalk Concert performance. James was seen massaging Jimin's shoulders at one point. At another point, he was holding his hand, waiting to cross the road, and then he carried Jimin on his back, which in fact became a hot topic on theqoo.
Jimin was absolutely in the spotlight during the entire show, from their chat with James to their performance. His web and YouTube searches hit the roof at 100% in the US, South Korea, and worldwide after his appearance on the show. According to Google data, he was the only BTS member whose name became a related topic to the show. On Twitter, he trended worldwide and in various countries with several keywords. There were 3 worldwide trends in total and 3 trends in the US as well. Overall, there were more than 34 trends with over 10 keywords seen in more than 12 countries. JIMIN JIMIN crossed 1 million mentions, and JIMINS peaked at #1 in the US along with other trends and peaked at #9 worldwide.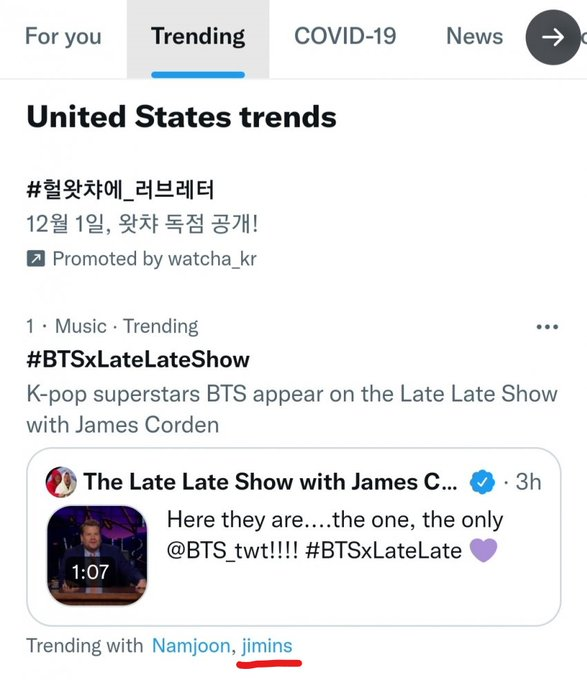 Image credit: @Jiminlove3000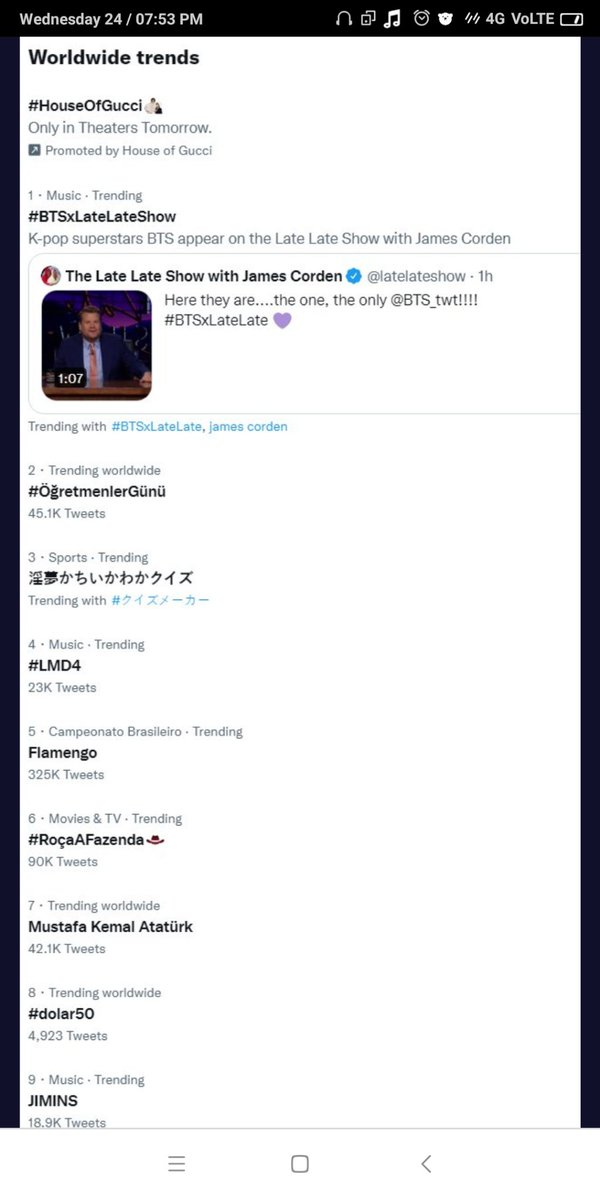 Image credit: @JIMINJennie6

Fans are excited for the upcoming concerts to see Jimin on stage again, and they are also looking forward to seeing how many more Jimin-biased celebrities will meet him since BTS will still be in the US for quite some time.