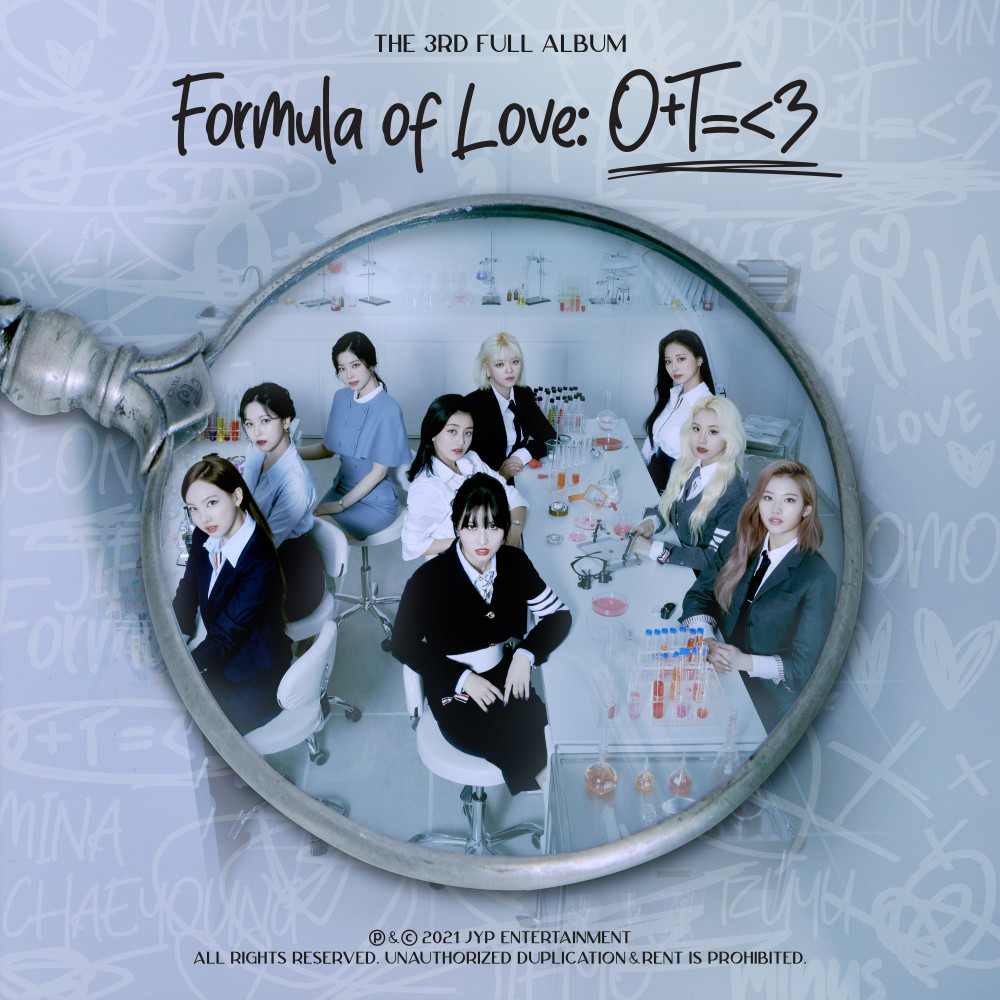 [This review reflects the opinions of the author and not necessarily those of allkpop.]
Track List:
1. SCIENTIST
2. MOONLIGHT
3. ICON
4. CRUEL
5. REAL YOU
6. F.I.L.A (Fall In Love Again)
7. LAST WALTZ
8. ESPRESSO
9. REWIND
10. CACTUS
11. PUSH & PULL (JIHYO, SANA, DAHYUN)
12. HELLO (NAYEON, MOMO, CHAEYOUNG)
13. 1, 3, 2 (JEONGYEON, MINA, TZUYU)
14. CANDY
15. The Feels
16. SCIENTIST - R3HAB Remix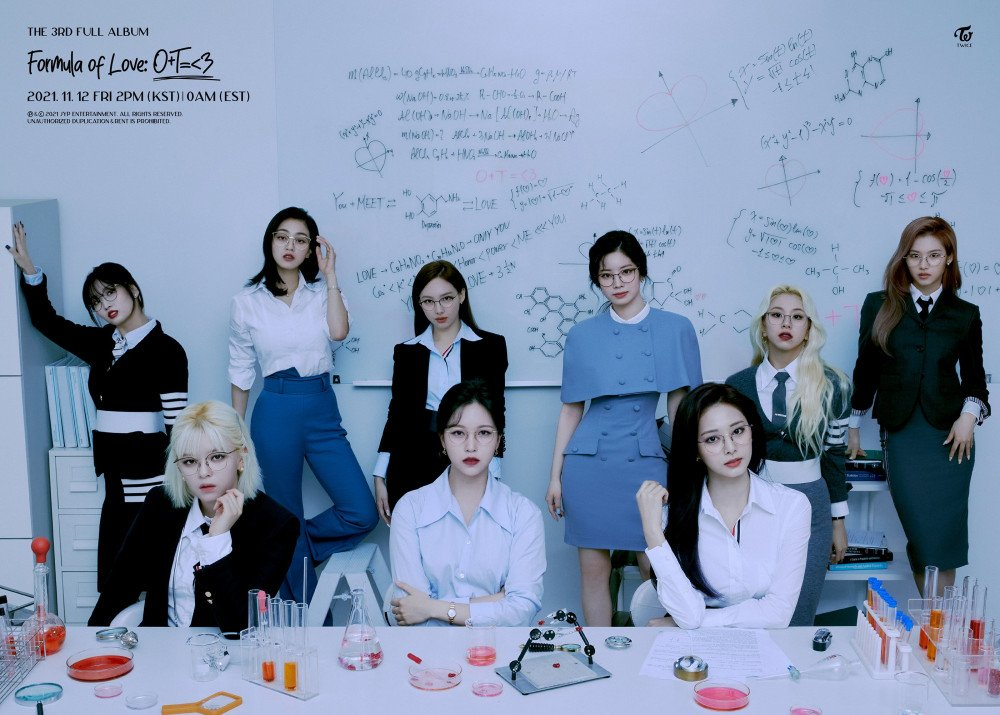 TWICE returns with their third full-length album, Formula of Love: O+T=<3, a whopping 16 song release. With the lead title, "SCIENTIST," spearheading the album, the group returns with a versatile array of tracks that are sure to please many ONCE worldwide.
That being said, "SCIENTIST" failed to have the memorable aspect that many of TWICE's singles typically feature. A bit more Top 40s pop than usual, this song boasts an ultra-memorable chorus yet doesn't leave as deep of an impression as I'd like. Luckily for us, the rest of Formula of Love: O+T=<3 is filled with a number of incredible releases.
"MOONLIGHT" is the first of said incredible releases. Compared to their previously released English song, "The Feels," "MOONLIGHT" is funkier in so many ways. There is a slightly nostalgic feel thanks to the inclusion of the synths, and the chorus is ultra-addicting to boot. This song boasts TWICE's signature appeal in addition to bringing a level of freshness with its bouncy feel. "MOONLIGHT" is a song that you will go back to.
"ICON" is a contrast from the typical bubblegum sound the group tends to opt for. Mid-tempo with a powerful beat that demands attention, the song is energetic and forceful without feeling too intense. "CRUEL" then misleads the listener into thinking it's a ballad before instantly switching to an authoritative dance beat. Featuring booming bass and sky-high falsettos, the girls really flex vocally here.

"REAL YOU" keeps this high energy going with an over-the-top dance concept. TWICE has repeatedly showcased an improved and refocused strength in their singing ability in this album, and "REAL YOU" is a testament to this. Though the song doesn't stick out quite as starkly against the rest of the tracklist, their dynamic performance is not to be missed.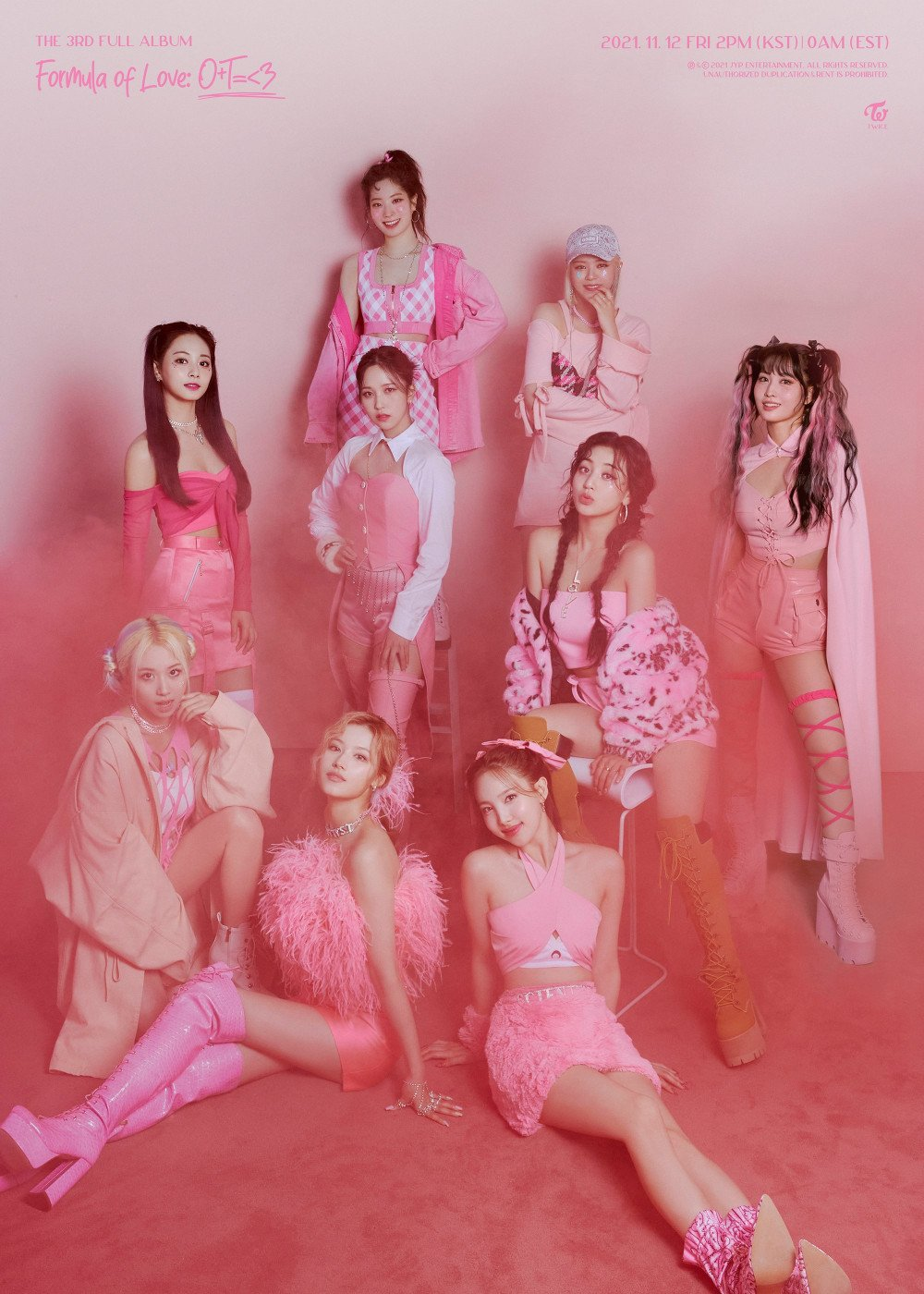 "F.I.L.A (Fall In Love Again)" brings that disco and funk fever back. Though the vast majority of last season's releases went for this sound, we have to admit that "F.I.L.A" has a flair that's just undeniable. Jihyo specifically is really giving her best vocal performance. The effort continues on "LAST WALTZ," a pop song with a seemingly simple concept and sound. "LAST WALTZ" shines on its memorable chorus- a bouncy lilt that features vocal range that spans across all of South Korea.
"ESPRESSO" has a much more classic K-Pop and JYP sound. Admittedly, "ESPRESSO" doesn't shine against some of the more striking and catchy songs on the release, and of the songs on the tracklist, "ESPRESSO" feels the least like TWICE. This feeling doesn't last long, thanks to "REWIND," a sweet R&B song. TWICE's feminine and gentle vocals are phenomenal on this style of song, and being that it's the first downtempo song of the album thus far, we can't help but welcome "REWIND" with open arms. "CACTUS" has a rock-inspired sound that aims to continue this emotionally-moving tracklist. However, my issue with "CACTUS" is that it is very much giving off summer camp talent show vibes despite its heavy live band backing.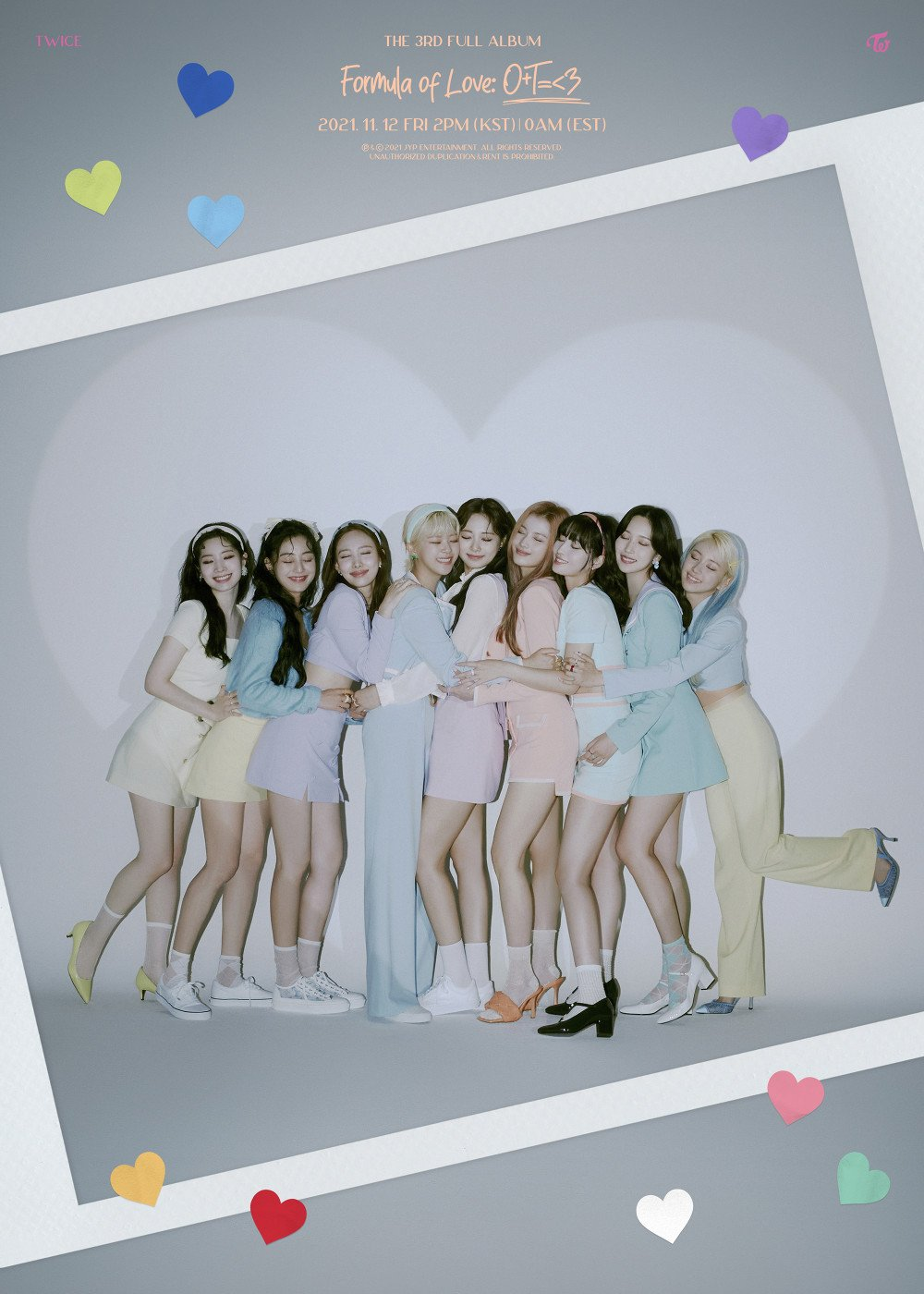 Of all the songs on this versatile album, "CANDY" is a must-listen. There's an undeniable 90s R&B influence that's just enrapturing to consume. The lyricism is light-hearted and romantic. In fact, the song is simply serotonin personified. Aside from "The Feels" and DJ, R3HAB's remix of "SCIENTIST," TWICE has divided into subunits for three songs out of the tracklist.
JIHYO, SANA, and DAHYUN teamed up for chic and funky "PUSH & PULL." NAYEON, MOMO, and CHAEYOUNG joined forces for an unapologetic and trendy hip-hop concept on "HELLO." JEONGYEON, MINA, and TZUYU combined their power vocals for island-inspired, "1,3,2". Of these concepts, "HELLO" had the most vivacious color. "HELLO" featured a sassy and confident side that really fit the subunit's synergy phenomenally. TWICE's release, Formula of Love: O+T=<3, showcases a lot of range, but certain songs were better examples of this range than others.
MV REVIEW
Patterns, patterns, patterns, and more patterns. TWICE has returned in some trendy ensembles for their latest release, "SCIENTIST." This MV features TWICE's signature bubblegum pink feel, and the outfits feel very inspired by Cher from Clueless. From the tartan plaid co-ords to the quirky accessories, there's an overwhelming feeling of cutesiness. Despite the cheerfulness and enjoyable demeanor of all the members, I can't help but feel somewhat disappointed that the MV didn't quite follow up on the 'scientist' / 'office' kind of concept they were serving in the teasers. It would have been nice to see TWICE embody a more mature concept. And... just to throw it in there- why did they do Dahyun's hair like that? I want justice.
MV SCORE:
MV Relevance…..7
MV Production…..8
MV Concept……..7
MV Score: 7.33
ALBUM SCORE:
Album Production…...8
Album Concept……...8
Tracklisting…………...8
Album Score: 8
Overall: 7.7