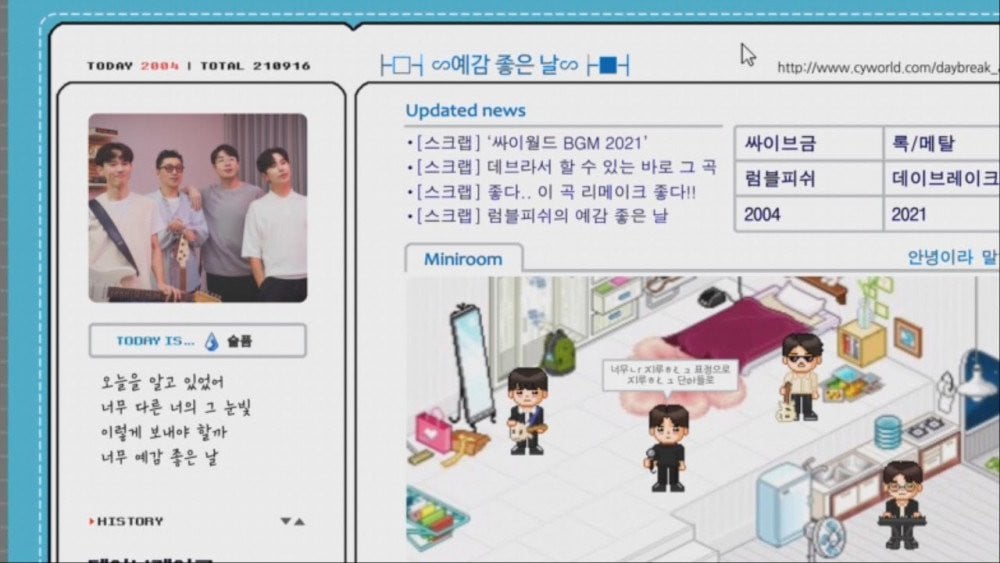 We are back with our second edition of #MemoryLane as we take a look at some of the BGMs that took over everyone's mini homepage on the formerly popular social media platform Cyworld. Check out the first part of the series here!

As mentioned in the previous article, the BGM usually represented the thoughts or themes that the user was trying to attain on their mini homepage or their current thought process. For example, if someone just broke up with their significant other, we would probably see a sappy, sentimental song on their playlist. If this person was LITT and all about partying, we would maybe see a PSY song on his playlist. It all depends from person to person, but let's check out what songs were dominating these profiles back in the day!
One Two - Bad Girl
This song was usually in girls' profiles who were having the "feels" from a relationship or a boy who probably just got rejected from his crush. Seo In Young's vocals also helped in creating a sentimental mood to the song.
Buzz - Don't Know Man
Another sappy song for your college freshmen friend who just broke up or got dumped by his girlfriend.
MC Mong - Letter to You
MC Mong and Lyn's collaboration was just irresistible as both genders were jamming out to it. It was hard NOT to know this song with the amount of people buying this BGMM with their acorns.
Cool - Aloha
Before Cho Jung Seok came out with his fantastic version, the original singers Cool had their own version, and it has its own nostalgic vibe to it. We would see this song in people who are just about to enter a relationship or someone going through a crush.
Brown Eyed Girls -LOVEE
This song was not only catchy but very sentimental, and it just really fit the description of a CyworldBGMM. Perhaps a song we would hear at a cafe -- it was also the start of Brown Eyed Girls' fame too. It's ironic because Jewelry's One More Time (which was released at a similar time AND topped the charts over Brown Eyed Girls) wouldn't be considered on this list. This shows that it really isn't about the song being simply just more popular -- it's a matter of vibes and moods as well.ILACC - I Have Someone Else
Another great duet that was often found in a profile that was madly in love or just about to be in a relationship.

Baek Ji Young - I Won't Love
Of course, we cannot leave out the ballad goddess in this list. Baek Ji Young pretty much took over the entire music scene in 2006, along with Cyworld'sBGMM chart as well. Ladies who just went through a traumatic break-up, this was their BGMM for sure.
YBB - It Must Have Been Love
If Baek Ji Young was representing the ladies, we have YBB who represented the males.
Vibe - The Man, The Woman
This was also a very emotional and sentimental track, and I must say -- it was often found in people's profiles that just liked the mood of the song. It's pretty depressing, and it gets you thinking some type of way. It was a vibe that only the "lattes" would know.
Take - Butterfly Grave
This group and song were solely recognized for being popular on Cyworld. They can almost be considered a one-hit-wonder, as they appeared on Sugar Man to perform their one-hit song. The ambiance that the song presented fit in so well with Cyworld that many users began to decorate their profile with this song.
PK Haeman - Evergreen
Another classic sentimental hip-hop song that would often appear in high school and college students' profiles - this is what we call K-Sentiment!

Kim Dong Ryul - Drunken Truth

No one can deny Kim Dong Ryul's sweet and sentimental voice when clicking into social media. With passionate vocals and emotions, this song was a must in anyone's profile at least once.
Yangpa - Love.. What is It?
Another break-up song that we would often see in ladies' mini homepages that recently endured a break-up. Cheer up!
Wow... re-reading through this list truly demonstrates the diversity of what the CyworldBGMM line-up really looked like back in the day. We can see that more calm & mid-tempo songs are on this list versus a fast and upbeat song. Absolutely no judging if you want to, though! It'd be interesting to see what modern-day K-pop songs would be a perfect fit for a CyworldBGMM. Check back next week to see the ultimate list of current-day songs that would be in a CyworldBGMM playlist today!
Did you know any of these songs beforehand? Which one was your favorite? If you had a Cyworld back in the day, what was yourBGMM? Let us know in the comments below!