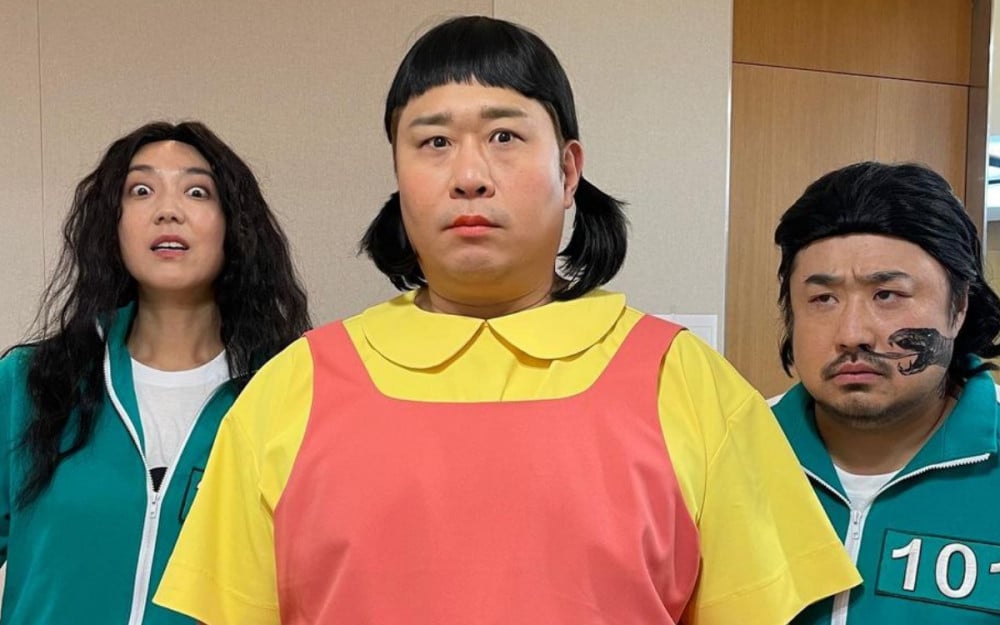 'Squid Game' fever has finally hit the cast of tvN's 'Comedy Big League'!
On October 16 KST, gagwoman Lee Eun Hyung took to her personal Instagram account to share a photo of her backstage in character as 'Squid Game' contestant Han Mi Nyeo, originally played by actress Kim Joo Ryeong. She playfully captioned the image with "The Rose of Sharon flower has bloomed," a reference to the show's 'Red Light, Green Light' game.
In the photo, Lee Eun Hyung is joined by gagmen Moon Se Yoon and Kang Jae Joon, who are respectively dressed as the large doll from the game and mafia-affiliated contestant Deok Su. Notably, Lee Eun Hyung and Kang Jae Joon are positioned behind Moon Se Yoon, as if they are currently playing the game.


Followers of Lee Eun Hyung's account left comments reacting positively to the hilariously exaggerated versions of the characters, leaving comments like, "😂 You really look alike 👏👏👏," "Wow, if you move, I think a big problem is going to happen," "When can we see this on 'Comedy Big League'? 😍," and "Moon Se Yoon is the king of cute."

Many of Lee Eun Hyung's celebrity friends, including 'Running Man's HaHa, also left comments laughing at the post.
Meanwhile, tvN's 'Comedy Big League' airs every Sunday night.