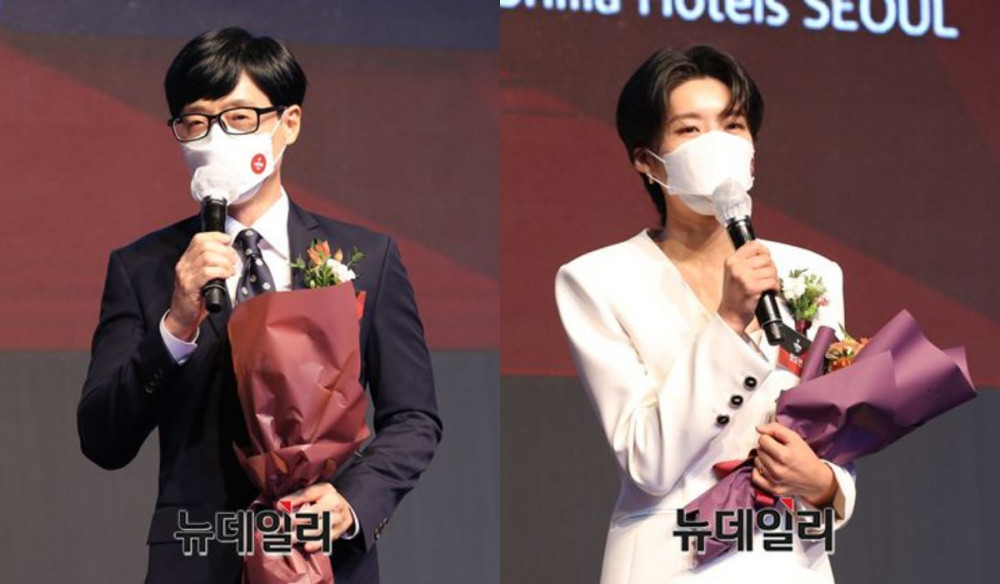 Yoo Jae Suk and Jang Do Yeon took home the award for the Best Variety Personality at the 'Brand of the Year' again this year.

Previously in August, the Korea Consumer Forum (KCF) announced the winners of the 'Brand of the Year 2021' awards, an award ceremony that surveys consumer preferences in a wide range of commercial brand categories.
On September 7th, the award ceremony took place which was broadcasted live on KCF's official YouTube channel. The venue and attendees were undisclosed to the public due to COVID-19 concerns.
Yoo Jae Suk won the Best Male Variety Personality while Jang Do Yeon won the Best Female Variety Personality award. Both have won the award at the last year's ceremony as well. Yoo Jae Suk gave his acceptance speech, "I am so grateful and happy. Thank you for giving me such a honorous award. It's hard to hold an award show during this time but because of this, I am more grateful. I promise to deliver bigger joy and louder laughs to many people in the future."
Jang Do Yeon gave her acceptance speech by saying, "It's an honor to receive the award once, let alone two years in a row. Thank you so much. I will work harder to become a comedian Jang Do Yeon who can survive in the industry and receive the award for 9 consecutive years. I will do my best in any program that cast me."

Meanwhile, the voting for the 'Brand of the Year 2021' awards took place on the KCF's official website from June 21 through July 4, 2021. Check out the complete list of winners from the 'Brand of the Year 2021' here.