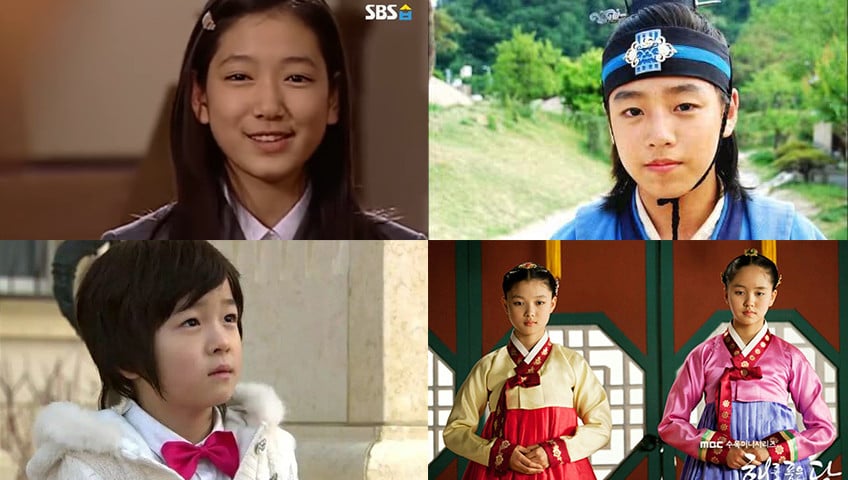 In show business, there are naturals who had discovered their talent in front of the camera at an early age. You know you're a K-drama veteran addict when you recognize some of the current stars not just from their recent works but from parts they acted way back when they were children.
Here are ten of today's gifted actors and actresses who first stole the spotlight as younger versions of the main cast, and grew up to take over the frontlines in recent series.
Park Shin-Hye
Where we last saw her: Sisyphus: The Myth (2021), #Alive (2020), The Call (2020)

One of Korea's top actresses, Park Shin-hye's small screen dominance launched when she portrayed the young Han Jung Seo of the 2003 smash hit Stairway to Heaven and was recognized as the 11th SBS Drama Awards Best Young Actress. After participating in other projects in the subsequent years, she landed her first leading role in 2006 as Hana in Tree of Heaven. Three years later, her presence in the Hallyu wave was amplified by headlining the gender-bender rom-com, You're Beautiful, followed by the 2011 melodrama Heartstrings with Jung Yong-Hwa.
Yoo Seung-ho
Where we last saw him: Memorist (2020), My Strange Hero (2019)

Yoo Seung-ho traces his professional grounding in K-dramas back in Daddy Fish (2000) as Jung Da-um, a boy sick with leukemia. He was one of the most sought-after kid actors of that era - bagging various recognitions and placing characters such as younger versions of Lee Woo-jin in Love Letter (2003) and Yi Sun-sin in Immortal Admiral Yi Sun-sin (2004). Doubling down on his acting prowess, he played young Seongjeong and Damdeok in the 2007 historical shows The King and I and The Legend, respectively. Currently, he is working on the upcoming drama When Flowers Bloom, I Think of the Moon with Lee Hyeri, which is scheduled to premiere in the latter part of 2021.
Kim Yoo-Jung
Where we last saw her: Lovers of the Red Sky (2021), Backstreet Rookie (2020)

Starting at the tender age of four, Kim Yoo-Jung's career background boasts of a long list of works that mirror her formidability in the industry. In 2006, she was the young Shin Chae-kyeong of the widely-known Princess Hours. Her succeeding performances as kid counterparts of leading ladies saw her take home multiple Best Young Actress honors: for her roles as Painter of the Wind's Shin Yun-bok in the 2008 SBS Drama Awards, the title character in Dong Yi, Flames of Desire's Yoon Na-young/Baek Soo-bin in the 2010 MBC Drama Awards; and as Moon Embracing the Sun's Heo Yeon-woo and May Queen's Chun Hae-joo in the 2012 MBC Drama Awards.
Kim So-Hyun
Where we last saw her: River Where the Moon Rises (2021), Love Alarm (2019-2021)

Critically-acclaimed star Kim So-Hyun found her passion for the job when she was only seven years old. After her small screen debut in 2006, she played both the kid versions of Lee Ji-Yeon in A Happy Woman and Han Eun-soo (Jung Yu-mi) in Que Sera Sera in the next year. She went on to be the teenage Jung Ji-na in the internationally-broadcasted romance fantasy Padam Padam. Come 2012, she further established her spot in the scene as young Hwa-young/Se-na of Rooftop Prince, and with the award-winning roles of Yoon Bo-Kyung in Moon Embracing the Sun and Lee Soo-Yeon in Missing You.
Yeo Jin-goo
Where we last saw him: Beyond Evil (2021), Hotel Del Luna (2019)

Another esteemed actor who wowed viewers at the age of eight is Yeo Jin-goo, also dubbed as the "Nation's Little Brother." He was a popular choice for casting childhood characters of leading men, as seen in his consecutive projects from 2008 onwards. These include Iljimae, Tazza, Swallow the Sun, and Warrior Baek Dong-soo, among others. Like his co-stars, he became a household name with his top-notch performance as Crown Prince Lee Hwon in Moon Embracing the Sun. The role won and nominated him for various honors from Baeksang Arts Awards, Pierson Movie Festival, and other institutions.
Park Eun-bin
Where we last saw her: Yeonmo (2021), Do You Like Brahms? (2020), Hot Stove League (2020)

Briefly appearing as young Jung Da-so in Guardian Angel (2001), Park Eun-bin would later clinch several other teen counterparts of major characters in that decade. Among these are Woo Seung Hee in Glass Slippers (2002), Shin Ji-soo in Stained Glass (2004), Seo Eun-ha in Resurrection (2005), and Seo Ki-ha of The Legend (2007), all of which were aired in different Asian countries. Her portrayal as Hwangbo Seol in the period series The Iron Empress earned her the Best Young Actress award in the 2009 KBS Drama Awards. In 2012, she had her first lead character in the time travel-themed Operation Proposal alongside fellow child actor Yoo Seung-ho.
Jung Da-bin
Where we last saw her: Extracurricular (2020), Live On (2020)

At 21 years old, Jung Da-bin already has vast experience in the acting arena. She debuted in film back in 2004, then in television the following year. The earlier part of her career unveiled an actress who served as a face of childhood and teen versions of K-drama main and second leads such as Bong-soon in Iljimae (2008), Jang Mi-ri in Miss Ripley (2011), Kang Yi-Kyung in Glass Mask (2012), and Gong Jin-Joo in Ugly Alert (2012). In the popular MBC rom-com She Was Pretty, she played both the young Kim Hye-jin and sibling Hye-rin. Her next work as young Ok-nyeo in Flowers of the Prison earned her additional recognition.
Nam Da-reum
Where we last saw him: The Great Shaman Ga Doo-shim (2021), The 8th Night (2021)

Nam Da-reum gained attention as the kid Yoon Ji-hoo in Boys Over Flowers, a show that largely contributed to the increase of the Korean wave. He consistently rose to fame with his notable portrayals of the teenage life of male leads in globally famous dramas, including Choi Dal-Po/Kim Ha-Myung in Pinocchio (2014), Wang Won in The King in Love (2017), Jung Jae-chan in While You Were Sleeping (2017), and Ji Soo-ho in Radio Romance (2018). Last July, he debuted as a leading man in KakaoTV's The Great Shaman Go Doo-shim and was paired with co-child actress Kim Sae-Ron.
Kim Sae-Ron
Where we last saw her: The Great Shaman Ga Doo-shim (2021), Love Playlist (2019)

Born in 2000, this veteran is no stranger to the entertainment industry. Kim Sae-Ron initially impressed the public with her multi-awarded performances in films A Brand New Life (2009) and The Man From Nowhere (2010). Her first television appearance was in the 2011 romance drama Can You Hear My Heart as young Bong Woo-ri, and she would later take on other main actresses' younger roles: Lee Ga Young in Fashion King (2012), Shin Eun-soo in Glamorous Temptation (2015), and Cha Young-jin in Nobody Knows (2020). At 15, she was already cast as the female lead opposite Yoon Shi-Yoon in the historical fantasy series Mirror of the Witch.
Lee Hyun Woo
Where we last saw him: The Liar and His Lover (2017)

As a child actor, Lee Hyun Woo was a familiar face in period dramas. He portrayed young Cheoro in The Legend (2007), young Kim Yushin in Queen Seondeok (2009), and the teen version of the title role in Gyebaek (2011). Landing the character Cha Eun-gyeol in the 2012 youth rom-com To the Beautiful You with Sulli (Koo Jae-hee) and Choi Minho (Kang Tae-Joon), his Asian fanbase widened as it aired in various countries. He is set to make his small-screen comeback as the genius hacker Rio in the Korean adaptation of Money Heist.