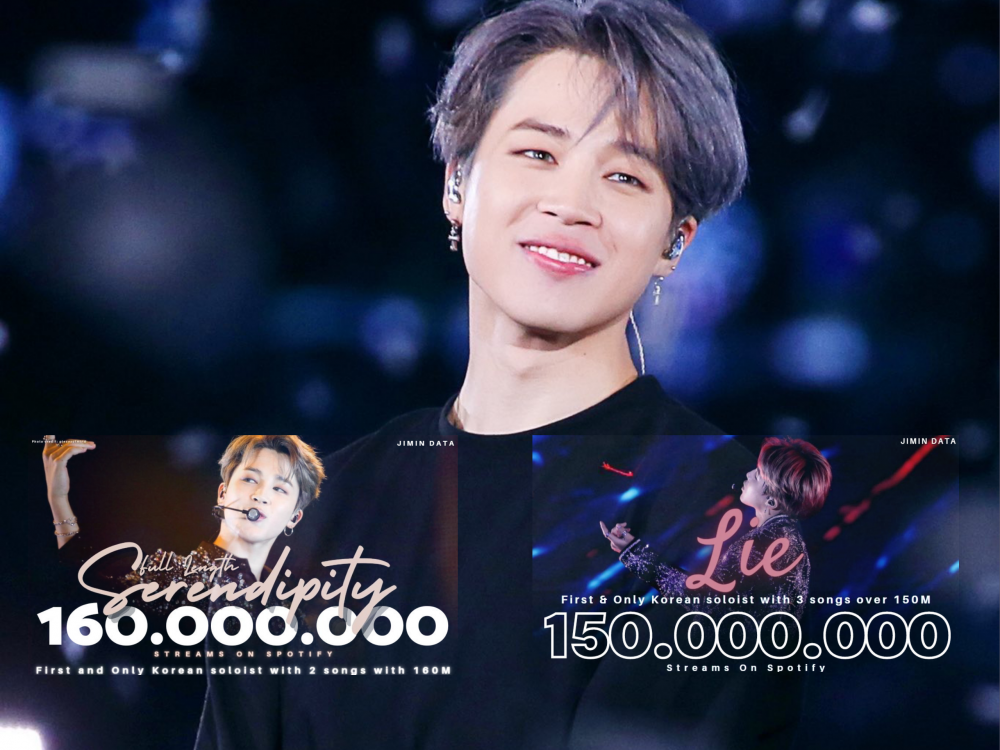 On the 29th of September BTS' Main dancer and Lead vocalist, Jimin, set a new Spotify record as the First and Only Korean soloist to have 3 songs (Filter, Lie, and Serendipity Full Length Edition) each surpassing 150 Million streams as well as two songs (Filter and Serendipity Full Length Edition) with over 160 Million streams on the platform.
This was revealed after Spotify streaming updates showed that Serendipity Full Length Edition had achieved over 160 Million streams with Lie surpassing 150 Million streams, add that to Filter which currently has 204 Million streams and the record is justified.
Jimin who was the star of the Love Yourself Her album participated in its Intro and now the magical Music Video for Serendipity is at 155 Million streams and counting on YouTube. While the full version of Serendipity may have now hit the 160 Million mark, its Intro counterpart on Spotify recently got 96 Million streams and is well on its way to 100 Million streams on the platform.
Lie which is the first of Jimin's solos under the BTS discography for their Wings album continues to be the most successful solo from the album on all platforms, apart from this new achievement, on YouTube its official audio, as well as Short film, are also the most streamed of the album at 17 Million views for both.
Thanks to these grand milestones, fans had much to celebrate with several trends that included, Park Jimin, #BTSJIMIN, #LieByJimin150M, #SerendipityFull160M in more than 13 countries. HISTORY MAKER JIMIN and CONGRATULATIONS JIMIN both ranked #7 and #14 respectively on worldwide Twitter trends.
Congratulations Jimin!